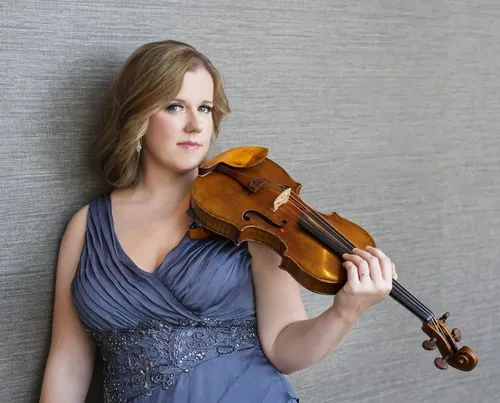 Courtesy of Cassidy Duhon
Madeline Adkins, Utah Symphony's newly appointed concertmaster.
Utah doesn't yet know Madeline Adkins, but she is being warmly welcomed to the Utah Symphony community, despite the anxiety following the demotion of her predecessor, Ralph Matson. Adkins will become the symphony's concertmaster in the 2016-17 season.
Yes, she's an amazing violinist, but did you know she's also a cat woman? Literally. She has fostered some 100 kittens since 2008 as a volunteer with Small Miracles Cat and Dog Rescue in Maryland. "It keeps me grounded," she said in an interview with Columbia Orchestra Music Director Jason Love in 2013.
She likes to hike, too, which will make her a good fit for Utah and its outdoor recreational opportunities. Before her appointment, she met and hiked with Matson and his wife, Barbara, also a violinist with the orchestra.
With Adkins' appointment, the symphony has taken one more step toward what some call its "youth-ification," although Adkins is in her late 30s. Matson, at 60, was still at the top of his game when
Conductor Thierry Fischer unceremoniously dumped him as concertmaster
, a position he had held since 1985. Still, Matson took the high road, according to the late Maestro Joseph Silverstein, and chose not to challenge the move. Silverstein worried that whoever was chosen as concertmaster would have a difficult time creating a productive relationship with the violin section.
Still, the Utah Symphony Orchestra is a professional group of musicians and now it simply wants to present a united front and look to the future—with both Adkins and Matson working together.
As first violinist, the concertmaster's role is both complex and pivotal for the orchestra. He or she must demonstrate superb musicianship while serving both the conductor and the orchestra, ensuring the strings play as one voice.
In 2005, Adkins was appointed associate concertmaster of the Baltimore Symphony Orchestra and was also concertmaster of the Baltimore Chamber Orchestra.
She likes the old stuff. According to the BSO website, "she has been active in period instrument performance since the age of 11, and has been a member of the Handel and Haydn Society, Boston Baroque, the Dallas Bach Society, and currently Pro Musica Rara. With the BSO, Ms. Adkins has appeared as conductor and soloist in several baroque programs of her own design."
Adkins is the youngest of eight children, all but two of whom are musicians. Her parents, Drs. Cecil Adkins and Alis Dickinson, also are musicologists.
Over the next four months, look for Adkins to play four upcoming weekends as guest concertmaster, including concerts with the Mormon Tabernacle Choir at the O.C. Tanner Gift of Music at the Salt Lake Tabernacle in February 2016 and on tour with the Utah Symphony to the Krannert Center in Illinois and Carnegie Hall in April 2016.
Read related articles "
Musical Chairs
" and "
A Few Final Words from Joseph Silverstein
" at CityWeekly.net.