It's almost become a tradition—and at times, a punishing one—to cover shows at Kilby Court in the winter. Don't get me wrong: I love Kilby, its atmosphere and everything it is and stands for as an all-ages venue. But when the weather is under 20 degrees, and there's no wood around to start a proper bonfire in the courtyard, things start to get a little restless for everyone involved. Luckily, there were three awesome local acts who had great music to pack the room and get everyone dancing this past Friday night. Today we have interviews with all three bands—Mojave Nomads, Kindred Dead and Young North—along with pictures for you to check out.
Young North
(Fisher Huish, Christopher Jessee & Joshua Claflin)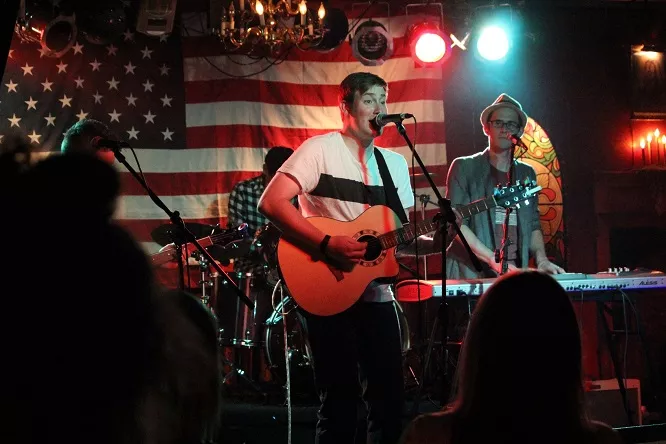 W
Gavin: Hey guys, first thing, tell us a little bit about yourselves.

Joshua:
Our names are Joshua Claflin and Fisher Huish, and together we are the band Young North. We are an indie-folk rock band that started in Logan, Utah the fall of 2015.
Gavin: How did you both get into music and what were your favorites growing up?

Fisher:
Josh and I both started on bass around the same time, Josh 7th grade, and Fisher 5th grade. Josh grew up in a house of '80s electronic dance music, and it wasn't a rarity to come home to his parents dancing to '80s music in the basement on full-blast. My brother and I fell into the '60s rock music: Grateful Dead, Jefferson Airplane, Cream, basic rock, etc. Then as the years went on, I started listening to more new wave artists such as Tears For Fears and Talking Heads.

Gavin: What was it like for each of you to break into the local music scene?

Joshua:
Fisher and I had both played in bands before the creation of Young North, so getting started in the local music scene was second nature.
Gavin: When did the two of you first meet and become friends?

Fisher:
We met each other in a badminton class offered at Utah State University, in which they beat the best team as doubles partners. As the synchronization of racket strokes and sportsmanship shown through, starting a band seemed natural.
Gavin: What made you decide to form Young North, and why only as a duo?

Joshua:
We were both free from past bands and looking for a new project. Fisher was more interested in the recording rather than the live show, as shown in our many recording projects. I was looking to get back on the stage. Together we clicked quite well. Hall and Oats, Simon and Garfunkel, Tears for Fears, they were all duos. Coincidence?
Gavin: Do you find it easier to write and compose as a duo, or are you finding missing elements you wish you had?

Fisher:
Yeah it is a lot easier to compose as a duo rather than a whole group of people. We have very similar ideas and goals as to where they want to take the music. With recording these days, two people can bring the full sound of orchestra plus a triangle. Yet playing live they will invite percussionists to join them, lately the spectacular Christopher Jessee.
Gavin: What made you go more the indie-folk route with your music?

Joshua:
Fisher and I don't really put a label on [our] style because, as you will notice in the music, it is not consistent. They stick to similar instruments but they use all styles of music to relay the purpose of the song.
Gavin: How has it been for you building an audience up in Logan and branching down?

Fisher:
The Logan music scene is very active, they want music! Though it may not be the biggest, those that are involved in the music scene in Logan are very dedicated. We cannot thank Logan enough for the amount of support they have received. Luckily, we both come from the Salt Lake area so we have many contacts still around. Filling the venue isn't the problem when it comes to playing in Salt Lake, rather [it's about] expanding the crowd diversity.
Gavin: Being relatively new, how has your interaction with the local music scene been?

Joshua:
Like we stated before, Logan is super supportive. Also places like Kilby Court in Salt Lake City, have been willing to let them in the doors. They have had to draw upon a lot of old friends from past music projects. Friends from bands like Little Barefoot, Sonsapapa, Spirit Twin, Isabel, and more have all supported them and helped put shows together.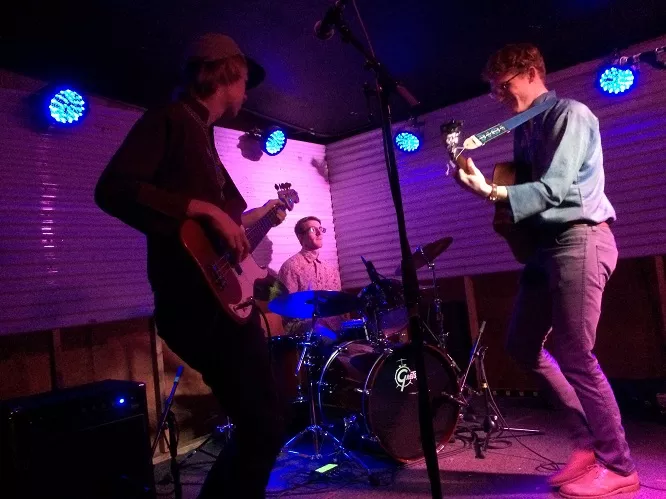 Gavin: Are you working on recording any music yet or still writing for now?

Fisher:
Double yes. There is a lot coming from the brains and hands of Young North. You will hear new songs at shows and see new recordings online. Late February the band will be dropping a live recording session recorded in living rooms on Bandcamp. www.youngnorth.bandcamp.com.
Gavin: Are you planning to stay mostly in Northern Utah for now or are you looking to expand and tour more?

Joshua:
We see Young North as something with a lot of potential. We love Northern Utah and will continue to play there, but also are looking to expand and see where the tour takes them.
Gavin: What can we expect from you over the rest of the new year?

Fisher:
Young North will come to be more common around Utah. Shows and recordings and lots of other exciting media will be released. They are a band that you are going to want to follow.
Kindred Dead
Kindred Dead on Facebook
Gavin: Hey guys, first thing, tell us a little bit about yourselves.

Emmett:
I came to Provo from Sacramento, California for school. I'm here now pursuing my dream to be a career musician. Kindred Dead has been my project for the last year or so. I've been rotating through different bands members looking for the right fit long term. The only other official band member right now is guitarist Lukas Sanchez. For the show with Mojave Nomads, I have my roommate Jeff Jones of LOXS filling in on drums and my friend Max Butterfield of Riveter's Son on bass.
Gavin: How did you get into music and what were your favorites growing up?

Emmett:
I remember listening to bands like The Beatles, ABBA and They Might Be Giants while doing house work with my parents every Friday morning. We also listened to a lot of musicals. I've studied piano and voice for as long as I can remember. I was home-schooled, so I had more time to pursue extra-curricular activities like that. Music has always been a big part of my life, but I didn't start considering it as a potential career until I came to Provo and was introduced to the amazing music scene there. Lukas spent several years playing with his brothers in a band called Manitu. They enjoyed a lot of popularity back in Mexico City where Lukas and his family are originally from.
Gavin: What was it like for you to break into this music scene when you got here?

Emmett:
Freshman year, one of my neighbors talked me into starting a band and competing in the Battle Of The Bands he was helping to organize for BYU. I recruited a few others guys from the dorm to play for me and I had my first band. From there I started playing shows at Velour and Muse. Lukas is just starting to get his hands dirty again. As I understand he'd been on a musical hiatus and hadn't gotten into the local music scene since coming back to finish school. So Kindred Dead is how he got in.
Gavin: When did you meet Lukas and start jamming together?

Emmett:
I actually heard of Lukas multiple times before we met in person. First, when I was serving as an LDS missionary in Colorado Spings in the same area [where] his family lived, then again when one of my classmates and personal friends recommended him as a potential guitarist. She gave me his number, I reached out, and we started jamming together. I vetted half a dozen other guitarists. Meanwhile, Lukas and I kept jamming and even playing shows together. Once I had a feel for Lukas as a person and a musician, I offered him a spot as an official member of the band.
Gavin: What made you decide to form a band together, and why just a duo for sessions?

Emmett:
Well, I used to have a full band, then I shanghaied myself when I decided to pursue the band thing for real. The guys I was playing with are all personal friends of mine, but they weren't really interested in music long-term, so we decided to part ways when I received an offer from some studio musicians to be my new band. The deal with the studio musicians fell through, and I was left on my own for a while. Lukas has been the first new addition since. We'll add new members depending on who we find. I'm open to letting our sound evolve depending on what talent we find.
Gavin: What was the biggest influence for you to go more indie rock?

Emmett:
The Killers I'd say are my number one indie-rock influence. Brandon Flowers is one of my heroes, both as a person and musician. I'm into pretty much anything they do. I also really respect and admire Imagine Dragons and Dan Reynolds. My sister Aurora Florence was in the earliest incarnation of the band so I got to see Dan go from his first show to where he is now. I'm really inspired by how many people he's been able to impact with his music. Most recently Fun. has been the biggest influence for me in the indie genre. Nate Ruess has such an incredible voice, and their use of samples and hip-hop beats really fascinates me.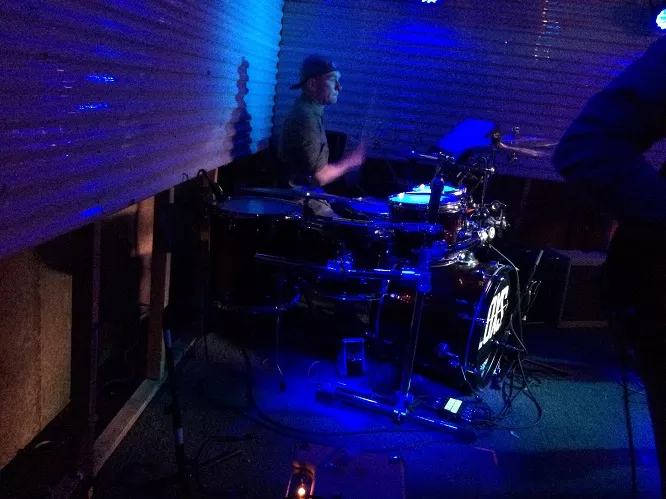 Gavin: Do you find it easier to work as a duo, or does it present more challenges than normal?

Emmett:
Lukas is a very agreeable person and is great to work with. Honestly, we haven't had much time to work creatively together yet but the songwriting sessions we've had so far have been great! Our tastes are just divergent enough to keep things interesting. I'm looking forward to seeing what content we're able to create together going forward.
Gavin: How has it been for you guys performing around the state and building an audience?

Emmett:
Still figuring it out. This is Kindred Dead's first real gig in Salt Lake City. The last time I tried to play Kilby Court, the other two bands that were supposed to play didn't show up, so the show was canceled. This one should be better. We have a good following in Provo, but it needs to grow before we can headline bigger venues in the area. My goal is to write and record music that is good enough to go viral, at least locally. That just seems like the most natural and easy way to go about it: release great music people want to hear and they'll come to your shows. I have to assume that's how it works since most people listen to music made by artists they've never met or seen play live. 99% of the time people fall in love with the song, then buy tickets to the concert, not the other way around. So not that we won't play shows, but I'm planning to invest the lion's share of my energy into writing and recording, not performing. At least for now. I'll let you know how it goes.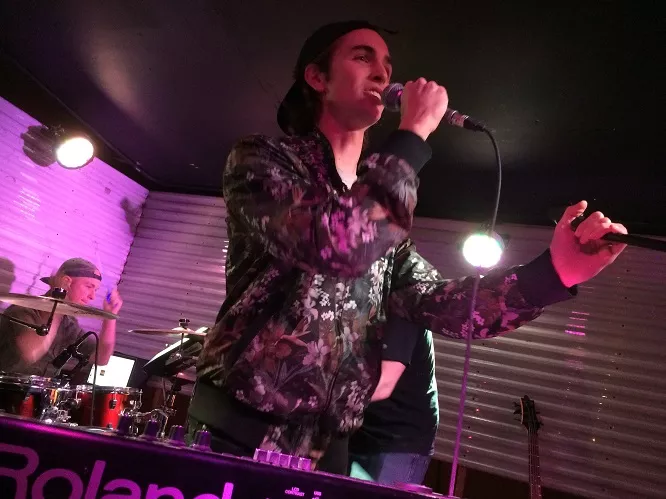 Gavin: Are you currently recording anything for an EP or full-length, or just performing for now?

Emmett:
We recently released our first EP,
Nowhere To Go But Up
, and are getting ready to record and release our second within the next several months. I personally like the idea of holding off on a full album until we really find our sound and have support from a record label to promote it. Starting with EPs gives us more flexibility. There's a lot less pressure.
Gavin: Any plans to tour yet or sticking to Utah for now?

Emmett:
Just actually got back from a mini west coast tour. We played my hometown back in California with The National Parks and Brumby. On our way there, we played a gig at the Singer Social Club in Reno, Nevada. SLC will be our third stop, then we have a show in Orem at the Stereo Room on Jan. 19. I'm looking at other potential tour destinations now. Again, I'm leery of spreading ourselves too thin playing gigs all over the place before we have music that is good enough to spread itself around on the internet. I definitely still think it's good to get out of Utah every once in a while. The local music scene here is so great that sometimes I forget that there is a bigger national scene we want to be a part of. Getting out of state every few months is a good reminder for me of what the big picture really is.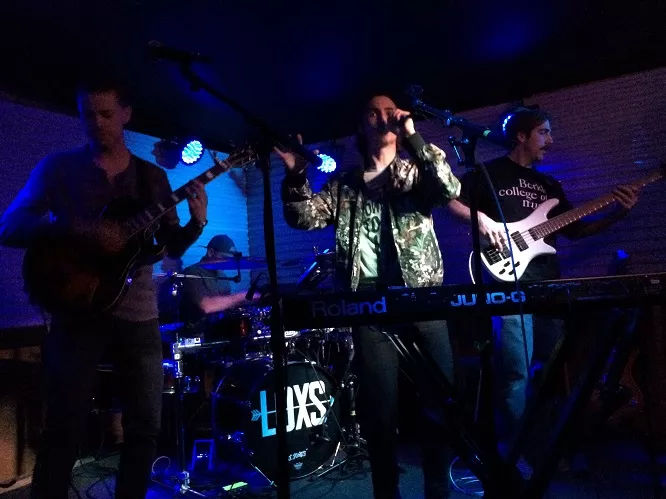 Gavin: What can we expect from you over the rest of the new year?

Emmett:
I'm really stoked to see what I can get done now that the band is my main career focus. I'd like to expand the band line-up, get a website up, film some music videos, record another EP, play in a few more new states. The list goes on and on. Hopefully, come 2017 we'll be astronomically further along than we are now in terms of our fan base and online presence.
Mojave Nomads
(Benton Wood, Tyler Harris, Cole Eisenhour, Colter Hill & Bryton Bell)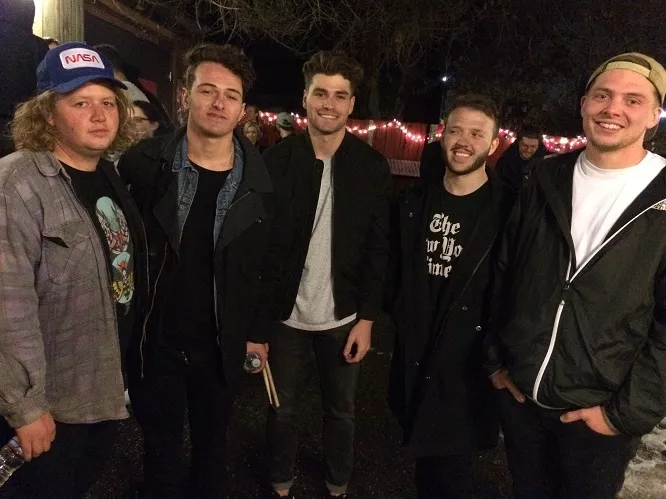 MojaveNomads.com
Gavin: How did each of you get into music and what were your favorites growing up?

Tyler:
I started playing guitar at 13 and started out listening to The Beatles, Cage The Elephant, The Strokes, The Kooks, Phantom Planet, and The Black Keys.
Bryton:
I started playing guitar when a friend taught him a couple songs in junior high, then got an acoustic for Christmas. Grew up on The Rolling Stones, CCR, Kings of Leon and Led Zeppelin.
Colter:
I started with my dad getting me into Led Zeppelin and by playing music on the school's band and picking the guitar up in 6th grade.
Mason:
Being Colter's brother, he started in a similar way, but picking up the drums really early on and switching to keys.
Gavin: What was it like for each of you to break into the local music scene?

Tyler:
This was my first time trying to break into the music scene and it was a really big learning experience for me.
Bryton:
It definitely took a lot of hard work, but I found everyone to be very welcoming and supportive both in the northern and central Utah scene.
Mason:
it's weird being one of the youngest musicians in the music scene and doesn't like having to stay home when we play 21+
Colter:
it's been nice having such a solid group of friends to support us from the get go, even before this became our whole lives basically. But it's really awesome to meet all the new fans as well.
Gavin: How did all of you meet each other and become friends over time?

Colter:
Tyler and I were next door neighbors and friends from an early age, as were Bryton and Cole. I met Bryton and Cole through school and eventually we all came together.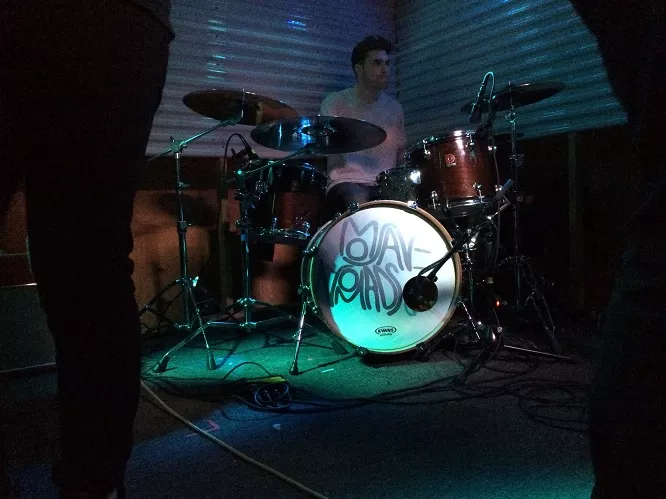 Gavin: When did you decide to come together and form Mojave Natives?

Colter:
We were playing under another name for the first few months, but after Mason came on board in October of 2014 we decided to rebrand.
Gavin: What was the biggest influence behind forming an alternative band?

Cole:
Colter and I jammed to the blues a lot in high school, which drove us toward a Black Keys type sound. We've also all listened to the alternative stations pretty much all our lives.
Gavin: How is it for you writing music as a five-piece and putting all those elements together as a group?

Tyler:
we've written songs a lot of different ways. Sometimes I have skeletons I'll bring forward, or Mason or Colter will have a riff we want to make into something and then it blossoms. We began to notice that the songs that turn out the best were the ones that I wrote, at least, the lyrics for, so we're starting to burn on all cylinders with the dynamic of playing musical beds and then handing them over to Tyler to work on.
Gavin: Back in June you released the Black Sheep EP, what was it like putting that album together?

Colter:
It was a really fun process. We did it with Jordan Clark of VanLadyLove at Willamette Mountain which is Joshua James' studio. He even popped in and helped from time to time. It was our first studio experience, and we learned a lot about ourselves as musicians. I think it really captured what Mojave Nomads was at that time.
Gavin: What did you think of the public response to it when it came out?

Tyler:
We were stoked. We had a packed house at Mojo's in Ogden for our release and we got a lot of good press for the record. It also really put us on the map down in the Provo music scene and allowed us to get higher profile gigs.
Gavin: Do you have any plans for another EP or a full-length album yet?

Cole:
Yes, that's what we've been all about these past couple months. We have a bunch of material we're currents sorting through and refining, with hopes of a new EP possibly by the summer.
Gavin: You've been involved with a number of high-profile shows, are you looking toward touring yourselves yet?

Tyler:
It's hard with Mason being in high school still and Cole being thick in UVU's track program, but we're hoping to at least to a small tour this summer and then when these guys graduate, we'll hit it hard.
Gavin: What can we expect from you over the rest of the new year?

Colter:
A new EP for sure. We've also got some really big opportunities in the works. We're really stoked about what we've got coming out in 2016.