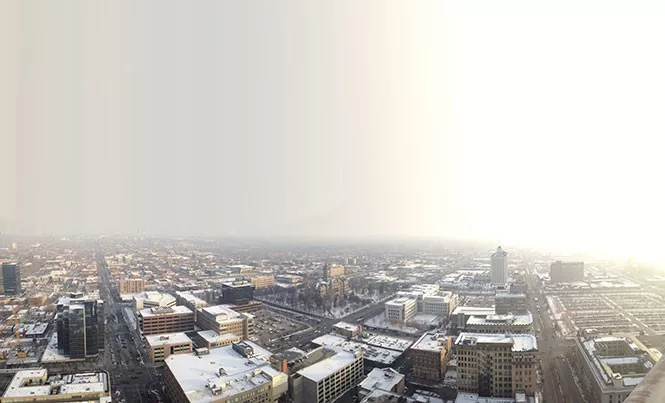 Clean air advocates plan to picket a gathering of home builders tonight at the Utah Home Builders' Association's Denim & Diamonds Gala at Trolley Square.
The gathering, led by environmental groups Utah Moms for Clean Air, HEAL Utah and Utah Physicians for a Healthy Environment, was sparked by opposition from the Utah Homebuilders' Association to legislation that would require installation of efficient hot water heaters and improved statewide building standards.
Clean air groups say requiring more efficient water heaters and updating the state's building codes are easy, cheap and "commonsense" avenues to improving the Wasatch Front's filthy air. Yet, during interim committee hearings of the Legislature, both proposals were opposed by home builders and both now face an uncertain future as the Legislature prepares to convene.
"Cleaner water heaters and stronger building codes are exactly the kind of cheap and effective clean air policy Utahns desperately want our leaders to implement," Matt Pacenza, executive director of HEAL Utah, wrote in a news release.
"Homebuilders need to understand that their future prosperity depends on our state becoming a healthy environment for all our families."
State regulators have approved efforts to mandate the use of low-NOx (nitrogen oxide) water heaters, but clean air groups say a routine review, and rebuke, by lawmakers over the summer put the effort in danger. According to the groups staging tonight's protest, use of low-NOx water heaters in the state's new homes could eventually reduce the amount of NOx, a key contributor to the sludge that collects during wintertime inversions, by roughly the same amount as closing the valley's oil refineries.
The Homebuilders' Association's event is set to recognize home builders for their contributions to construction and high sales volume over the past year.
Protesters say they will hand out leaflets and politely ask attendees to "embrace smart clean air policies."
The event is being held at the Falls Event Center, just off 600 East between 500 and 600 South, and protesters will gather at 5:45 p.m. for a brief news conference.