To start off the 2016 Gallery Stroll year, several SLC galleries decided to break from tradition and pushed past the group exhibitions during film festival season, to focus more on single-artist shows—many of whom were working in more of an experimental nature. Take, for example, Scott Filipiak, who has managed to take photographic and painted works and turn them into interactive works that you can actually scan with a QR code reader to bring the art to
life
in a digital way. We chat with Filipiak about his career as we show you photos from his show at Mod A-Go-Go.
Scott Filipiak
Krop.com/FlipDesign
Gavin: Hey Scott, first off, tell us a bit about yourself.

Scott:
I'm originally from Bloomington, Illinois where most of my family still lives, but I went to art school in Miami, Florida to learn
commercial
art and graphic design. We visited Utah in 2007 and fell in love with the area and jumped at the chance to move here in 2009. I've spent my entire professional career as an Art Director/Creative Director in various industries including newspaper/print, advertising agencies, and most recently clothing/retail. I spend most of my free time working with many local non-profits including the National Ability Center and Friends of Animals, painting, photographing old barns and watching swim meets.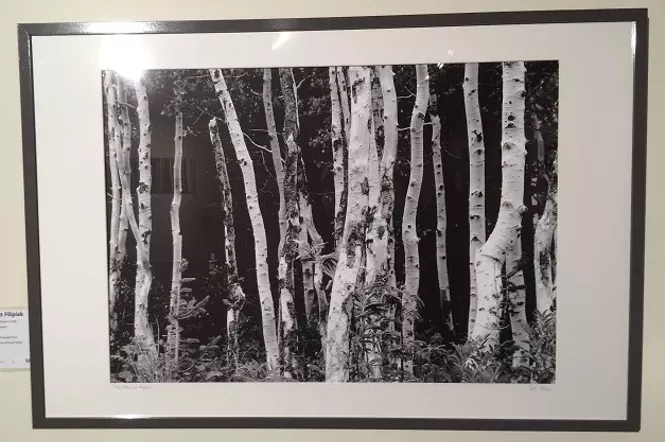 Gavin: How did you first take an interest in art, and what were your early influences?

Scott:
I have always loved art. As a little kid, it was one of my favorite parts of the school week when were able to put away the books and get out the scissors. Some of my family were really into comics when I was younger so we always had those lying around the house, and later in my
teens
I was influenced by the graphics on the skateboards we rode.
Gavin: What caught your eye to go more toward design?

Scott:
Ironically, my high school art teacher, Mr. Henning, had shown me some cool advertising design stuff during our AP Art classes and talked about how he had thought about studying it but decided to teach fine art instead. I was really drawn to the pace of design work. I don't know how some of the classic painters could work for months or years on the same pieces.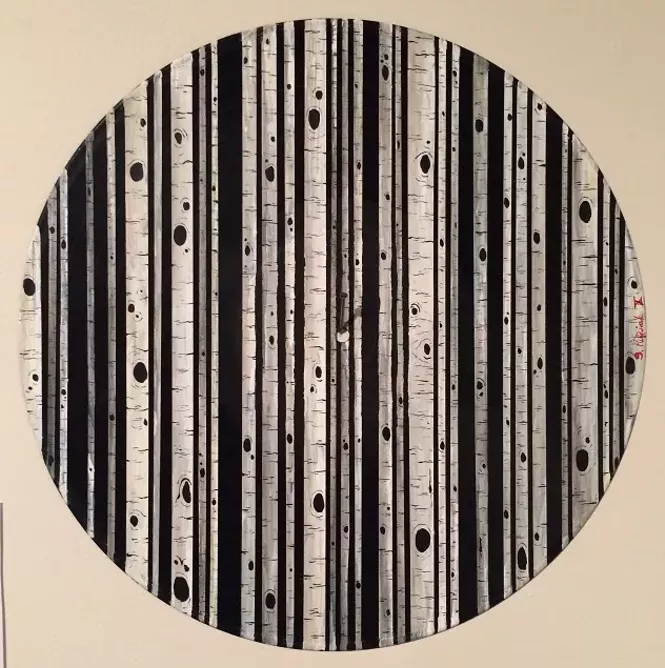 Gavin: You have a design degree from the International Fine Arts College in Miami. What made you decide to go there and what was your time like in their program?

Scott:
Having grown up in the Midwest, I wanted to get out and explore more of the world. I really liked the idea that their program was focused on art with a few of the other classes like math and English sprinkled in vs. the traditional way of taking all those classes first. My time in the program was great! I had a couple of great work-study jobs and was able to work with the Dean of the College, and the Director of Job Placement which allowed me to learn a lot of corporate skills that have benefited me through the years.
Gavin: What was it like for you breaking into graphic design and working for various companies over the years?

Scott:
It wasn't easy, but I've always liked networking and getting to know lots of people in different industries. My first break came from Adnan Razack, my illustration professor in college. He helped me land my first job out of college as an Art Director for a weekly arts, dining and entertainment newspaper in Miami. We've moved through Florida, the Midwest and now the West over the last 20 years, and each time I've worked to continue building my professional network. Networking is by far the best way to get to know people and companies, and connect with your community.

Gavin: What eventually brought you to Utah and what made you decide to stay?

Scott:
The mountains! Actually, my wife and I both worked for the parent company of the
Daily Herald
in
Provo,
and fell in love with the area on a work trip. We decided that if there were ever an opportunity to move to the area, we would take it. Shortly after that, my wife was offered a position, and our family made the move. While we may not live here forever, part of our hearts will always be here. When we travel back to the Midwest to visit family, it's amazing how quickly we miss the mountains.
Gavin: What was it like for you breaking into the SLC art scene and displaying works around town?

Scott:
That hasn't been easy. My interactive work needs a little explaining on the how and why—and, unfortunately, some of the galleries I've talked to either didn't understand the concept, or it wasn't going to be a good fit for their clientele. I feel like my confidence was boosted after making it into a couple of juried shows. The Springville Museum of Art, Mod A-Go-Go, and the Urban Arts Gallery have all helped me get a foot in the door to the SLC art scene.

Gavin: What was the major inspiration for your interactive works?

Scott:
I'm always working with barcodes in my day job, and one day while processing some photos of a grove of Aspen trees on the side of the road in Little Cottonwood canyon and the trees reminded me of
barcode
. It made me wonder if I could make a barcode out of trees or other things, and whether or not it would still work with a QR code scanner app on my phone. After a couple of the small tests, I decided to do a large scale piece and it worked!
Gavin: For those who may not have seen your work yet, explain how the barcode and QR code systems work with your work.

Scott:
That's a little more difficult to explain, but basically I use the idea that the barcode/QR scanner apps were developed to point a customer to a specific product for sale online. My paintings often lead to chainsaws and axes in an ironic symbolization that often we are destroyed by that which creates us and the hidden fear of self-destruction. I love the hidden "Easter egg" aspect of the work. You can appreciate the artistry of the painting with or without scanning them but the interactive aspect adds another dimension for techies like myself.
Gavin: You also work with photography as well. What inspired you to work in that medium, and what do you primarily shoot?

Scott:
Although I had learned to shoot on film, I prefer to shoot digital and I love landscapes, barns and buildings. I've been shooting for many years and since moving to Utah, I've developed a real passion for photographing the breathtaking landscapes all around us.
Gavin: Tell us about the specific works you be featuring this month during Gallery Stroll.

Scott:
Obviously there will be my barcode
pantings
of the aspens, including the largest one I've painted to date which is 8' wide x 2' tall. There will also be a few fun barcode pieces with a
Star Wars
theme for fans like myself, and numerous photographs.
Gavin: How has it been working with Mod-A-Go-Go to put together this solo show?

Scott:
The guys at Mod-A-gGo-Go are fantastic, and have made the lead-up to the show go very smoothly. When I first contacted them this summer about showing my work, they instantly got the concept. They put together so many fantastic shows each month that I was completely floored when they had asked me to have my first solo show so soon.
Gavin: Considering the interactive element, what are you hoping people will take away from the show?

Scott:
First and foremost, I hope they can find a connection to the works. All artists want to share something with their audience. On a deeper level, I'd love people to be able to stop and reflect on the irony of hiding the things that hurt us the most right in plain site.
Gavin: What's your take on the local art scene and the work currently coming out of it?

Scott:
I think that there is some really cool stuff happening out there. I was so surprised to find the diversity of the topics that people are covering with their work when we moved here. I love that there are monthly Gallery Strolls in Salt Lake, Park City, and Provo so artists can get seen by more people, more often. Making art accessible and exposing people to a wide range of artists on a regular basis is fantastic.
Gavin: Who are some local artists (aside yourself) that you've been enjoying and recommend people check out?

Scott:
At Mod-A-Go-Go, I love Vita and all the amazing small works she produces, and, of course, Dania Darling's work with texture and pattern. I've seen quite a few people start working with spray paint to produce fine art but so far
Sril
is killing it. His murals are on a scale and quality that is hard to believe.
Gavin: What can we expect from you over the rest of 2016?

Scott:
I'd like to continue exploring the idea of mixing hidden technology into paintings, and I've started a "photo a day" challenge on Instagram to post one image shot that day to help expand my photography portfolio and to see how my interests and eye change throughout the year. It's been a fun project so far, and we'll see where it leads; many people are already asking for a coffee table book at the end of the year with many of the photos. People can follow me on my journey on
Instagram
.