The first time I ever ate chicken Colombo was in St. Martin. I absolutely loved it. If you've never tried it, chicken Colombo is a popular stewed chicken dish in the Caribbean with subtle, curry-type flavors.
You can purchase Colombo spice mixes, but it's also easy (if a bit time-consuming) to make a batch of your own. The recipe for the Colombo spice mix here will make enough for 8 or 10 batches of chicken Colombo.
Ingredients:

(For the Colombo spice mix)


1/4 cup coriander seeds
1/4 cup cumin seeds
1/4 cup uncooked white rice
1 Tbs black peppercorns
1 Tbs fenugreek seeds
1 Tbs. black mustard seeds
1 tsp whole cloves or 1/2 tsp ground
2 Tbs turmeric
1 Tbs yellow Indian curry powder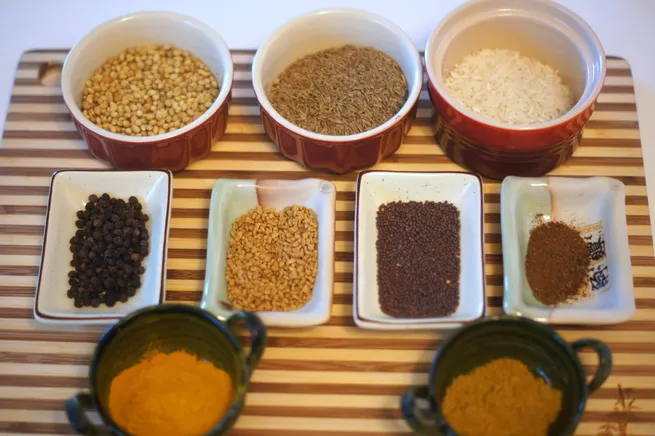 To make the Colombo spice mix, begin by toasting the rice in a dry skillet over medium heat until slightly golden. Stir occasionally to keep the rice from burning. Transfer the rice to a bowl to cool.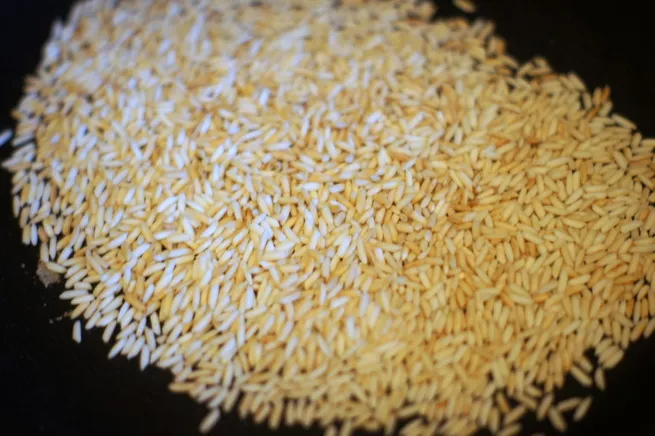 Place all the other spice ingredients - except the turmeric and curry powder - into the skillet and cook until lightly toasted and fragrant, about 3-4 minutes. Transfer to the bowl with the rice to cool.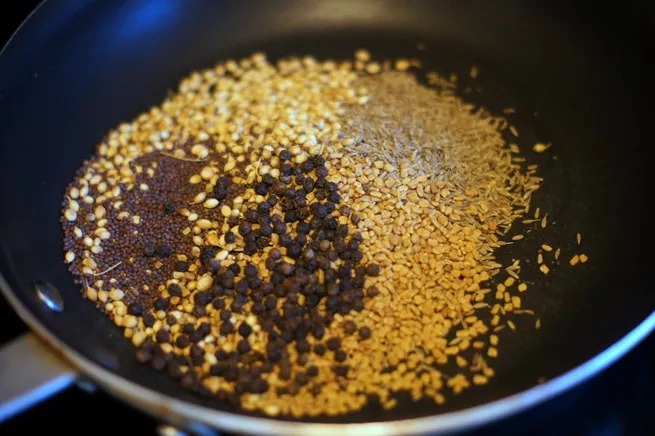 Using a coffee or spice grinder, grind the rice and toasted spices into a fine powder. Stir in the turmeric and curry. This is your Colombo powder. Store in an airtight jar at room temperature.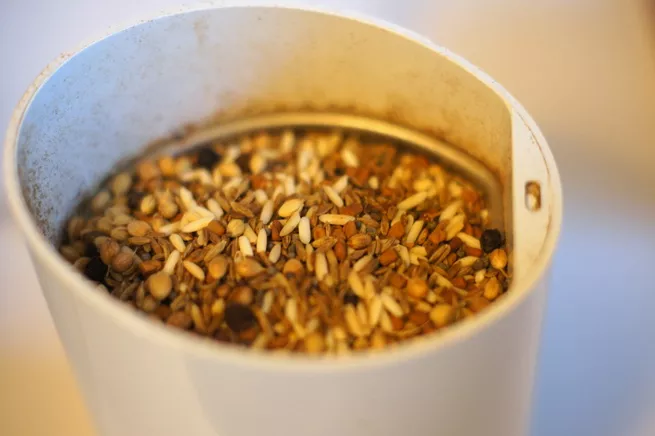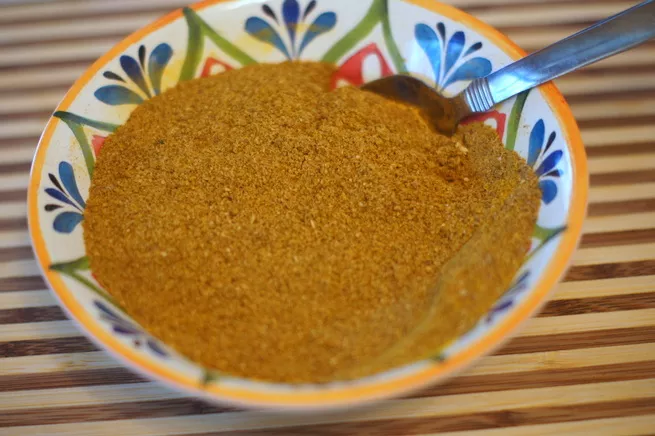 Ingredients:


(For making the chicken Colombo)
1/2 tsp coriander seeds
1/2 tsp mustard seeds
1/2 tsp cumin seeds
1/2 tsp anise seeds
1 chicken, cut into eight pieces, or eight chicken parts such as thighs and drumsticks, skin removed
3 Tbs olive oil
1 red onion, thinly sliced
2-3 garlic cloves, peeled and minced
1 shallot, minced
2 Tbs Colombo powder (see recipe above)
1 can (14-oz) chicken broth
2-3 white or Yukon gold potatoes, peeled and chopped into bite size pieces
1 carrot, peeled and chopped into bite size pieces
2 habanero pepper, stemmed, seeded, and finely minced
2 scallions, chopped
Juice of 1 lime
2 Tbs minced thyme leaves
2 Tbs minced Italian parsley
Salt and pepper, to taste
Minced chives (optional)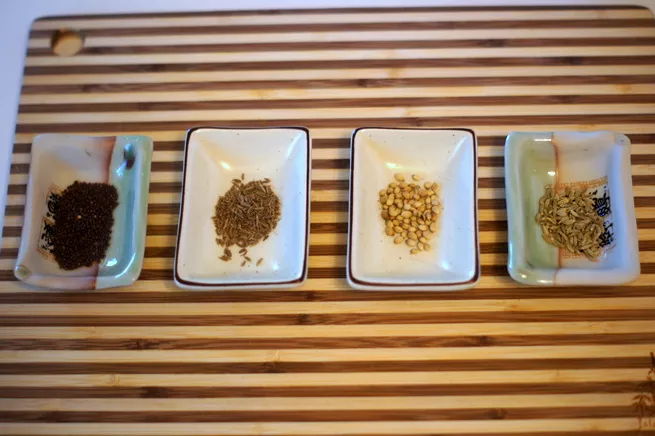 Method:


Using a spice grinder or mortar and pestle, grind the coriander, mustard, cumin and anise seeds into a powder.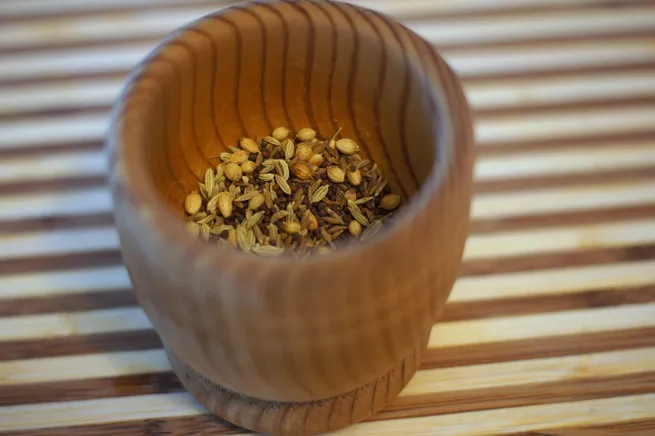 Sprinkle the chicken pieces with the spice powder (not the Colombo) and set aside.
Heat the olive oil In a Dutch oven or large skillet over medium heat. Add the red onion, garlic and shallot and cook until softened, about 5 minutes.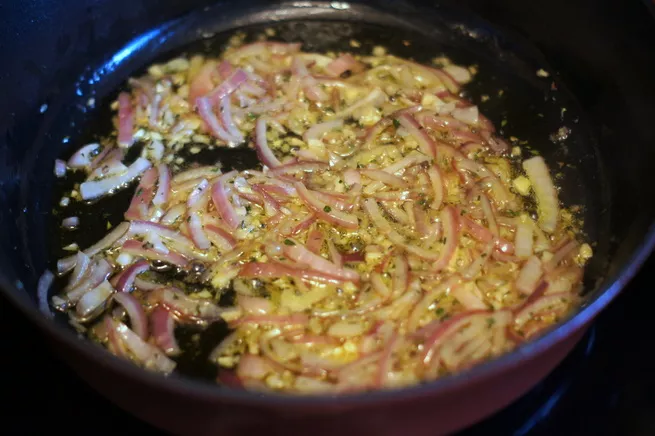 Place the chicken pieces into the pot and cook, turning occasionally, until lightly browned.
Add the Colombo powder, lime juice and habaneros. Stir until the chicken is evenly covered in Colombo.
Stir the chicken broth to the pan.
Cover and cook at a simmer over medium-low heat for about 30 minutes.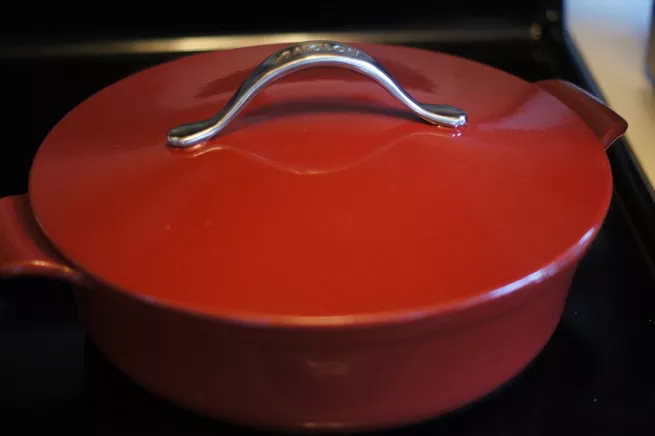 Add the potatoes, carrot and scallions to the pan and continue to cook at a simmer, uncovered, until the vegetables are tender, but not mushy.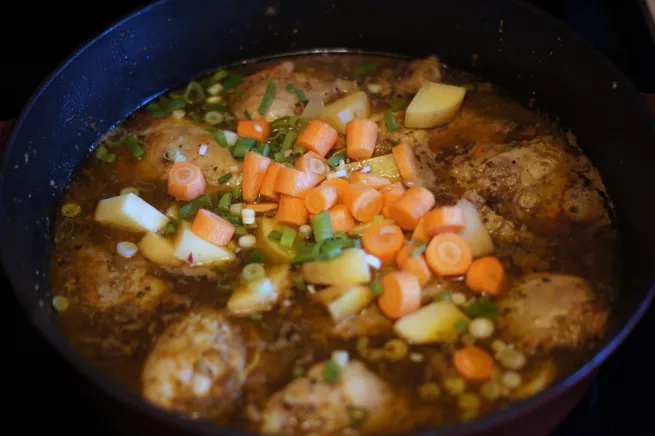 Sprinkle the Colombo with the parsley and serve with white rice. Garnish with minced chives (optional).
Photos by Ted Scheffler