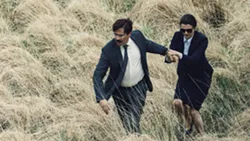 The Lobster
[Spotlight] ★ ★ ★
If you're going to make a movie about a society in which the only options are romantic couplehood or losing your humanity, the deadpan absurdist sensibility of Yorgos Lanthimos seems just right for the task. This story focuses on a man named David (Colin Farrell) who is left by his wife, forcing him per the laws of The City to go to The Hotel, where he has 45 days to find a new romantic partner or face the rest of his life transformed into the animal of his choosing. Lanthimos and co-writer Efthymis Filippou fill this world with terrific details about the pressure both physical and psychological placed on citizens to be paired up, before shifting to the world inhabited by The Loners who resist that pressure, including a woman (Rachel Weisz) who is only perfect for him because they're both nearsighted. It's often bleakly hilarious as a satire of forced conformity, and even of the different kind of forced conformity within packs of non-conformists. But it's also far less interested in making any kind of Big Statement than of maintaining its deliberately flat tone and demented sense of humor. The gag may ultimately wear thin, but it's a hoot while it lasts. (Scott Renshaw)
The Fits
[NEXT] ★ ★ ★ ½
Co-writer/director Anna Rose Holmer delivers one of the festival's most distinctive examples of pure visual storytelling in the tale of Toni (Royalty Hightower), an 11-year-old girl who spends her days training at boxing in the Cincinnati community center where her older brother works. But the community center is also the home of an award-winning dance team, and Toni becomes fascinated with possibly joining up—just at the point that members of the team start experiencing strange seizures. What follows a coming-of-age story steeped in a mix of magical realism and almost wordless storytelling, built around the way Holmer captures Toni always looking and listening in on adult worlds—of relationships, or concerns about the community's water supply—that she's not quite part of. The complex mix of fight choreography and dance choreography provides a wonderfully unique framework for the narrative, which takes its metaphors—including something as simple as piercing ears—and crafts them into something wonderfully evocative about the way pre-adolescent girls approach sexual maturity with an always-uneasy mix of eagerness and repulsion. (SR)
Eat That Question: Frank Zappa in His Own Words
[Documentary Premieres] ★ ★ ★ ½
In a film of mostly-chronological Frank Zappa performance footage and his archival interviews, the contrast with his journalistic interviewers couldn't be established quicker. Zappa typically had few words, dressed in T-shirts and smoking a cigarette, sporting that wild, hairy look and was, in his words, "ugly;" they were always perfectly made up, coiffed and hyper-articulate. But in
Eat That Question
, Zappa ate their lunch as well—sometimes aggressively, sometimes dismissively, but never with anything but honesty based on the conviction he was the smartest man in the room. Nor did he duck questions; as he nears his 1993 cancer death, Zappa directly and unemotionally admits having more bad days than good and not working as hard as he had. This is a portrait of the artist as, in Rossellini's formulation about Chaplin, a free man—absolutely free, a Zappa fan might say. He literally gave no fornications, which is why his persona and this film wear so well. Within 90 minutes, director Thorsten Schutte does a decent job both of representing the various phases of Zappa's career (though he was too prolific and eclectic to cover satisfactorily) and of sampling related topics: Zappa's politics (apart from censorship from both political sides, he was an uninterested aesthete), drugs (agin' 'em), and all the Problematics. "Tinsel Town Rebellion" could not be released today, and one knows Zappa would have made it anyway. He was a free man. (Victor Morton)
We Are X
[World Documentary] ★ ★
It's tempting to chalk up my tepid reaction to cultural-musical ignorance; I half-joked beforehand that I thought it would be about the Nation of Islam. But I'm also nobody's idea of a Frank Zappa fanboy, yet thoroughly enjoyed
Eat That Question
immediately preceding this film. At some point, a music documentary has failed if it doesn't engage those who are not already fans. To be fair to
We Are X
, it does acknowledge that while X Japan are superstars in their home country, they're a cult item in the U.S. Gene Simmons of Kiss directly says it: English is the language of rock n roll, and X Japan's infelicity prevented it from being the world's biggest group. You can see why Simmons would say that: X Japan clearly are "children" of Kiss musically, and in their personae and staging. Some interesting topics are very Japanese, primarily "suicide contagion" in the nation with the world's highest rate. Other material feels underdeveloped; the cult that brainwashed lead singer Toshi and forced an earlier breakup is vague and unspecified.
We Are X
also is constructed as if nobody had ever before made a rock documentary. It walks up to the big comeback concert at Madison Square Garden, with difficulties aplenty, and weaves those preparations around sequences of the band's history and breakups, interviews with members, testimonials from other musicians, etc. You know this movie by heart, even if you've never heard of X Japan. (VM)
Lovesong
[U.S. Dramatic] ★ ★ ★
At times, it feels so ethereal that it threatens to float away entirely, but So Yong Kim manages to latch on to just enough authenticity in his complicated central relationship. Sarah (Riley Keough), struggling with the frequent work absences of her husband as she raises a 3-year-old daughter, takes a road trip with her long-time friend Mindy (Jena Malone) that becomes unexpectedly intimate; three years later, after little contact, they meet up again, with their feelings still unresolved. The story is carried largely by the performances, as both Keough and Malone are asked to convey a lot about the unspoken feelings between these two women through body language and eye contact. But Kim—who co-wrote with her partner Bradley Rust—also anchors those feelings in some wonderful details, from the authentic high-maintenance energy of Sarah's daughter to something as simple as having a cell phone be plugged in for overnight charging when someone answers it in the morning. It can be a bit frustrating awaiting big emotional moments that
Lovesong
is reluctant to provide, but the world in which it takes place feels so richly thought-out that all the small moments feel that much more real. (SR)
White Girl
[U.S. Dramatic] ★
The film titled
White Girl
begins and ends with a white screen; the heroine is a blonde and first seen dressed in white; and several times the backgrounds get blown out with white light. I have no doubt that writer-director Elizabeth Wood thought she was making a film about white privilege, but what's on the screen is a film about a stupid naïve brat, a spoiled gentrifier who thinks nothing of walking up to Hispanic neighbors on the day she moves into the neighborhood and asking them where they get their drugs. During an apparently nonstop sex-and-drugs binge, the titular Leah manages to ruin the lives of minority men at slight cost to herself, with the last scene being her back at university as normal. (There is one possible exception, but Wood shoots it in a distancing way and it's mostly forgotten by the end; indeed, one reason that scene is forgotten is that it hardly stands out in
White Girl
's eagerness to participate in indie-cinema's depravity arms race ("high" point: snorting cocaine off an erect penis). Oh, and Leah is not remotely the villain, as she'd have to be for the film to be critical of, rather than exemplifying, a certain careless privilege. Instead,
White Girl
is paced as a fun lark with constant cutting for comedy. Leah tells a man putting his hands on her thigh, "what kind of girl do you think I am" [beat] topless grinding in a public place. (VM)
Jacqueline (Argentine)
[World Dramatic] ★ ★ ★ ½
At first, it feels like a perversely Seinfeld-ian meta-concept: A movie about the making of a movie that's kind of about nothing. But writer/director Bernardo Britto's fake documentary—about a filmmaker (Wyatt Cenac) following a low-level French diplomat named Jacqueline (Camille Rutherford), who claims to have information about a conspiracy to assassinate a Middle Eastern presidential candidate, and has gone into hiding in Argentina—becomes almost profound in its rambling search for a point. That's because Cenac's character has almost nothing to work with: Jacqueline may be completely full of shit, and even if she's not, the footage he's getting isn't particularly conducive to making a great documentary.
Jacqueline (Argentine)
then becomes the drily hilarious chronicle of a guy trying to salvage the months he's invested in a project through sheer force of will, his affectless narration somehow trying to bestow significance on seeing a bunch of dead dogs, or to the most mundane utterances Jacqueline shares. Then, just as his effective but one-note joke seems to be running out of steam, Britto connects both the director and Jacqueline in a story about what it means to feel compelled to leave a mark, whether through action or an artistic creation. The quest to leave behind
something
, even something as pointless as
White Chicks
, begins to feel almost noble, since it's going to be in
somebody
's DVD collection. (SR)