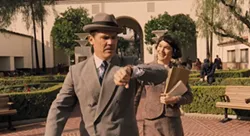 The Coen brothers lampoon vintage Hollywood, Jane Austen gets a horror makeover and the Academy Award nominees in short film categories get a showcase in some of the new releases in Utah theaters this week.
Joel and Ethan Coen's
Hail, Caesar!
(pictured) finds goofy comic energy in the story of a circa-1951 movie studio "fixer" trying to manage crises, while showcasing hilarious homages to the era's favored genres. In
45 Years
, Charlotte Rampling's Oscar-nominated performance is only one part of a magnificent drama about a married couple facing a crisis when information from the past comes to light. Supernatural horror gets awkwardly sprinkled on top of Jane Austen in
Pride and Prejudice and Zombies.
And more brilliant Oscar nominees are on display in a program featuring the across-the-board-fantastic
2016 Oscar Nominated Short Films - Animated
.
MaryAnn Johanson takes a look at the
2016 Oscar Nominated Short Films - Live Action
, and finds a great bunch of entries all exploring some variation on the idea, "We're not alone." The torn-from-the-1990s-tabloids drama
Regression
takes a story of abuse and possibly false confession, and ends up wallowing in preposterousness.
Eric D. Snider takes on the latest Nicholas Sparks adaptation,
The Choice
, and finds yet another formulaic romantic weepy, this one perhaps slightly less soap-opera-insane than others.