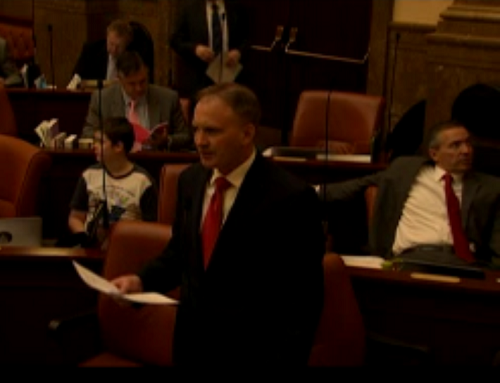 via le.utah.gov
Rep. Craig Hall, R-West Valley City.
The Utah House of Representatives approved a bill Wednesday morning that requires computer technicians who discover child pornography in the course of their work report the discovery to law enforcement. But some lawmakers who voted no argue that the bill should really be called the "Rat On Your Neighbor" bill.
HB155
, sponsor Rep. Craig Hall, R-West Valley City, says "does not require the computer technicians to go looking for child pornography, or to search for anything at all. It only applies when a technician happens to discover [child pornography] in their course of their duties."
Some lawmakers voiced some concerned that the bill has some "fuzzy" language, because the law places the responsibility of determining whether or not an image is actually child pornography on the technician. But Hall tried to quell those concerns, pointing out that while yes, the technician is responsible for using "reasonable judgement" to determine whether an image should be reported, it also clearly says that if the technician reasonably believes that an image is not child pornography, they are protected from prosecution even if it turns out they were wrong.
"We have decided in Utah that child abuse is such a horrendous crime, if you view or become aware of it you are required by law to report it," Hall said. "And the reason for that is because it is such a societal wrong. Likewise, child pornography is such a societal wrong that we need to require computer technicians if they come across it, they are required to report it to law enforcement."
But while there was unanimous agreement that child pornography is evil, 13 of the 75 representatives in the House voted against the bill.
Rep. Johnny Anderson, R-Taylorsville, who owns several child care facilities, was one of the 13 who voted against the bill. "Obviously child pornography is disgusting and people who produce it or look at it should be put in jail," Anderson tells
City Weekly
, "but the idea of somebody from Geek Squad or somebody who is helping someone else at home with their computer, if you find something that you find offensive or that you think is pornographic, you must report that? That concerns me. I don't want us going down the road of telling someone that if you think your neighbor is doing something wrong, you are required by law to go to the police about it. I don't want to immediately compare it to Nazi Germany, but it feels that way."
"Look, this is very narrow," Hall says. A parent who comes across child pornography would not be required to report it, and no, this would not apply to a picture of a baby in a bathtub. It only applies to people acting as computer technicians."
Hall's bill is the second child pornography-related bill to pass the House this session and now moves onto the Senate. The other was
HB260
from Majority Whip Francis Gibson, R-Mapleton, which exempts jurors, court employees, and attorneys from penalties for viewing child pornography when it is viewed in the course of their duties in court.