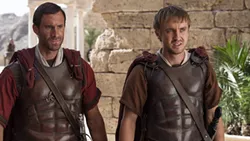 Period-piece stories are the focus at theaters this weekend, as new releases take us to 1st century Judea, 17th century New England, 1930s Berlin and 1950s Hong Kong.
Risen
(pictured) tells the Biblical story of Jesus' resurrection through a first half that's fascinating when it's about a miracle as a political problem, but less compelling when it's a re-telling of Acts of the Apostles. The story of American Olympic track star Jesse Owens in
Race
loses some of its solid individual moments in a narrative that tries to pack in too much factual detail.
Ip Man 3
continues the story of a legendary kung fu teacher, and is much better when it focuses on badass fighting than when it opts for family melodrama. Maggie Smith is predictably delightful in
The Lady in the Van
, but it's hard to stomach a story that turns a homeless woman's plight into a punch line for a writer's personal learning experience.
In this week's feature review,
The Witch
finds truly disturbing psychological horror in colonial American Christianity's obsession with corruption.