Just like with gumbo, in Louisiana, there are as many different recipes for jambalaya as there are cooks who make it. Here is one I like a lot.
Ingredients:


2 lbs. smoked pork sausage, such as andouille, sliced 1/4-inch thick
1 1/2 lbs. boneless, skinless chicken thigh meat, cut into bite-size pieces
3 medium onions, peeled and diced
2 Tbs. minced garlic
1 lb. ham, such as tasso, diced (I had some Creminelli cotto on hand, so I used that)
1 Tbs. fresh basil leaves, minced
1 Tbs. fresh thyme leaves, minced
1/2 Tbs. ground white pepper
1/2 Tbs. ground black pepper
1/2 Tbs. dried chili flakes
2 Tbs. minced parsley leaves
5 cups chicken broth
1/2 lb. medium shrimp, peeled and deveined
1 lb. long grain rice
1 Tbs. Louisiana hot sauce
Method:


Heat a heavy Dutch oven over high heat and add the sausage. Stir continually until the sausage is browned, but not burnt.
Add the chicken meat and brown the chicken, stirring continually and scraping the bottom of the pot.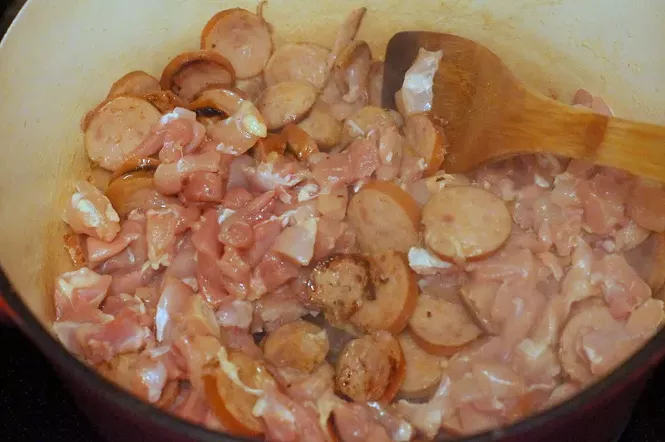 Lower the heat to medium and add the onions and garlic.
Cook for about 10 minutes, until the onions are translucent and softened. Be sure to stir and scrape the bottom of the pan frequently. That's where the jambalaya flavor resides.
Add the ham, herbs, peppers, chili flakes and parsley.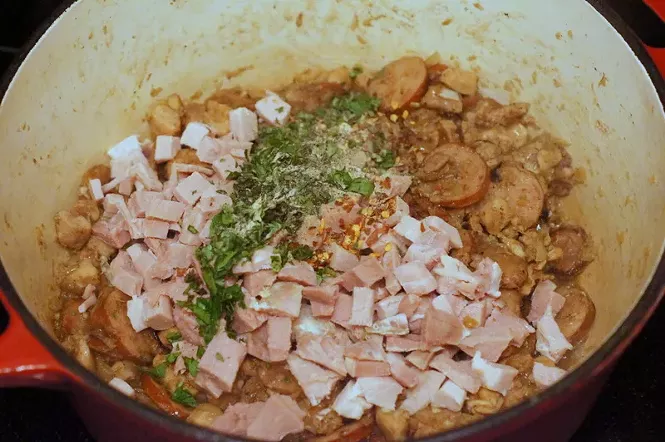 Stir well and cook, stirring and scraping frequently, for 7-8 minutes.
Pour the chicken broth into the pot.
Bring the broth to a boil.
Add the rice and hot sauce to the pot and stir to blend it well and to break up any clumps of rice. Be sure to scrape the bottom!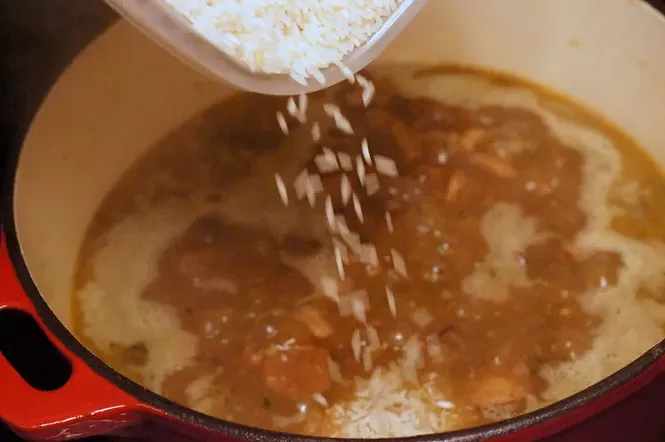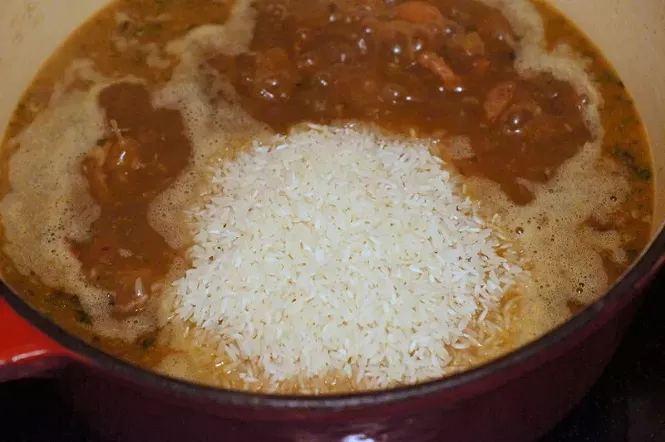 When the jambalaya returns to the boil, add the shrimp and reduce the heat to its lowest setting.
Cover and simmer the jambalaya for 25 minutes, or longer if needed to soften the rice. It shouldn't be mushy, and should have a little snap to it - like
al dente
pasta.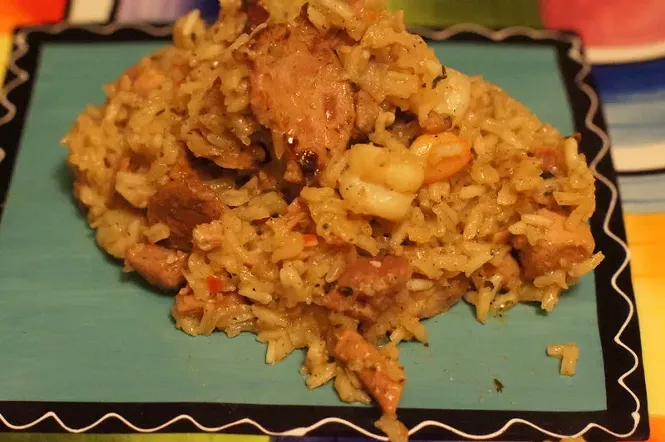 Photos by Ted Scheffler