Another week, another jazz musician biopic in local theaters, along with a speculative dramedy about a historical meeting and a curious sort of blockbuster sequel/prequel hybrid.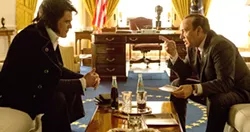 Following hard on the heels of last week's Chet Baker biopic
Born to Be Blue
is writer/director/star Don Cheadle's profile of Miles Davis in
Miles Ahead
, which avoids trite genre cliches but can't pull it's uniquely weird structure into anything insightful about its subject. Michael Shannon and Kevin Spacey (pictured) play the title subjects in
Elvis & Nixon
, which depends on Shannon's performance and the weirdness of the premise to carry it when it doesn't actually seem to have a point. Tom Hanks' distinctive soulfulness gives weight to a sadsack salesman's mid-life crisis in
A Hologram for the King
.
MaryAnn Johanson laments
The Huntsman: Winter's War
ignoring the back-story for Charlize Theron's evil queen, leaving a strange Kristen Stewart-less follow-up that doesn't make much sense.
In this week's feature review, Richard Linklater takes a charming, balanced period-piece look at bros in the wild in
Everybody Wants Some!!


Also opening this week, but not screened for press:
Compadres
, a mismatched buddy comedy about a Mexican ex-cop trying to find the man who framed him with the help of a teenage American hacker.