Browsing local fashion, designers are preparing for the summer and looking
toward
runway shows happening throughout the season to premier new fall material. This is actually one of the best times for young designers to get their name out, and for locals hoping for a new look to see something new. Today we chat with McQuiston Marié about her career and the work she's been producing lately, as well as what she has
coming
down the road. (
All pictures provided courtesy of McQuiston Marié.
)
McQuiston Marié (center)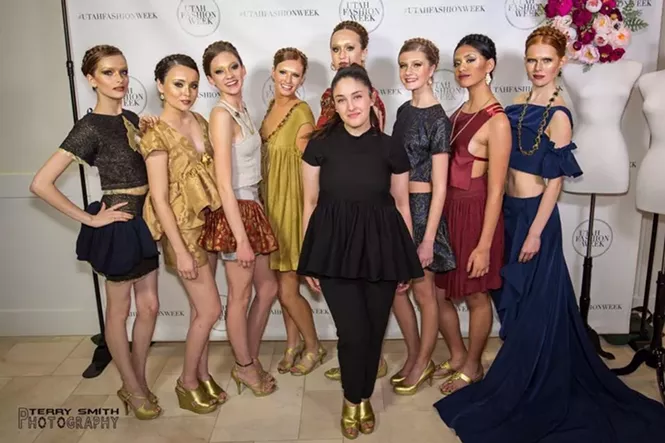 McQuistonMarie.com

Gavin: Hey McQuiston, first thing, tell us a bit about yourself.

McQuiston:
I am the eldest of four girls originally from here in Utah (good old Sugar House). I am 22 years old and I have lived in New York and Italy. In New York, I discovered how important fashion is, but in Italy, I learned the definition of fashion. There is this standard of fashion in Italy that is unsurpassed. To learn this standard is to have the advantage of artistic aesthetic with a refined elegance. When I step into the industry, I want to be able to bring a world view into my work that will drive fashion to match the standard defined by Italian trend.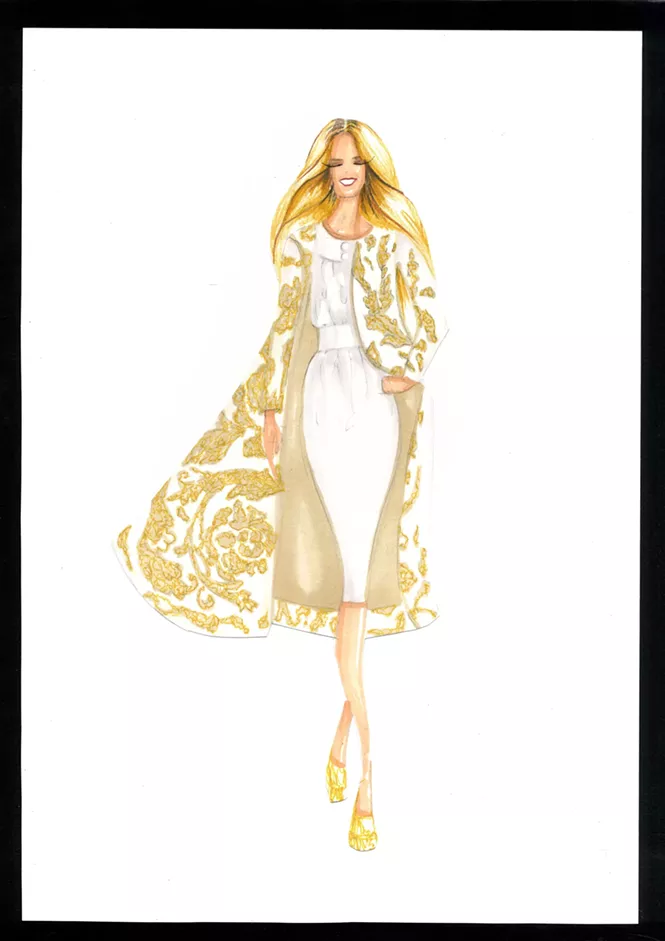 What first got you interested in art and design? What was it about fashion that caught your eye and made you want to pursue it?
At a young age, I was determined to help shape society. I did not expect to find myself in the industry that spearheads cultural belief, but I have discovered through my experiences that [Fashion Design] is a "perfect fit." At its heart, society is driven by fashion—both the cultural engine itself and the corresponding zeitgeist. It is the means and medium through which we find ourselves, acceptance in a group and the role we are to play in society. To be able to influence the way we are perceived is not a privilege. It is a power. This is the most beautiful part of being human: Our appearance is no less fixed than the world around us. Fashion is fluid, influential. Growing up, I was told I could be whoever I wanted to be simply by wearing a unique hat or fancy shoes or making a one-of-a-kind evening gown from sheets. Nevertheless, life—in large part—is playing dress up: I can be anyone I wished. I feel that fashion is the purest expression of one's innermost "sense of self" and the connections between it and the world around us through texture, color, line, shape, and space. I hope to be able to create unique garments that express the dreams of their wearers. This is why I decided to become a designer.
I read that you received a scholarship for the Fashion Institute of Technology. What was it like attending their program and traveling to Milan and Florence?
It was quite the whirlwind experience. I think people expect that I was a typical study abroad student and that it was mostly travel and fun. Oh, my was it far from that. The grading and
work load
in Italy
was
extreme and not to mention it was an artistic degree which meant bias grading. I found that I could work for hours and hours and end up with the same grade as someone who spent a quarter of the time. It was a real struggle for me. I was driven to do my best constantly and because of that, I sacrificed a lot for a good education.
With the options ahead of you, what eventually brought you back to Utah?
Good Question! Italy wouldn't issue me a work visa because my school didn't want to give me proof of graduation. Long story short, my school didn't want to do anything during their summer break, so I was forced to leave a lucrative job opportunity. Sometimes there is a reason that your original plans don't work out. I couldn't be happier to be back. I feel like my support network had grown so much now that I'm back. It was all meant to be.
What made you decide to start your own line under your name?
McQuiston, my first name, has always been my little treasure. I used a nickname all growing up because I was so protective of the name McQuiston. I wanted to do something amazing with my name, make people feel an emotion when they heard it. It's always been my desire to give McQuiston a meaning because growing up when asked what it meant all I could say was "It's my grandmother's maiden name." It had no true meaning, but now it is starting to mean something. An innovative fashion line. I can only hope to develop the name more.
How was it for you early on applying what you learned to your own designs?
Creation and education are two inseparable elements in my designs. You see, Picasso was always my favorite artist. He never stopped learning, discovering, creating, but he didn't start off with cubism. He had to master the essentials before he could learn to break the rules. This has become my mantra. I can never tell myself "I have learned it all," if I say this then I will hinder my capacity to invent.
Invention
is the process of learning. I love breaking the rules, but how can I properly break them if I do not know them? As Leonardo Da Vinci said, "Art is the path to knowledge."

What's the process like for you when creating a new design from concept to product?
I do it a bit different than how it is supposed to be done. I have four muses. To start, I will pick one and imagine her in a scenario then sketch it out in my mind. From this point, I go fabric shopping to find the perfect fabric. After finding the fabric, I then do two sketches (a "nice" one and the one that is just a quick reminder sketch). The sketches guide me as I pattern out the outfit and bring it to life. The most important steps for my design process is the first thought and the thoughts I have as I try to problem-solve the 3D creation.

What sparked your interest in floriology and what made you decide to incorporate it into your work?

Floriology was a collection I did. I was interested because I was trying to bridge a gap between the age of adolescence (bows and skirts) and the age of maturity (business suits and ties). Flowers are used in every stage of life. Flowers are not young or old.
Do you find yourself making many alterations along the way or do you try to stick with the original plan?
I never stick to the original plan. Fashion is so fast that if I did that, I would be fixing myself inside a box and trying to sell "trendy." There are things that never change when I design, like the inspiration or the message I want to send, but how I deliver that isn't set in stone until the hem has been finished. Sometimes what looks good on paper doesn't translate to 3D, and that is when the best inventions come: when I'm trying to fix something that didn't turn out how I had originally thought.
What was it like for you to get out and take part in runway shows and exhibitions?
My first runway show in Milano didn't go as I had planned, so when I got here I was determined to be a part of anything and everything I could get into. Utah Fashion Week was just the beginning. It was an amazing experience, and I can't express how surreal it felt to see my imagination turned into a feasible collection and then see it walk down a runway. It is overwhelming for me to put myself out there and let people see my soul. Each of my pieces is unique and took time and thought to create. It is a creation I have created and I leave a bit of who I am in each. I tend to feel very naked when showing my things. I never know how it will look to the audience. Actually, I don't really care afterward how it was seen, to me I always think my newest creation is the best I've ever done. It's still intimidating knowing that fashion is the most judged industry on earth. Not everyone will like everything, but someone might like something.

When did you start creating jewelry as part of your line? What do you look for when making a new piece?
Honestly, it just kind of happened. I was looking for something to push my design to the next level and that just happened to be a part of what I was looking for. The jewelry I create has to enhance. It is so easy to over-do something, and that is why I try to keep it simple.
Without giving too much away, what are you currently working on?
My online shop. I'm excited to let you know that soon people will be able to own McQuiston Marié originals. The unique thing about this is that people will be introduced to four different collections. This way people will be able to express themselves differently. The four collections
are:
Souveraineté, Déprimisme,
Douxeté
and Métrique. That's all I can tell you right now.
What can we expect from you over the rest of the year?
I expect this year to be big. You can expect a couple more runway shows and events but mostly this year will just be getting my name out there so that I can build a client base. Who knows, maybe you might even see one of my designs on a red carpet! The way this year has already been going I wouldn't be surprised if some really amazing things happened.