A quieter week at the multiplexes offers ninja turtles, popstars and romantic dramedy, while politics and surrealism (not necessarily exclusive of one another) come into the art houses.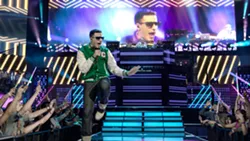 Andy Samberg and his Lonely Island cohorts create the lively faux documentary/music industry parody
Popstar: Never Stop Never Stopping
(pictured)
, with hilarious original songs providing the biggest laughs in this goof on social-media-era celebrity. Director Yorgos Lanthimos offers a deadpan dystopian study in forced conformity in
The Lobster
, the bizarre tale of a society in which being part of a couple is mandatory.
MaryAnn Johanson laments the simplistic and superficial approach to the complicated issue of assisted suicide in the adaptation of Jojo Moyes' tragic romance
Me Before You
. CGI reptiles return in
Teenage Mutant Ninja Turtles: Out of the Shadows
, which borrows from other, better blockbusters in a confusing story that plays like a child's vision of adulthood.
Also opening this week, but not reviewed: a re-release of
Belladonna of Sadness
, the bizarre 1973 Japanese animated story of rape and revenge.
In this week's feature review, the endlessly fascinating documentary
Weiner
uses the case study of a disgraced politician's attempt to revive his career to explore both the art of spin and the psychology of this particular man.