Last week's Salt Lake Gallery Stroll was a beast with the weather. It got so hot, I had to escape halfway through the evening; I popped over to the Watchtower Cafe and snagged a cold drink while Heather Mahler was on display. But before I started melting away, I visited Arcadia Industries, which just joined the Stroll this month. All along their walls are local artists, along with home decor—a sort of 2-in-1 shop for all your designing needs. Today, we chat with resident artist and founder Anthony Granato about his career and starting up the new place.
Anthony Granato
ArcadiaSLC.com

Gavin: Hey Anthony, first thing, tell us a bit about yourself.

Anthony:
I grew up in Utah and started creating art when I was five. I knew I was destined to be an artist from that wee-little age. After I was kicked out of high school twice, I took a year off and thought I could make it as an artist without any education. Obviously, I came to my senses, went back to high school, graduated, and applied for different art colleges. I was accepted into PNCA in Portland and, as they say, "the rest is history."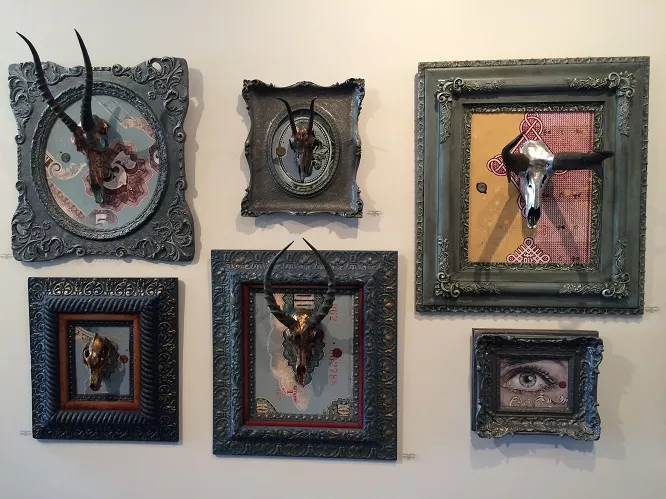 What early influences got you interested in art?
Great question! [H.R.] Giger blew my mind as a kid. Rat Fink. All the pin-up artists—Elvgren, Boyle, Cooper, Wood, etc. I especially loved the old-school comic book and rock band artists! Bizley, Coop, Cozik, Struzan, McKean, Fabry and a bunch more that I'm forgetting. (I'm obviously an illustrator at heart.)
What mediums did you gravitate to as you started honing your skills and style?
I instantly resonated with oils, digital, drawing, acrylics, sculpture, printmaking and photography.
You received your BFA from the Pacific Northwest College of Art in Portland. What made you choose their program, and what was your time like there?

My time there was like a veritable art buffet! I feasted until I was insanely full. I was compulsively gorging myself on everything I could get my hands on. I chose their program because they were the first college to take me. Being a budding artist, I was incredibly full of self-doubt. I didn't think I could get into any art school with my pathetic portfolio, but I did. And just between you and me, I cried a bit when I received my letter of acceptance. PNCA was a great transition for me to get out of SLC and live "big city life."
How was it for you breaking into the Portland art scene at that time?
It was/is super scenester, and I chose to follow an illustration career at the time instead of beating my head up against the "popularity contest" brick wall. I felt comfier and at ease with being in a sea of geeky illustrators and art directors than eating crow for no reason while drinking crap wine and PBRs at an obnoxious gallery opening. Now I feel the opposite (except no shit alcohol). Funny how things change!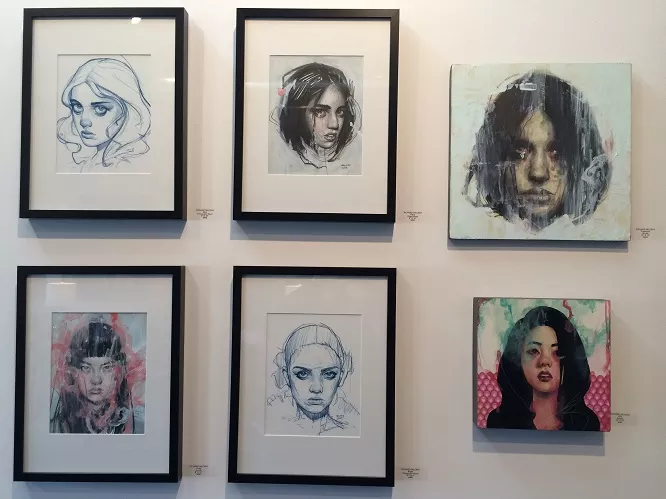 You're a Utah native who moved for college, but what made you decide to come back?
I moved back to help the family. Then, I blinked my eyes and 14 years blew by. Wowzers.
What was it like for you displaying your new works on local crowds after you got back?
It was very well received! It was a struggle, of course, but I gained a ton of momentum and had/have a huge support system of old and new friends and followers. I'm a lucky fella.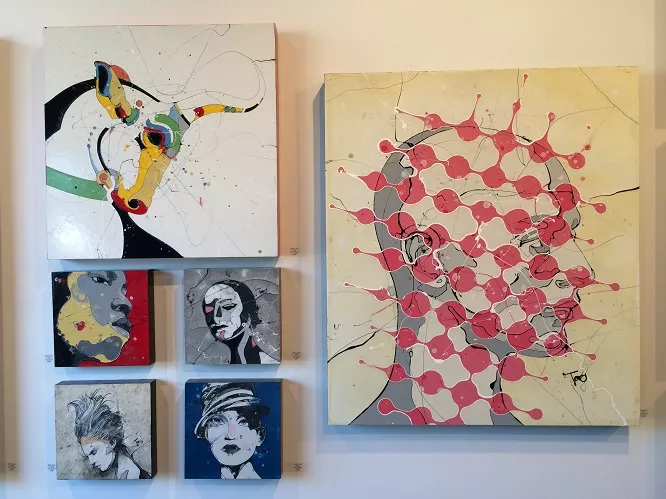 You dabble in a little bit of everything; there really doesn't seem to be a genre or medium you won't try. What have become your favorites to work with over the years?
Drawing, painting, photo and sculpture are necessities and constants in my artistic process. I adore them all for different reasons, and love making them all coexists with each other.
What's the process like for you when creating a new piece, from concept to final creation?
So, I collect antique and vintage frames. I'm a junkie, really. Anyway, I start with the frames. My friends and family say that they speak to me. I'll pull several frames at a time—they give me ideas for themes, imagery and colors. After I pull said frames, I take measurements and start working on the pieces. I take all the elements I love (drawing, painting, photo and digital) and create a composition. Then, I take that image and mount it on board. After a few clear-coats of acrylic matte medium, I'll do an underpainting in acrylic. The majority of the painting is executed in oils. As I'm working on the painting, the frame is being rehabilitated, painted, etc. After the drying process is complete on both, I'll put a final varnish on the painting and frame to protect them. And then, voila, the painting and frame are now one!
What are your thoughts on having your work regularly shown somewhere around the Wasatch Front on a constant basis?
I think it's paramount to stay in the public eye. It's no different than any other business where you need to constantly market your product. It sounds so counter-intuitive to art, but if anyone would like to make a living as an artist, they need to remove the subjectivity of their work and realize that it's just a product. That doesn't mean that art needs to be thoughtless—quite the opposite. To be fully aware of your career/craft and how you show-up in the community is quite the empowering experience for you and your audience.
When did the idea come about to start up your own gallery? Where did the name come from?
I've dreamt of owning my own gallery for years. It took the right time and the right space in order for it all to come together and inspire me to pull the trigger. The name is one part romantic (a beautiful place I want to visit; Arcadia is a town in Greece that I want to experience) and one part utilitarian ("industries" has a classic "hard-working" sound to it).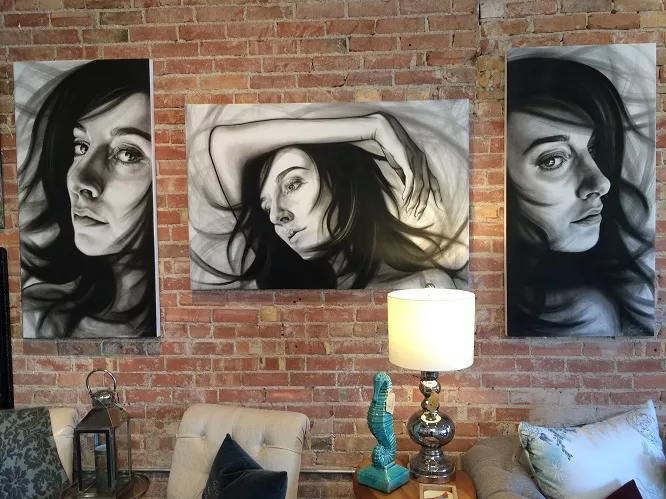 How did you come across the space on Main Street, and what was it like building the space into what you needed?
I was actually looking at the space last year for another business idea I had. However, at the time, the building was in rough shape, and it wasn't exactly what I needed in refinement. Then cut to a year later, I revisited the space when the owner of the building started to remodel it. He exposed the original brick, while gutting the rest of the environment, and I knew that this was the perfect venue for my venture! He and I work very well together, and have an uncanny similarity in vision for the building.
How did you go about picking and choosing who to have on display, both with art and furniture?
Well, in regards to the art, I've had the immense pleasure of showing with some stellar talent over the years and around the country. I've made it a point to contact all of my art buddies that I've shown with to express my sheer excitement to have them show in my gallery. I have an incredible list of badasses that have signed-on to show over the next year or so. It has been an absolute delight curating my own gallery! When it comes to the furniture, I have hand-tailored the look of all the home decor compliment the art and environment. Absolute harmony and inspiration are my number one goals.
What do you hope to achieve with Arcadia Industries down the road, both as a gallery and a shop?
I'd like to focus on engaging the community with events. I believe that most galleries think that being "just a gallery" is enough to be a successful business. I disagree. I want Arcadia Industries to be a venue where the public can look forward to attending amazing events multiple times per week. The art will only rate once per quarter. My goal is to provide an experience where customers can come and marinate in the art they love until they're ready to make it their own. I'll be bringing-in phenomenal talent from around the U.S. to freshen-up the Utah scene, while still focusing on our local awesomeness. It'll be a 2/3 Utah to 1/3 national split, usually. Same with the furniture and decor side. Most people need to expose themselves to the perfect couch or bed frame multiple times until they are ready to indulge in their dream of owning it. We are here to pander to their every desire.
Tell us a little bit about who you have on display this month for your first Stroll.
I'm proud to report I have Sarah Steigers (SLC) who is a dynamo at a mere 25 years old! The ever-popular Jimmi Toro, Greg Overton, Rachel McKinnie, Adrian Prazen, Marianne Goodell, and myself. I also am pleased to have the stellar works of Bryan Holland (Minnesota) and one of my BFFs, Richard Salcido (San Diego).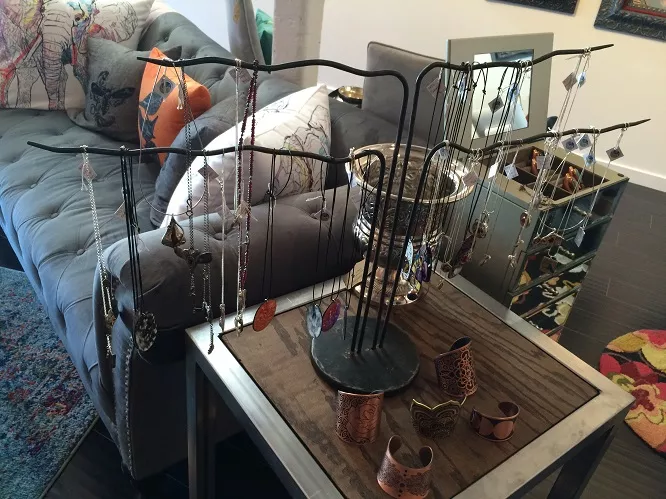 How has it been working with Gallery Stroll to get the word out and now be a part of their monthly event?
Gallery Stroll has been most gracious and wonderful to work with! It's a great feeling being supported and promoted by such an established organization in a new, exciting, and scary endeavor.
For those who wish to be displayed, how can they get a hold of you?
I have a fancy-schmancy art submission process! It's
at the bottom of this page
. This is the only way I'll take artist's submissions. We need some order in this chaotic business.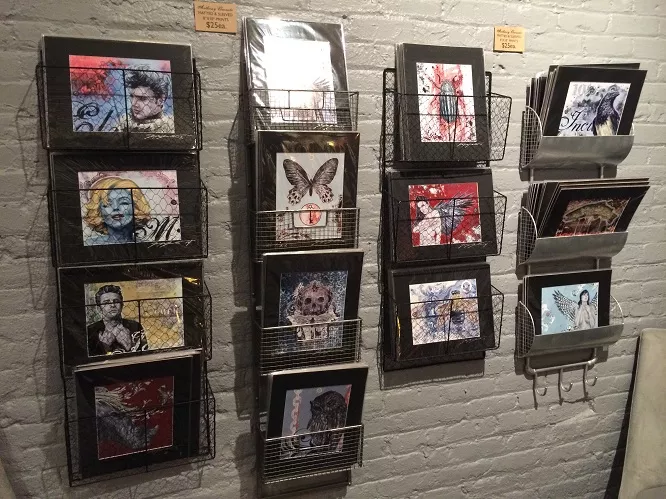 What can we expect from you and the gallery over the rest of 2016?
Events, events, events! We host everything from open mic, life coaching seminars, social mixers, food and alcohol pairings, gallery stroll, charity events, and a whole lot more! We are here to engage with the public and make life just that more enjoyable to enjoyable to live in.