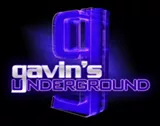 This past weekend we saw the latest Battle Of The Bands in Provo hosted by Velour. This competition has become one of the most sought-after placements on a bill, as many of the bands who compete in it take off regardless of whether they even make it to the finals. Today is part two of our chat with all five of the finalists, including the winner
MMEND
, along with pictures for you to check out. (Read part one
here
.)
Kitfox
Kitfox on Facebook
Gavin: Hey guys, first thing, tell us a little bit about yourselves.
Emily:
We are an ambient folk group from Salt Lake. We've been playing together for almost three years.
What were the biggest influences on you that made you get into music?
I have a really musical family, so it was just natural that I would play as well.
How did you meet?
We met at a Farmer's Market in Paradise. All three of the boys—Conor, Nate and Devon—were in a different band; my band was playing at the Market, and they showed up thinking it was their night to play. We met again at Velour when we played the same night, and then we gradually become friends and they each joined the band one at a time.
What made you decide to form a band, and why the name Kitfox?
I had formed the band with my cousin before the current lineup existed. We were both writing songs and decided to combine our forces to make something better. The name Kitfox comes from an endangered species of fox native to Southern California where I'm from!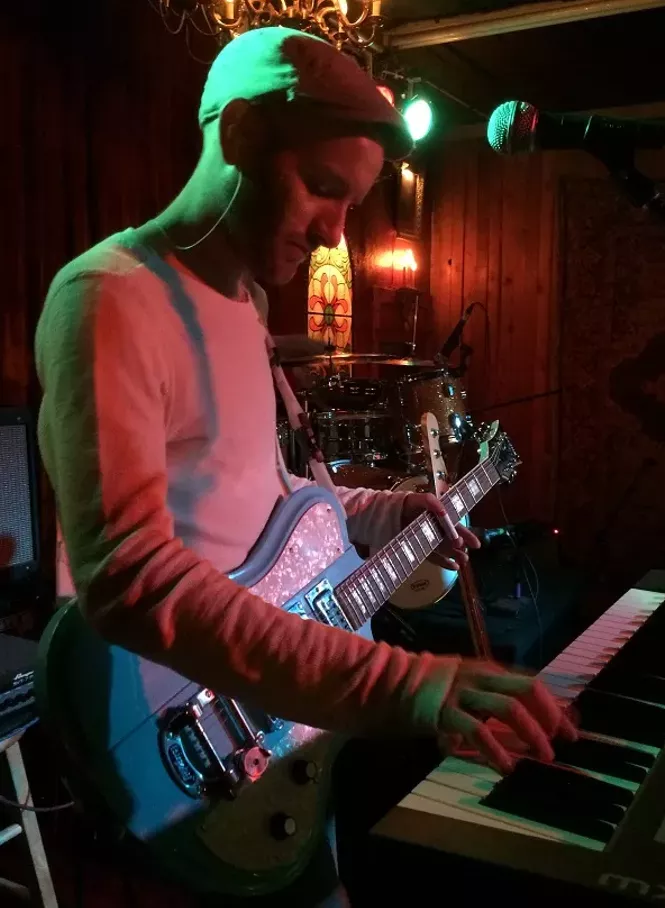 What was the biggest influence behind the folk-pop sound you have?
We love Lucius, Paper
Kites
and First Aid Kit! We wanted to have a sound that was organic, but still was easy to listen to.

What was it like starting out and playing venues around the state?
It's been really good checking out venues and playing shows. We've mostly played in Logan, Salt Lake City, and Provo. We've got some good venues here in Utah and a great scene!
You've been around a few years now and have a few releases under your belts. What's your take on how the local music scene is today?
The scene right now is kind of dog-eat-dog! It's super competitive, but rightly so, because there is so much talent!
You recently released your first full-length album, To Keep You Company. What was it like writing and recording that album?
We really enjoyed the experience of recording our album. We were able to record some of it in Nashville with producers and the other tracks locally. It was great to be able to collaborate with so many talented people.

What's the reaction been like to the album so far, both local and abroad?
There's been a good reaction so far from those who have heard it. Two of our tracks have appeared on national television, on MTV's
Real World
and
Blood and Oil
. It was super exciting!
Do you have any plans to tour yet, or just sticking to Utah for now?
We've been trying to set up some weekend tours in surrounding states, but nothing too big yet!
What are your thoughts on being one of the finalists at this year's BOTB?
We are super excited about being finalists! It's been a crazy week of promoting and planning, and we are really proud that our hard work has paid off. Also, we are really grateful for those who came to support us!
What are your thoughts on the other bands performing?
There has been insane talent throughout the week! All the bands are very deserving of the title.
What can we expect from Kitfox over the rest of 2016?
We are hoping to start recording our sophomore album and playing more shows!
MMEND
MMEND on Facebook
Hey guys, first thing, tell us a little bit about yourselves.

Mitchell:
We're a group of college students that like music. We really are a tight-knit group of friends. Some of our friendships go way back to the womb (we're siblings); others came from school or a mutual love of David Bowie. We've been playing music together as a complete band for just under a month. We're all very busy with school, music and other creative pursuits that just all kind of add to our music. We all live really fun lives. Except Connor; he's a math major, and that's not fun.
What first for you interested in music, and what were your biggest influences?
I think our interests all come from different things. We all grew up playing sports, doing art and writing, and music just kind of enhanced all of that. When we got older, we all realized that our love for music was something deep and abiding, and we wanted it to turn into a lifestyle. Our biggest influences musically would have to be bands like Grizzly Bear, Tame Impala, Radiohead, Arcade Fire, Beach Boys, Queen, David Bowie and The Beatles.
What was it like for you each to break into the local music scene?
I guess I should start by saying, before I talk about our experience of breaking into the music scene, that Battle of the Bands was our first gig as a band. We are a fairly new band, forming just a couple months ago. So, breaking into the local music scene, for us, consisted of our Thursday night performance, winning our night, then the subsequent finale on Saturday and winning Battle of the Bands. It was absolutely incredible and humbling. It was amazing for us to see just how well our music was received. We're all, still, just trying to take it all in and craft our pathway so we can continue to garner popularity.
How did all the three siblings eventually meet the rest of the band and become friends?
We were all very close, played the piano, sang together in church, and did other things growing up. But, becoming a band really wasn't in the forefront of our minds. Sometime in high school, Mason Winter, our lead guy, decided he wanted to form a band. So he started pulling in people that he knew sang and played specific instruments, and they all started jamming. There was kind of an ebb and flow as different people came and went. But, Mason, Natalie Davis and Dallin Orr all kind of stuck together through it. Missions came and went, and by the time everyone was back, we decided to bring Mason's other siblings on, Myself and Elise Winter, to do keys and sing. Connor Robertson, our bass guitarist, is a friend of mine. We met in college and played a David Bowie tribute show together, along with Mason and Dallin, before we convinced him to come play in
MMEND
.
What made you decide to form a band? And why did you use your initials for the band name?
There has always been a certain mystique for us surrounding music and our favorite bands. Mason and I went and saw Local Natives and Arcade Fire perform a number of years ago at UVU. It was then, after standing in the crowd and being completely taken away by their music, that we decided that was what we wanted to do. It took a couple of years for it all to come to fruition, but here we are. Naming our band is the single-most difficult thing we've had to do since becoming a band. Nothing sounds good, we can't agree on one. The realization that we're going to have to live with that band name for the rest of our musical career is one that almost crippled our decision making. Using our initials was thrown into the mix (our bassist, Connor still wasn't part of the band) and we thought it kind of sounded cool, but we still didn't love it. Honestly, in the end, we still didn't have a band name and we were running out of time to sign up for Battle of the Bands so we just threw it on there. Now that we won, I guess it's going to have to stay.
What made you gravitate more toward a pop-rock sound?
Our sound comes from a very conscious, methodical, almost formulaic approach to songwriting. Our intent isn't to be any specific genre, but there are always a number of goals in mind whenever we write a song that guides our musical process: the needs to be intriguing and interesting to us and to people that come and see us. We also want to have energy in our music, whether that comes from catchy melody lines, beauty, or eerie dissonance. We also are interested in progressing as musicians, so every new song we write will have something new or difficult in it that we've never tried before.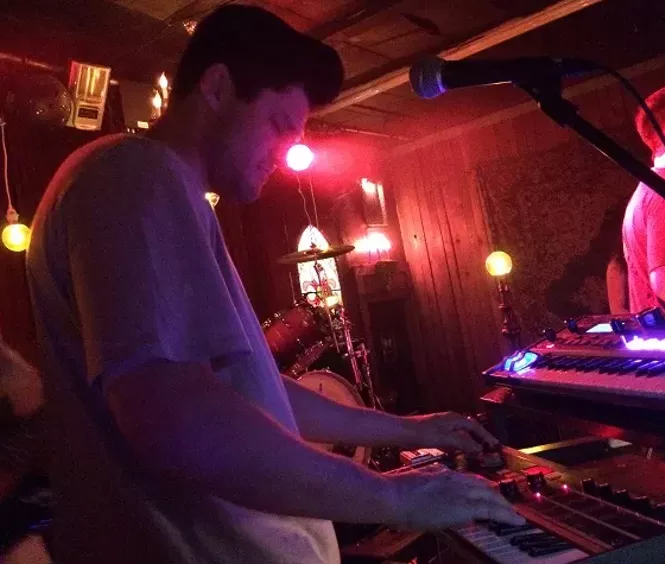 Are you looking to record an album or an EP sometime soon?
Yes! We have got to get an EP out as soon as we can. We plan to do three or four song EP with some of our favorite songs, and then we have a couple more songs in the works. Hopefully, we can have a full album out by the end of the year.
Any plans to tour outside of Utah in the near future?
No plans set right now, but there are hopes and aspirations of doing so soon.
What are your thoughts on being one of the finalists at this year's Summer BOTB?
It's honestly a little surreal to us. ... To be included with a lineup of talented, established musicians is kind of amazing. It's also great to have our music validated.
What are your thoughts on the other bands performing?
There
were
a number of them that we were impressed with, and even a little intimidated by. There are a lot of good, creative musicians in the Provo music scene, and I don't know that we completely understood that until now. Each band was full of gracious, kind people, and we had a lot of fun getting to know them. There are a couple of bands that we'd love to perform with in the future. We felt like our music and personality would mesh well.
What can we expect from MMEND over the rest of the year?
First, we need to get some things recorded for people. We'll start with an EP and then hopefully get a full, debut album out. Maybe make an Instagram and get on social media too so we actually exist. Next, we want to play as much as we can. We'll be writing and coming out with new stuff all the time too. Songwriting is almost as fun as performing.