Some of Utah's most talented artists are totally operating most of their lives on a freelance basis. It's kinda cool to pick and choose what work you like to do, but it sucks when there's nothing coming down the line. However, the creative freedom some of these artists are given helps get the word out about their work, while also spicing up a company's look so we can move away from everyone using Arial Bold on their marketing plans. Today we chat with Aaron Rowell, who balances being a freelancer with graphic design work, as we discuss his artistic career. (
All photos courtesy of Rowell.
)
Aaron Rowell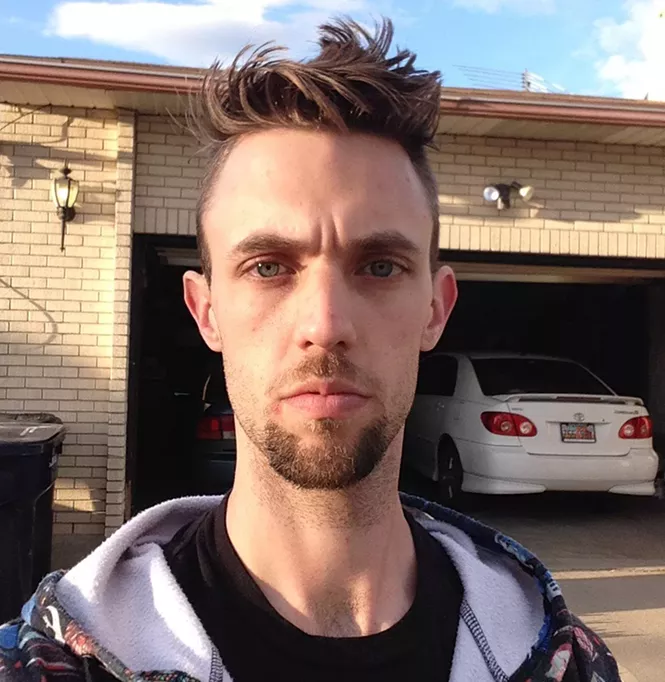 PsychoFire.com
Gavin: Hey Aaron, first thing, tell us a little bit about yourself.

Aaron:
I've been living in Utah my entire life. I grew up in Layton, and I was raised by two wonderful parents who encourage me to go after what I wanted. That happened to be art. As I grew up, I did more and more art. I went to college at the U, studying art and graphic design, and spent most of my working life in Salt Lake City. I live in Clearfield with my beautiful, loving wife and my crazy, but awesome, son and we are happily expecting another son.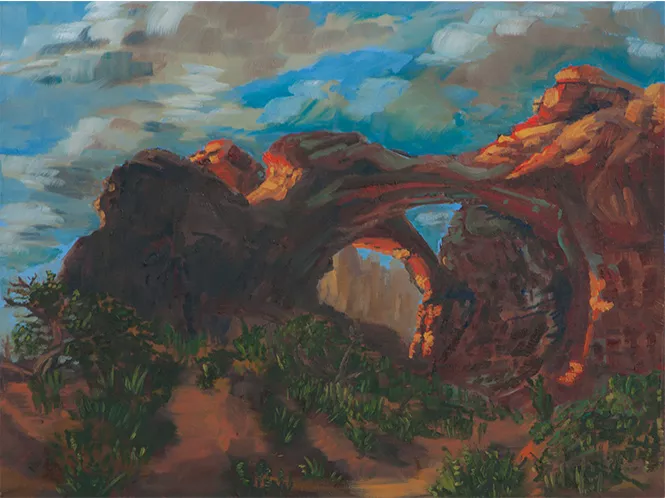 What first got you interested in art growing up?
I think coloring got me pretty interested, and eventually cartoons. I really wanted to draw what I saw on TV and in books. When I look at art and it inspires a feeling of strength or power, I get excited and want to start drawing right away. I've always enjoyed fantasy and sci-fi novels, and have often tried to draw the characters and scenes from the book. Recently, I have re-discovered my passion in pursuing more art and illustration, and some of this comes from discovering and relating to Noah Bradley. He's a pretty amazing artist, doing things from oil paintings to digital art. He's prominently known as an artist for
Magic: The Gathering
, as well as some other things. Anyway, I read his story, related, and I found my expectations of the future were stopping me from moving forward with my art. Once I got back into it, I felt like a kid again.
What would you say were the biggest influences on your style?
My art is heavily influenced by a class and teacher I had in college. I took Structural Anatomy from John Erickson at the U, and it really opened my eyes to a new way of drawing and painting. I have always loved three-dimensional forms, but this gave me a new way to represent them. Occasionally, I draw on past artists—I love Da Vinci's "smokey technique," from
Virgin on the Rocks
, and the way N.C. Wyeth portrays landscapes and people in a narrative with such energy to his brush work. And I have always been drawn into the world of Salvador Dali. His realistic but bizarre pieces have always confounded my imagination—I want to know how he thinks. My biggest influence, however, is probably the awesomeness of superheroes, anime characters, and characters from fantasy novels—I just can't get enough of it, and I am always thinking of it when I am conceptualizing new work.
You earned your BFA from the University of Utah. What made you choose the U, and how was their program for you?
I chose the U because I felt like it was an awesome school. It was actually the only school I applied for—I may or may not have been cocky . Once I got in, I was lucky to find that their graphic design program was top notch. I really should have shopped around and researched more, but the U is an awesome school for many things, and I'll take luck whenever I can get it.

During that time, what was it like for you refining your style as an illustrator and designer?
I had a really rough start in their program. I really didn't know much about design, just how to draw and paint. Most of what I did was pretty terrible, and I had to retake the first year of design courses if I wanted to move on. It took only a moment for me to decide that I was going to tough out one more year of school than I planned on because of this. My second time through, I felt much more confident and came to my classes with a much greater purpose. The U is where I really starting being a designer. It was more than knowing the software; it was accessing the art part of my brain, but also adding in a communication aspect. I learned different styles, from the history we studied, and ways of creating many things. I kept taking art-only classes because I got so much joy from them. My sketching improved, which translated to more and better ideas for illustration and design. Every class seemed to offer a new perspective, which really helped me open my eyes to a much broader visual world. I still can't achieve every style I would like to, but I have a much better appreciation for other people's work because of this.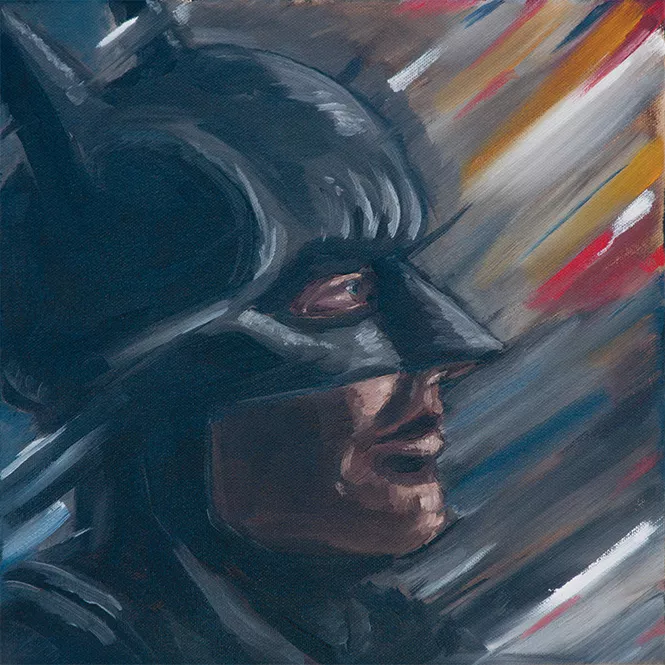 What was it like for you breaking into the local art scene as well?
I'm still not sure I've actually done that. I have a lot of friends that are doing some awesome work and they get into galleries, and that's always something I've intended to go do, but I haven't set aside enough time for it yet. I tend to get too busy doing art, and then don't leave myself much time to promote my work. I've been in an art show or two, and those really push my skills and make me grow. I went to SLC Comic Con's FanX for the first time, and it was my first real public showing. Getting into FanX was insane; I had forgotten I even applied by the time I was told I had made it. I was told about 35 days in advance that I had to be ready. So I spent the next month's worth of free time getting ready; oil painting, photos for prints, getting things printed and even creating stickers. My family was awesome to accommodate such a ridiculous schedule, and finally, support me at the booth. The event was intimidating, but also enlightening and fun. I met lots of awesome people and haven't had time yet to follow up on all of the amazing opportunities.
The bulk of your day-job work is in graphic design for two different jobs. How did you get into that line of work?
Currently, I work for Rumor Advertising and I work as an artist for PaintNite. Broken Sky is a personal project that I am working on with a friend—we are pursuing making it a video game in the future, but it has been a fun art/conceptual project so far. Rumor Advertising has been a very fun company to work for the last four years. I get a great variety of projects and get to work with some very talented people. I think it's important to surround yourself with creative, positive people no matter what field you work in. Creativity is not only reserved or artists—I work with developers, account managers, and other advertisers; they all have their unique view of the world. PaintNite is a blast, I get to interact with people and help them learn a new skill. I love painting, and I can really get lost in the process, and get a lot of joy sharing that with people. Working two jobs is definitely tough and doesn't leave me a lot of time to work on personal projects, but I feel like I am really expanding my skills rapidly. Just painting more had sped up my process for graphic design, digital painting, and sketching. Working with so many different people has given me to skills to more quickly relate to new people, and I feel a lot more comfortable in foreign spaces and situations which allow me to focus on the people and making connections. People are always central in important happenings.
How did you end up getting into freelance art and how was it for you starting out?
I feel like graphic designer and freelancer are nearly synonyms terms. I think most designers freelance at some point. We just get excited about the work and can't help ourselves from taking on new work—even if it takes up all of our free time. I got into freelancing by doing illustrations for a physical therapy and rehabilitation company. I know the owner. I was hired to illustrate different exercises to keep people from injuring themselves while on a job—I like doing things that help people and this was a great opportunity. I still do work for this company to this day. As I met people, they would tell people that I do graphic design or that I was an artist, and then work would come my way. Freelancing can be really tough sometimes. I've had a pretty good experience with it and haven't been burned too badly. However, I did eventually learn that I should have a contract, and that has given me some protection from time to time, but mostly it's there to set expectations.
What's your process like when creating a new piece of work?
I have some idea that comes rocketing into my head, and I want to start putting brush to canvas (or pen to tablet) right away. But this way doesn't work out so well very often, so I usually force myself to start out with sketches. If I can make myself do ten sketches, then I have great will power that day. I get started in the medium I choose once I've selected a few sketches to work from. The art usually evolves as I'm working, and I request feedback from my wife and friends at various stages. I think it's really important to understand what people are seeing when they look. I ask my wife and friends what their eye gravitates to, or what emotion I'm evoking, or if anything looks out of place, and I get pretty good feedback from them, even though they don't have the artist vocabulary. I don't make art for other artists (not usually anyway), and so I want to know what non-artists see when they look at what I make. I try to finish it up as best I can, and then I seek out other artists and start a dialogue about what I'm trying to do, and what I actually did. They are so great for feedback and they usually have similar experiences in their past they can draw upon and tell me about. After that, it's tightening everything up and continually looking at it and trying to decide what needs some attention until I can't find any of those things anymore.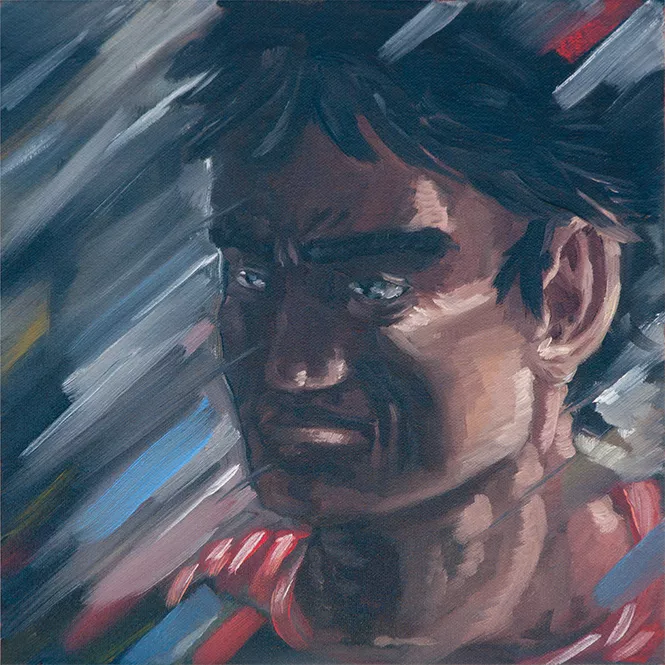 Do you stay with the original plan or do you play around with your designs as you create?
With artwork, I usually stick pretty close to my original ideas. They always change a little bit as the art is made, but I can almost always point to a sketch that I had early on and show what I was thinking and why some small things had to change. With design, since there are more people involved, the project often changes at nearly every stage. Sometimes, the original ideas aren't up to snuff, and other times I just need to explore ideas to better meet the needs of a client or project.
I've seen on your site you've incorporated other genres of art beyond the design desk. What works have you enjoyed creating that isn't part of graphic design?
I love to create landscapes now, either in digital painting or on canvas. There is something so freeing about creating
a world
in your mind and realizing a piece of it on a medium that you can share with others. Character design is another genre that has interested me, and I think it's what first drew me to portraits rather than landscapes. I like to create a character's story and figure out ways to hint at their past with they way they look and what they are wearing. Finally, some pixel art, especially for characters, has been a lot of fun to learn and experiment with.
Without giving away too much, what projects are you currently working on?
I just finished up some concept art for what I hope will soon be some small vinyl figures. That has been a fun world of learning about licensing and the process of working with a large company. Pop-Life has also contacted me with some projects for some of their public-facing visuals, and I am super excited to working that, I feel very honored to work with them. Broken Sky is a personal project of mine that I have put a lot of work into, and I have brought on an artist friend to help me with this process. I am hoping to forge it into a video game one day. Currently, I am still working on concept art for it, which I am releasing as I get it done—Sometimes in the form of prints, sometimes as wallpapers on my website. We are in the process of scripting, making concept art, and working on some test sprites.
If someone wants to work with you or get a custom design done, how can they reach you and what do they need?
I can be contacted through my website at psychofire.com/contact or emailed directly at
psychoroll@outlook.com
. I like a client to come to the table with an idea of what they want to accomplish with a design or commission piece and a budget in mind. Nothing has to be set in stone, but a good goal and a jumping-off point go a long way.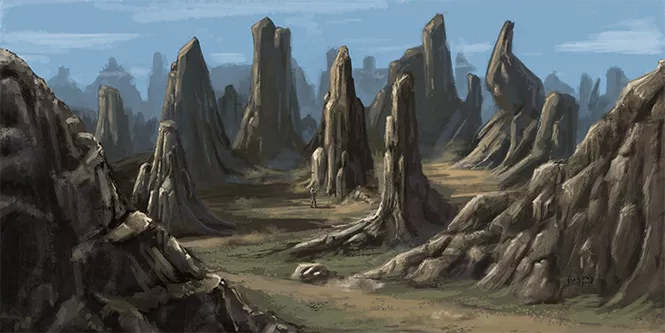 What can we expect from you over the rest of the year?
As I am hoping to attend Comic-Con this fall, I am considering some paintings, and maybe some more stickers (I made
surly
Star Wars
stickers for FanX this year). I think I'll fit in something Deadpool themed, maybe some
Star Wars
, and an original piece or two. I will probably work in oils for the majority of it, but I will splash in some digital pieces. I will keep producing work for my Broken Sky project and releasing what I deem worthy. I think I may work on getting into some galleries or art competitions as well.