If you've been checking out the profiles and activities of standup comedians beyond the clubs, you'll notice a lot of them taking on awesome ventures, from creative programming to podcasts. These projects are giving the performers a chance to stretch out beyond the stage, while also giving us some great local programming to check out. One of the latest additions to that collection is
Cult Classics Vs Comedians
, where Jamie Maxfield leads a discussion with three other individuals about some of our favorite films from the past. Today we chat with the show's producer, Ben Fuller, about the work they've been doing lately. (
All pictures courtesy of the show.
)
Ben Fuller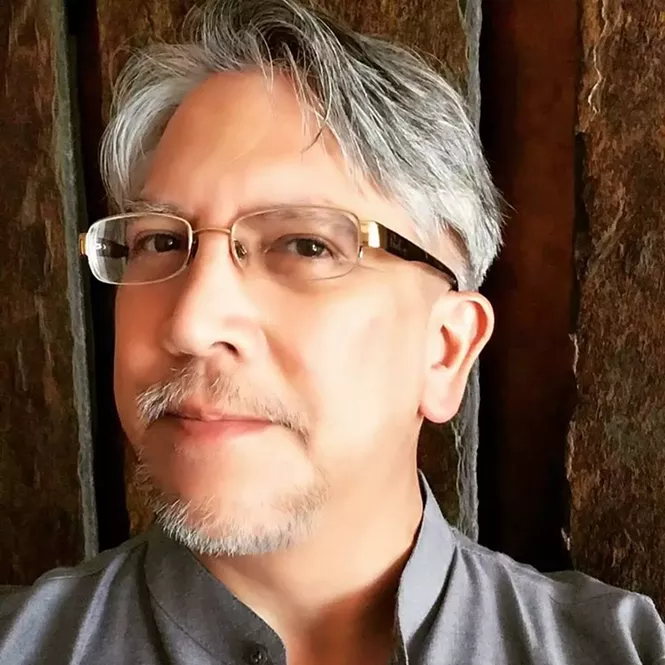 CCvC on Facebook
Hey Ben, first off, how have you been since we last chatted?

Ben:
Things have been more focused on my day
job.
Since we shuttered the Original Comedy Roadkill at the Complex and the other comedy shows I was producing there, I have not been involved as much in the scene as the previous four years of producing a show every week. Around October, Jamie [Maxfield] and I had rebooted Channel 801 at Mod-A-Go-Go, and I started getting the itch to hang out with the old gang again. Jamie is still very involved with the local scene.
Aside from the show, what have you been doing in your standup career lately?
I am not currently actively producing any stand-up shows, but I do host and moderate the Channel 801 short film (currently on hiatus for the summer) showcase and screenings that we put on, and that kind of feeds my live audience jones. Jamie still headlines at Wiseguys and other venues and runs a monthly comedy mic in Tooele at the All-Star Bowling Lanes. He regularly has a great variety of comedians there, including Jon Hilder, Guy Seidel, Jonny Brandin, Bob Bedore and more. Also, whenever we have a chance to get together at a comedy show, we do a podcast called
Where's The Punch
that basically has us and our guests trying to deconstruct each others' new jokes. That is a lot of fun.
When did you and Jamie first meet up and become friends?
Jamie and I have known each other going on, I think, almost 20 years. We first met working together at the old Future Shop Electronics store in Midvale. Then we worked together again at a Technology Reseller in downtown SLC. We have just been friends ever since. We did our first open mics together as a dare. Jamie kept on going, and I moved to a more producer type of role. The idea initially was to shoot a documentary about us learning to write jokes and then going on stage for the first time, but actually doing it happened faster than our ability to put together a production and shoot it. That was at the old West Valley Wiseguys, when the open m
ic
was just once a month. We went on stage the month before Guy Seidel went up for the first time. Now Guy is more popular and sexy than both of us combined.
How did the idea for the show come about?
It was mainly us looking for something to do for release on the web. Live shows are great and everything, but YouTube is forever. One of our favorite parts of doing the Channel 801 showcase is the short podcast we record right before the show. Just chatting about movies with the filmmakers, with no real agenda or time worries was pretty liberating. We had Andrew Jensen, from Toy Soup Comedy, on one, and Andrew is hilarious. Afterward, we started thinking that it might be fun to get our friends together and make them watch movies they have never heard of. And from there, it was as simple as sending a Facebook message. Our first line-up was Jamie as host, the awesome Melissa Merlot, and the hilarious Jason Harvey. I ended up sitting in at the last minute when we had one of the scheduled comedians cancel due to illness.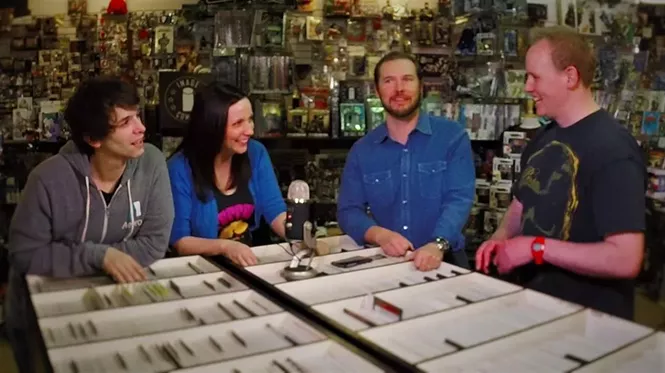 What was it like putting it together and filming episodes?
Ideally, to do something like this with no budget, and no real expectation of making money (of which I am a black belt), you want to come up with a format that delivers maximum return on minimum investment. A panel show that we could shoot in an afternoon and get four episodes out of seemed to fit that goal. The shoots themselves are really laid back. My friend Andy Buys acts as DP, and he makes the shows look great. Each comic picks a couple of movies that they love or are really fond of that maybe a lot of people haven't seen. The entire panel watches them, they maybe jot down notes that they want to talk about and then they show up for the shoot and we start rolling. Jamie plays traffic cop and we shoot for about 20 minutes. We then have the incredibly awesome Andrew Jensen edit the discussion down to about 10 minutes. And there we are.
How did you go about choosing the subject matter and guests?
We put the line-up together the same way we would put together a line-up for a live comedy show. We discuss who we want on and then start mixing and matching trying to figure out the best balance of personalities and senses of humor. We do have the hope that the show will appeal a bit to the mainstream, so we try to be as clear as possible that we don't want to go completely overboard on the language and subject matter, but as opposed to a live show we have the luxury of post-production bleeps and editing. Again, we look to the comics to make suggestions of the movies they want to talk about. We steer them away from bad movies that people love for being bad, like
Birdemic
or
The Room
. That is too easy, and not as much fun as people enjoying a conversation about things that they love or are passionate about.
Do you have points in which you want to talk, or is the conversation more free-form?
The conversation is very free-form, but we do want the comedians to be somewhat prepared. We encourage them to prepare the synopsis for the movie they are presenting to the group and to write jokes and funny bits that they can pepper into the conversation as it progresses. It cannot be completely impromptu; it has to have some bit of structure. And it is still evolving and finding its voice. The show is much funnier now than when we started—initially, it was more focused on really discussing the movies, but we have slowly realized that a show about cult movies and comedians that
isn't
funny
, is probably not living up to its potential, so we have been moving it that way more and more on each round.
What do you hope people will take away from the show?
We hope that they just have fun and that when we cover one of their favorites that they will recognize the same sense of fun that they have when they watch the same kinds of movies with their friends. We aren't trying to do anything more important that entertain people and introduce them to maybe some new funny people that they didn't know before. Hopefully, they will see the shows, track the comics down and connect with them online, go to one of their shows and become fans of local comedy in general.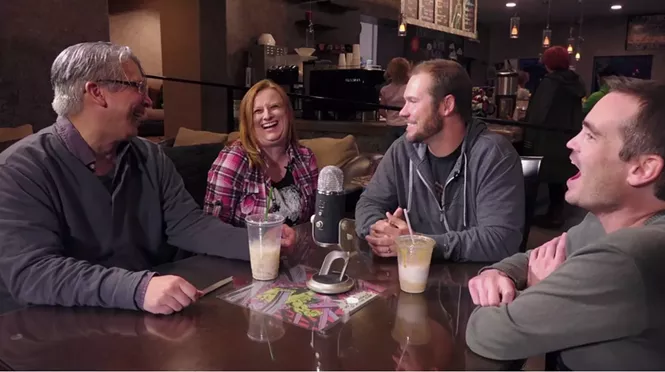 What episodes do you have planned coming up?
We have some great shows coming up, with Melissa Merlot,
Jady
Peeters, Steve Soelberg, Cody Eden and more. We are going to look at movies like
Freaks
,
Paint Your Wagon
,
Dragonslayer
,
Animalympics
. It is going to be a blast. I will even jump back on for
a round
, just because I reserve that right as a producer and booker of the show, and I get jealous watching the comedians have a hilarious time with each other while I have to keep my mouth shut and stay off camera.

What can we expect from both of you and the show over the rest of the year?
We would like to do a live version of the show—structurally, we still need to figure out what that looks like. Right now we think we will shoot three to four more rounds of shows (
a round
is four episodes) to show before the end of the year. We really enjoy shooting in different locations. So far we have shot at the Watchtower Cafe on State Street twice, we have shot at Night Flight Comics (and would like to go back there a second time), and at
Quickwits
Comedy Theater. We were going to shoot at Mod-A-Go-Go before they close, which is a crying shame—we loved that place, and Eric and Marcus, the owners, were seriously just the
bestest
people ever. Next year, our goal is four shows a month, every month for the whole year. So wish us luck.