If you're any fan of the zombie-killing genre of video games, there's at least one
Resident Evil
title that has a special place in your heart. Mine goes all the way back to
Resident Evil 2
, being given a choice in having a strong woman character who wasn't afraid of anything. The most recent of the series I've played was
RE6
, which felt like the peak of the series in many ways, as they'd fixed all the usual bugs, but didn't really expand on the game beyond what you'd expect from an FPS. Now, for the first time in the series' history, Capcom gives players a spinoff game not directly tied to any of the main storylines in
Umbrella Corps
.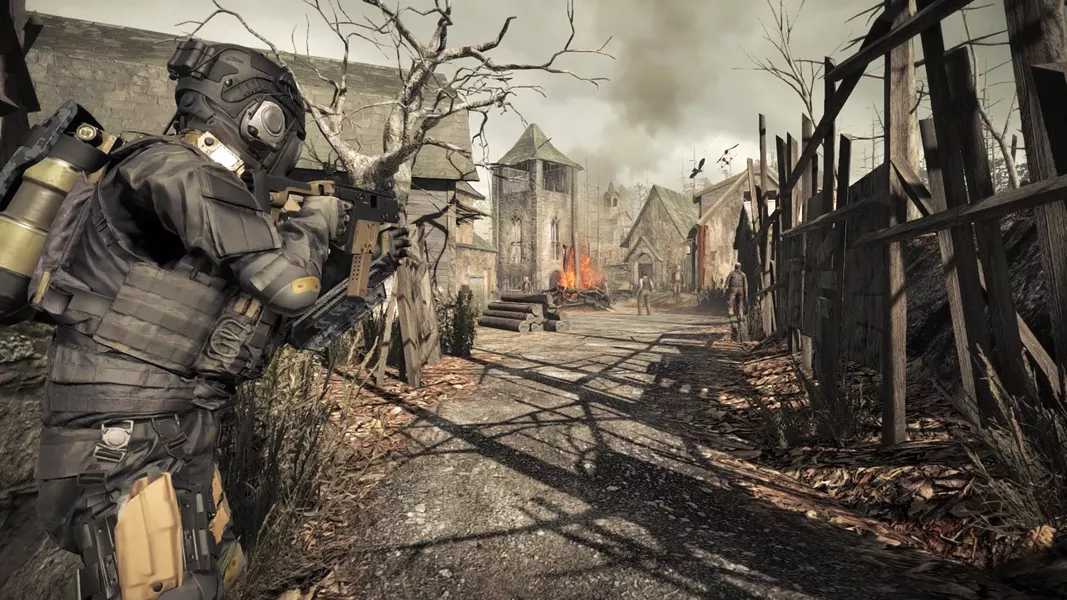 Capcom
I picked the wrong week to visit Cleveland.
Umbrella Corps
is a multiplayer FPS, set two years after the events of
RE6
, where you join one of two different mercenary corps and play out various scenarios. You'll either be the good guys going in to flush out the zombies and the mercenaries helping them with their plans, or the other side, hoping to take down the few who dare come in and clean up the mess. There are a series of solo missions to play, but no primary story mode; multiplayer is the crux of the game.
On the surface, it feels like a cleaned up version of
Counter-Strike: Global Offensive
. Graphics, textures, maps, movement and the whole nine yards are very well presented, with few drawbacks to the environment. You're given levels that resemble previous games in the series to give you some nostalgia, but are also presented with some complex scenarios that force you to work as a team. That's right: If you like going rogue, this may not work out to your advantage, as the game will punish you for your brazen activity in leaving your teammates behind. It's a hard lesson in teamwork, but one all multiplayer gamers should learn, which made me smile that it was forced upon many of the dicks who would abandon us for their own weird agendas.
Capcom
Doggie go zombie? Bad doggie!
So let's get to the basics. The camera angle is awkward but interesting, as you're doing an over-the-shoulder type of view. Not quite the second or third person view, which can often time be distracting or throw you off your game, but innovative enough to create a challenge and give me a different perspective. The controls seem to shift between fluid and stiff, which I noticed when switching between whatever firearms I managed to snag and melee attacks like the Brainer weapon. Headshots especially became the bane of my existence, as the gun sometimes absolutely misses even when I'm targeting someone near point-blank. Nothing is more frustrating in this game than when you're five feet away from a zombie or enemy and you somehow miss capping them dead in the face, then take damage immediately. The pistol is often your most accurate weapon. A lot of the movement controls are awkwardly set up, utilizing the X button to do a lot of the work in various positions (like climbing walls and opening doors in special ways), so rushing through often makes yourself your own worst enemy, because just tapping a button to get anywhere leaves you stalling.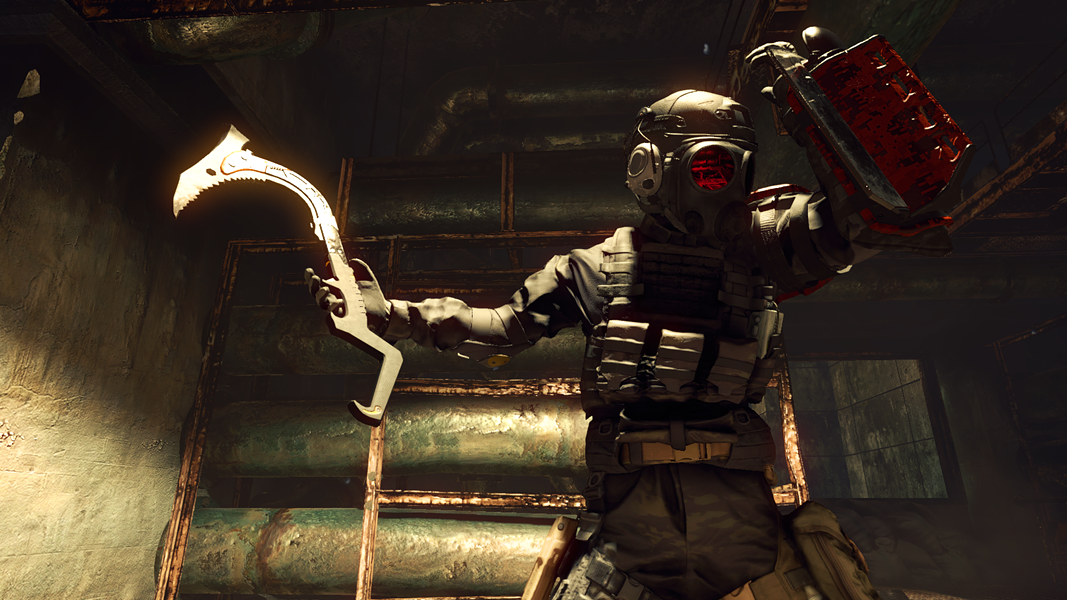 Capcom
This will be a... no-Brainer. Get it? Cause the weapon is called a Brainer and- nevermind.
One of the most annoying but challenging aspects for me was the never-ending pits of zombies. When you kill a zombie, they collapse into a pile of guts that suddenly starts spawning new zombies to come after you, like a morbid version of
Gauntlet
. You can stomp them out and prevent them from spawning, but if you're scouring a room for enemies, you'll often forget this step. It doesn't matter if you cleared a room, you better keep moving, because there's more where that came from in seconds. I appreciate the ever-growing challenge, but it leaves no time to think in certain scenarios, and the only way you learn is by moving forward too quickly and dying. Another is the overload of dogs in the game, which seem to be everywhere as if you're fighting in Russia during the 2012 Olympics. It isn't just packs of dogs,
it's hordes
, and they can't decide whether to attack you or just be your companion for a few moments. In retrospect, it keeps you on your toes, but in practice, it becomes a frustration.
Capcom
Ned from accounting is super pissed you missed his birthday.
As you move on, you're able to customize armor and equipment to make you a better mercenary, and hopefully a better player on your team. You find out very quickly that you need to learn to be versatile on weaponry and positions. Not everything is going to go your way, and you'll end up switching between offensive and supportive frequently. It operates much like
Overwatch
in that sense, but without the ability to switch out your weaponry for that particular scenario mid-fight; you just have to be adaptable. One of my favorite things I found was using the zombies as a shield to get close to players for the kill. If
The Walking Dead
and
Dawn Of The Dead
have taught us anything, it's that zombies are already dead, so you might as well use them to your advantage whenever possible.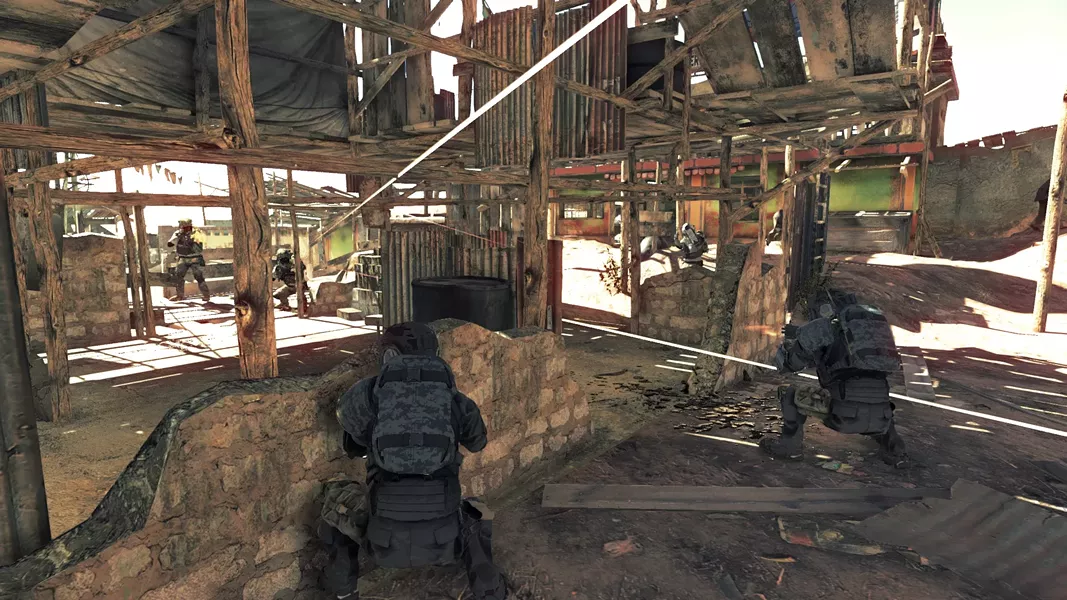 Capcom
Where are we? Who the hell half-builds a city out of plank wood and sheet metal?
Overall,
Umbrella Corps
is a tight multiplayer game with enough challenges to keep players coming back and enough love for all the previous titles to give fans of the
Resident Evil
series a nostalgia fix. But there's a great learning curve to overcome with the controls that may turn off some players. If you can't get used to those controls, you're going to have a rough time, and will frequently slam the controller down in anger. So keep a pillow around to prevent breaking anything, or maybe just to scream into after you spend 15 seconds trying to rush through a door that won't open right away. If you're into
CS:GO
or
Call Of Duty
, this is right up your alley, and it may make you switch over to it for a few months just so you can say you're a master of this one, too. It has all the blood and guts you expect from the series, all the uneasiness of a horror shooter, and all the consequences of being an idiot around zombies. Good luck to you and your team of mercs.