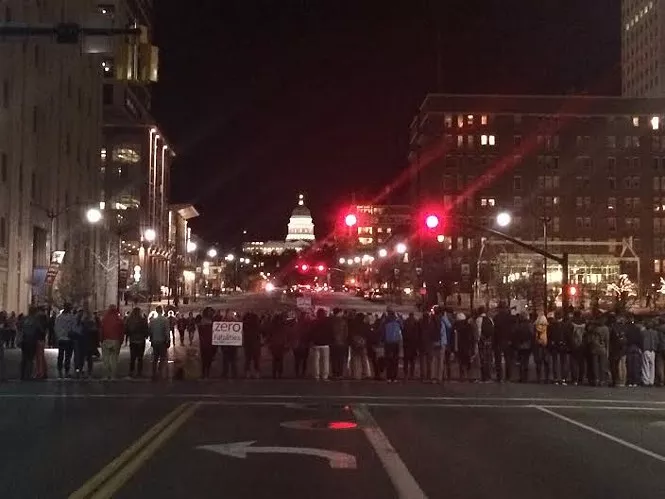 Colby Frazier
Protesters block the intersection of 100 South and State Street during a February 2016 march against police brutality.
With tensions between the police and the citizens they are tasked with policing rising across the country, Salt Lake City Mayor Jackie Biskupski and Chief of Police Mike Brown convened on Thursday at a public workshop to help bridge the divide.
The workshop strayed from a typical public forum, as city officials huddled with residents in three break-out sessions, where the crowd of a couple hundred opined on the police department's de-escalation training, general training and the police department's Citizen Review Board.
In his opening comments, Brown told the crowd that "behind that uniform and badge, we are fathers, sons and daughters; we are just like you."
"I want you to know [SLCPD officers] love you as a community and they cherish their service to you," Brown continued.
While many who attended the workshop at the Sorenson Unity Center seemed eager to press police and city officials on the weighty issue of police brutality, the city also gave an update on the efforts it has undertaken to make
the police department's website
more user-friendly.
Some of the web updates include making neighborhood crime statistics more readily available, as well as replacing the hard-faced photos of frowning officers with smiling portraits.
While Salt Lake City has not endured the deep level of tragedy experienced in other communities, several high-profile police shootings and, most recently, a beating, have drawn fierce protest.
The most recent incident involved an arrest in 2014 when a since-retired officer struck and verbally abused a woman after she spat on him. After video of the arrest became public earlier this month, Brown said the circumstances surrounding the arrest were being investigated.
Protesters took to the streets in February 2016 after Salt Lake City police officers shot Abdi Mohamed. Police say the boy, who was 17 at the time of the shooting, was beating a man with a pole near the downtown homeless shelter. When police asked the youth to stop, they say he continued the beating and was shot five times.
In a break-out de-escalation training session, Sgt. Jenn Diederich explained how police officers are undergoing training on how to be more effective listeners and be more patient with folks they contact.
Attendees fired questions at Diederich, including one from Melissa Flores, a civil rights attorney, who wanted to know how police officers train for scenarios when things quickly begin to unravel between the cop and the person they're contacting. Flores also asked how the police department determines when to deploy its crisis intervention team.
Flores, whose tone was pointed, but didn't appear overly confrontational, struck a nerve with Biskupski, who was sitting in the front row next to Brown. The mayor stood and grabbed the microphone and admonished Flores to be respectful. Biskupski speculated that Flores' questions made it seem as though she was "building a case for a client," rather than trying to make meaningful suggestions to the police department.
The mayor's quick shutdown of Flores did not sit well with Latonya Hadley, who told Biskupski that Flores' questions were exactly what she wanted to have officials address. "These are very real questions," she said.
"She kind of shot me down and said 'That is not what we're here to talk about,'" Flores said after the session. "That's exactly what we're here to talk about."
In a second break-out session on de-escalation training, the crowd was asked to say what they believed de-escalation looked like. The answers rang out: "Listening," "patience," "calm," "don't use guns."
"I think the police are scared of us and we are scared of the police," one woman told the crowd.
Any frustration that was stoked during the de-escalation and Citizen Review Board discussions was diffused with a few quick words from Captain Lance VanDongen and Assistant Chief Tim Doubt, who led a discussion on officer training.
Doubt and VanDongen, who are white, sat around a table with a mixed bag of residents from multiple races, including about a dozen black people.
"I have no idea what it feels like to stand in your shoes as a man of color," Doubt told a man sitting across from him.
"Thank you," the man said.
"Why can't more people say that?" Hadley asked.
Doubt went on to say that he and every other cop he knows joined the police force to help people, not to be hated by people. Some officers, he said, are puzzled by the animosity some residents project toward police officers.
This can be remedied, Doubt said, by ensuring that officers are aware of America's rocky past with race relations, including the use of police forces to reinforce racial segregation.
As a young police officer VanDongen, who said he grew up in Rose Park and attended West High School, felt that he was doing good when he caught someone screwing up. Writing that ticket or making that arrest, he believed, would funnel a troubled person into a system that could provide help.
Now, though, VanDongen said he knows—as all of those sitting around the table knew that for vast numbers of society—that this system, the criminal justice system, "doesn't work."
Doubt concluded by noting the lack of minority and female officers at the police department, and that those numbers must change.
"We're hiring," he told the group.