There's a special place in my heart for science fiction written during the '70s:
Logan's Run
,
Westworld
,
Ringworld
,
Man Plus
,
A Scanner Darkly
,
The Sheep Look Up
, classic
Doctor Who
,
Solaris
,
A Clockwork Orange
,
Space: 1999
,
Soylent Green
,
The Andromeda Strain
,
Dark Star
,
Timeslip
, etc. Some of it is awesome, a lot of it is terrible, but overall it's entertaining to some degree. It was a point in time where you could create the zaniest thing ever and get away with it, because a lot of the doors about where we were headed as a culture in the '60s were kicked in, and our future was in freefall. Where humanity was and where it would go was in limbo—which is exactly the setting we find ourselves in with
Headlander
.
Adult Swim Games
Ground Control to Major Tom, your body's gone, there's something wrong.
Developed by
Double Fine Productions
and published by
Adult Swim Games
,
Headlander
was released in late July on PS4 and Steam after tons of commercials were blasted on the overnight cartoon block. Not a lot of people knew what to make of the game, other than it was colorful and odd as hell. The advantage of being developed at Double Fine was that everything was under the art direction of Lee Petty, whose work you may recognize from games like
Brutal Legend
,
Trenched
and the highly addictive
Psychonauts
. The game is designed as a Metroidvania-style platformer with a 2.5D design, giving you the feeling of being in a 3D world while still keeping you on a 2D plane.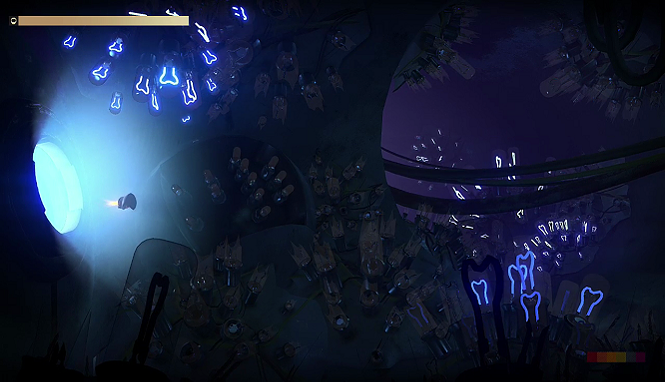 Adult Swim Games
In the future, everyone's mind is on a cloud, with frequent updates and iOS terms of service changes.
The game starts you off as a disembodied head in a helmet, a la
Futurama
celebrities. The friendly trucker-like computer system you travel with informs you that humans decided to upload their consciousness onto a massive iCloud-type service and live out their existence through robotic bodies. It's unknown as to why you, a perfectly preserved human head, still exist, and of course you're suffering from amnesia so you don't even know how you got in this situation in the first place. At the same time, a massive AI known as Methuselah has taken over the collective lives of the robots, and it becomes your pseudo-mission to take them out and restore mankind to some kind of freedom, possibly even restoring their humanity (if you believe your new companion). This crazy-obnoxious future hooked me; I needed to see where it went.
Adult Swim Games
The future has a lot more shag rugs and stone tile than I care to see.
The gameplay in this universe is awesome. You control your head through a tiny rocket in the base, which you can use to fly around the room, attack other robots by pulling their heads off, and then taking over bodies by attaching your head to them. You can even control futuristic Roombas to get into tight vents around facilities. Some places you'll navigate your head using just the rocket to set up access ports and achievements, all while gaining experience to make your head stronger with upgrades. In a robot body, you have some attacks and a gun (but no jumping), and access to certain areas depending on the color suit you're wearing. You'll find yourself exploring grand levels, switching bodies, hooking your head up to terminals and locating secret rooms in order to solve puzzles and beat your objectives. I had a chance to try out the Steam version and play the PS4 version on my own. Both work out the same way on a controller with no degradation, but a keyboard control may get wonky during grand firefights.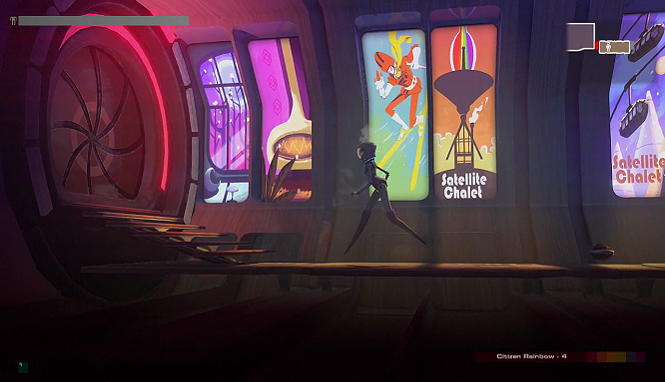 Adult Swim Games
Future '70s ads are everywhere these days.
On the design front, this game is gorgeous—the colors are vibrant, and the levels are greatly detailed. You might only be spending 30 seconds in a room to get rid of an enemy and move on, but if you sit back and look at the details, you'll be blown away. There are moments where even just walking in the background feels like a massive matte painting in motion; there are few times where I walk into
a space
and am not blown away by the way everything looks. Every individual robot you run into has its own personality and clothing to match who you're dealing with, making sure that even the generic NPCs are fun to interact with. If this game were a body of water, the entire '70s sci-fi atmosphere is the sun shimmering off the top.
Adult Swim Games
Oh... great... I found Future Starbucks.
Everything else about this game is just extra toppings on an already tasty pizza. The soundtrack is superb, with a mix of disco and atmospheric to give you a familiar tone while still retaining that outer-world feeling. The voices of computers and robots are funny and motivating; even when they're being sarcastic pissants, they serve as motivation that's still charming. The weapons you can obtain and the upgrades you build on provide a challenge and building-block aesthetic that casually guide you in the right direction without forcing you to play your character a certain way. Yes, it is a platformer with a specific goal in mind for every level, but it doesn't hurt to explore and have fun with what you're given.
Adult Swim Games
I hate to tell you this now, but you're the last of your kind and everything here is trying to kill you. But playing video games should have been educational in this situation, right?
I totally recommend
Headlander
for everyone looking for a unique platformer that doesn't feel trite or like they've played it before. Yeah, a lot of the references will be lost on younger generations, but who cares? That's what the internet is for. This is a moderately challenging platformer that will give anyone at any skill level a dose of fun, and that's something you can't easily compact into a game that's also got
style
going for it. One of the two usually falls short when an emphasis is put on the first, so it's great to see this game receive equal love and flourish well on screen. Adult Swim chose perfectly with this, as it has enough oddity flavor, nostalgia and geek-slathered nuances that will leave players giggling with joy over what you can do and what they'll discover as the story progresses. Remember to enjoy what you're seeing and experiencing as you play, because you're witnessing the crown jewel in Double Fine's catalog so far.