Last year, I wrote
a City Weekly cover story focusing on the rise of the Let's Play culture
, and how thousands of gamers are basically making a living by playing cool games and throwing up clips on YouTube or doing live streams on Twitch. But while the article itself focused on the success stories, we didn't touch a lot on how to get started for those who were suddenly looking at this as a potential new career. So today we start a cool series to help would-be gamers who want to attempt doing this.
The first part of this series is to get you into the thick of things with friends. Anyone can solo-play a game; the vast majority of games on the market are designed so that anyone can pick it up and play alone. But one of the big pieces to helping define your persona, as well as how you interact with others in the community, is to jump into games that have a multiplayer element and can make for obnoxious fun. It helps you make relationships, it helps you get better at the game, it makes for better content on your channel when you make people laugh—and ultimately if you're not having fun, why are you making a channel (let alone playing) in the first place? So here's a quick list of games, older and newer, to help you get rolling.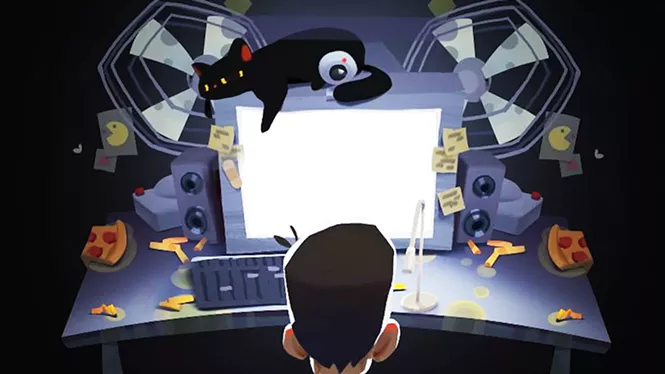 Garry's Mod
The mod to end all mods, the must-have game for any Let's Player in the world. The endless supply of jokes and memes that have come from this series could fill an entire website
of
articles and videos, but we'll table that for now. The big three games within this
Valve
series that have become landmarks for videos are
Prop Hunt
,
Trouble In Terrorist Town
and
Murder
, each with their own set of rules and hilarity. Even after being around for more than a decade, the game is still buggy as hell in certain
places,
and doesn't even fully download all the graphics you need on occasion. But that also makes it part of the fun, as you can glitch yourself out of places and, in some ways, cheat your way to victory. Ultimately, the kind of fun you have in these games is based off who you're playing with—get practice in the lobbies and figure it out early on before getting your friends together for real fun.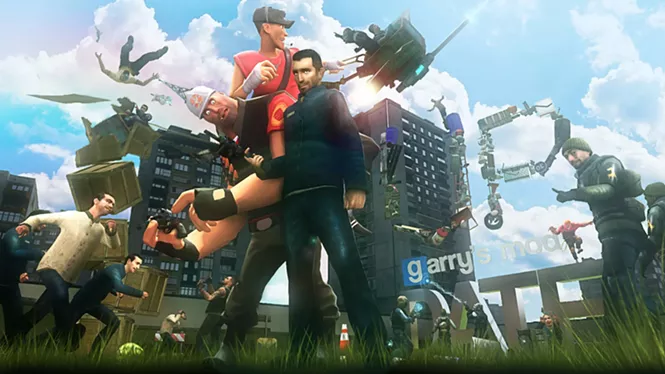 Rocket League
What could be
a more ridiculous
sport than playing soccer with jacked-up cars? The reasoning for the game's success is debatable, depending on what source you reference, but
Rocket League
(which used to be packaged by
Psyonix
as
Supersonic Acrobatic Rocket-Powered Battle-Cars—
yes that, is real) took off with the Let's Play community shortly after its release in July 2015. You join a team of players in the future where cars playing soccer is a smash
hit,
and compete in leagues to become the best team possible. What's really made this a video hit is the variations you can play, which include hockey and basketball, as you custom-design your car to be flashy and also do damage as you can run into people and blow them up. The physics are weird, the strategies frequently change and not every player is happy, but getting a group together to play 3-v-3 can be awesome.
SpeedRunners
One of two titles on this list that
we've previously reviewed
,
SpeedRunners
pits you against three others in a platformer-type race through long obstacle courses to be the first to three points. It's a pretty simple concept from a gaming standpoint, but the title got major exposure when it caught on with the Let's Play community, even prompting
tinyBuild
to create downloadable content featuring several famous
gamers
as playable racers. Back in April, the game released a full version for Xbox One and the PC version has had a lot of the bugs cleaned out of it over the last year. It can make for some awesome moments as you screw with your friends just as they're about to win.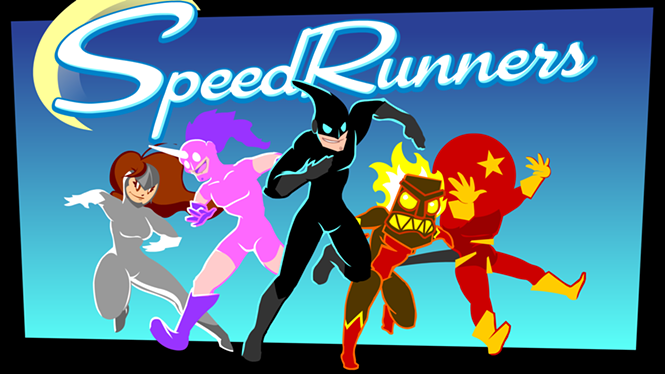 Jackbox Party Pack 2
Jackbox Games
are primarily known for the
You Don't Know Jack
series, which we're sure everyone's tried playing in college at some point with friends after three beers on a Thursday night. The company released the original
Party Pack
in 2014 and found themselves with a massive hit once the Let's Play community snagged it and made as many inappropriate videos as they could.
Party Pack 2
added to the fun with a bigger version of
Quiplash
(answering questions with your own made up answers),
Bidiots
(an auction game where you bid on art designed by other players),
Fibbage 2
(making up answers to trivia questions),
Earwax
(selecting noises to represent different scenarios), and
Bomb Corp.
(working at a factory to defuse bombs). The great interactive elements are that you can have up to eight players, and for those who stream, a special code is added to every game that allows players to jump in as guests or play in the audience. Word has it that
Party Pack 3
will be released this fall, so keep an eye out for that title and the new additions.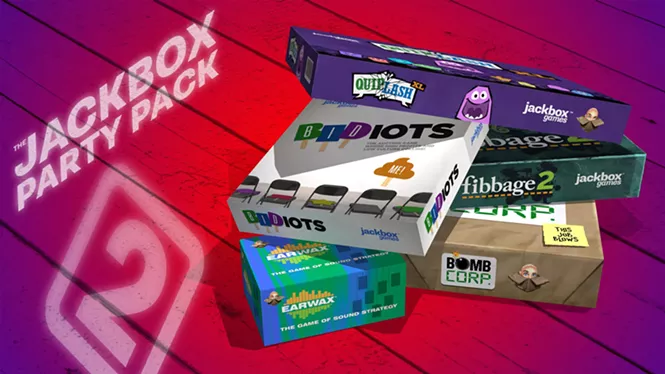 Keep Talking and Nobody Explodes
Ever wonder what life would be like being part of a bomb squad? Wait no longer! This is a multiplayer puzzle title from
Steel Crate Games
where you have to defuse a bomb within a certain time frame. You get an instruction manual that helps you defuse sections of the bomb as the timer ticks away, but doing it on your own would be way too easy. The game is designed so that one player handles the case, while an unlimited number of others help you defuse it by reading you the instructions, and neither side can look at the other—just like a real bomb squad would. There's plenty of opportunity for miscommunication, but also a cool chance to see teamwork at play. There's also a feature option to use VR elements if you want to throw on an
Ocolus
and give yourself vertigo, but that's totally optional.
Guns Of Icarus
Probably the second oldest game on this list,
Muse Games
released this online combat version of the original 2010 model, focusing primarily on steampunk airship battles. You and three other players command a ship of your choosing, with one of you playing captain and the others choosing to be engineers or a gunner, going off into battle to compete against other ships in an immersive environment above the land. The server allows games to be as short as 2-v-2 skirmishes and as long as 4-v-4 territory battles, meaning you can have games with up to 32 players with extensive objectives. A while ago many Let's Players tied to Maker Studios held tournaments and massive invite-only competitions on this game, which made for some awesome videos of people freaking out and getting super competitive in a funny way. The reason I add this particular one to the list is because Muse Games will soon be releasing a new DLC for
GOI
called
Alliance
this fall, and a PS4 version of the game is in development—which makes now an awesome time to get in and get practicing before the servers start ramping up again for new ships and challenges.
Tabletop Simulator
Do you like board games? Well, now you can play whatever game you'd like with Tabletop Simulator! Hold on, don't run away just yet; there's great potential here. When it was released in June 2015 by
Berserk Games
, gamers gravitated to the title because of its sandbox appeal, and it gave a lot of
Dungeons & Dragons
players freedom to do fair games with some character animations. But what really made this a must-own is when people started created downloadable mods for other board games such as Clue, Monopoly, Cash & Guns, One Night: Ultimate Werewolf, Trivial Pursuit and, what is probably the most popular on there at the moment, Secret Hitler. The in-game talking option sucks, so if you're going to play with friends, find a decent Team Speak software, or even Skype it. But as far as gameplay goes, you're only confined to what you choose to play, so choose your game wisely.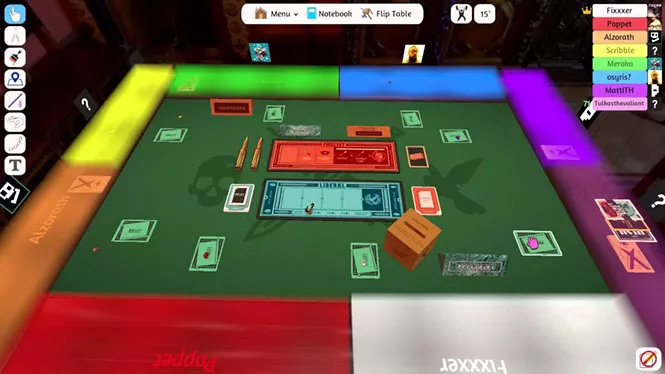 Ultimate Chicken Horse
I
reviewed this game back in April
, but the
Clever Endeavour Games
title deserves a second look for a Let's Play perspective. You and three other players race to a goal to score points like you're playing a game of
Horse,
but are given the ability to make the course harder as you go with building items and weapons. There is no right or wrong way to do anything in this game; everything is simply based on how you wish to proceed based off how you're doing, or if you truly want to be a dick to everyone. Sawblades, arrows, teleporters, black holes, hockey pucks, rotating surfaces, trap doors and more are at your disposal to either make your victory easier or their victories harder. Many gaming channels have created some insane experiences and are hilarious, and it doesn't matter how good you think you are, there's never a way to predict a winner.
Duck Game
A gem from
Adult Swim Games
, this four-player shooter is designed to look like a 16-bit throwback where you and your friends play as ducks. Treated as if you're competing in some kind of killing Olympics, you go round-by-round trying to knock off the other three people with an assortment of weapons. Some suck, some are okay, many are powerful and a few are obnoxious. There are some great references like the Mooninite laser from
Aqua Teen Hunger Force
, and the Plasma Blaster from
Earthworm Jim
that you can utilize for your arsenal. Snag three buddies and prepare for nothing but chaotic gunplay, first to 10 kills wins.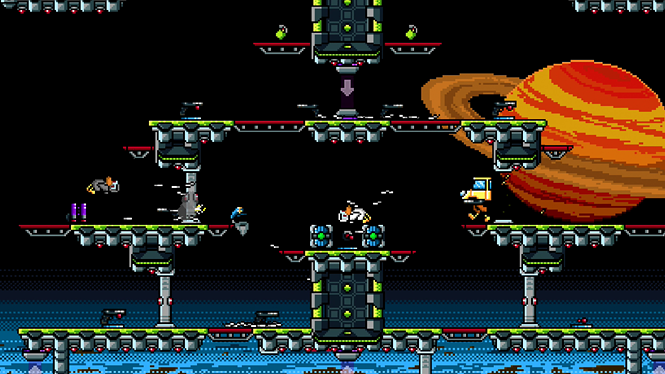 Golf With Your Friends
Finishing up this list is one of the simplest yet obnoxiously fun games you can play right now.
Golf With Your Friends
from
Blacklight Interactive
was given Early Access release on Steam in January 2016, with the sole purpose of being a 3D golf game, designed like a lot of free 2D versions are online where you aim with your mouse and the length of the stretch line is the power behind it. Then Let's Players got hold of
it,
and started holding mini competitions using some of the oddity settings. You can adjust the gravity and turn on jumping so that taking a shot becomes easier, but you can also change the shape of the ball to a number of different geometric shapes. Nothing, and I mean
nothing
, pissed me off more than trying to make a put with a cone. Right now the game is still in early stages and only has three courses of 18 holes, but considering how many different ways you can mess with the system, no two games will ever be alike. You can play up to 12 people in a single round, but honestly, four to six will do you for a fun series.