I really love the stir-fry Japanese noodle dish called yakisoba. The recipe I share with you here contains beef, but you could easily adjust the recipe to substitute chicken, pork, veggies, tofu, or just cook it up without a main protein. It's easily modified. If you love carrots, add more carrots or whatever else you enjoy.
Ingredients:


10-12 oz. fresh Chinese or Japanese egg noodles
1 Tbs sesame oil
3 Tbs peanut or canola oil
6-8 oz. thin sliced beef, such as flank steak
3 cloves garlic, peeled and minced
1/2 medium onion, thinly sliced
1 cup snow peas, sliced or whole
1 cup shredded carrot
1 Tbs fresh ginger, peeled and grated
1 bunch scallions, white and light green parts only, chopped
2 Tbs oyster sauce
1/4 cup soy sauce
2 Tbs mirin
1/4 tsp white pepper
Hot chili oil, to taste (optional)
Method:


Cook the noodles according to directions until just
al dente
. Drain in a colander and toss with the sesame oil. Set aside.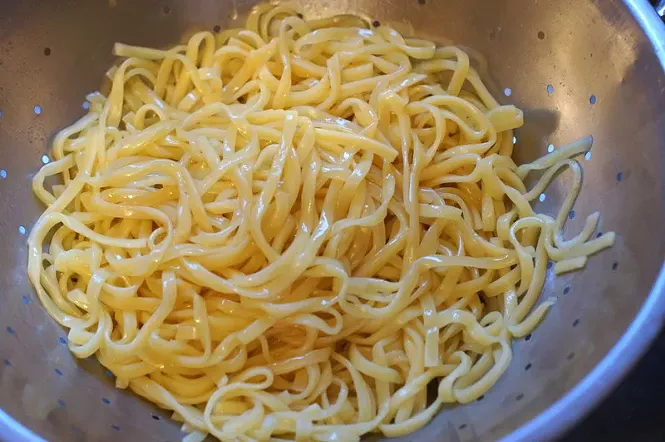 In a wok or large skillet over medium-high heat, cooked the beef in the canola or peanut oil until still a little pink, stirring.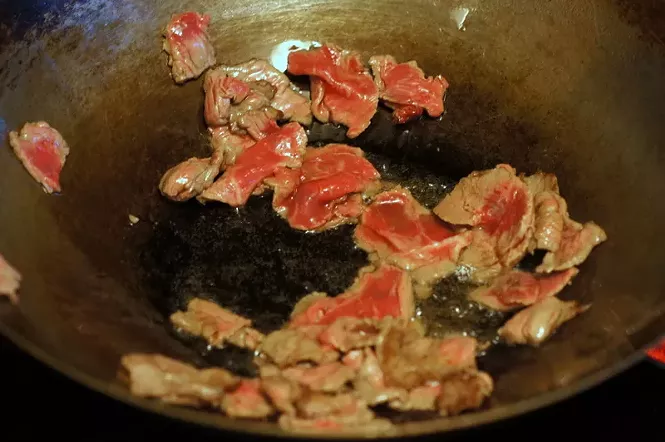 Add the garlic to the wok and cook with the beef, 30 seconds or so.
Toss the onion, carrot, ginger and snow peas to the wok and stir-fry, tossing and stirring frequently, until the veggies have softened a little.
Add the cooked noodles to the wok.
Toss the noodles with the beef and veggies, then add the scallions.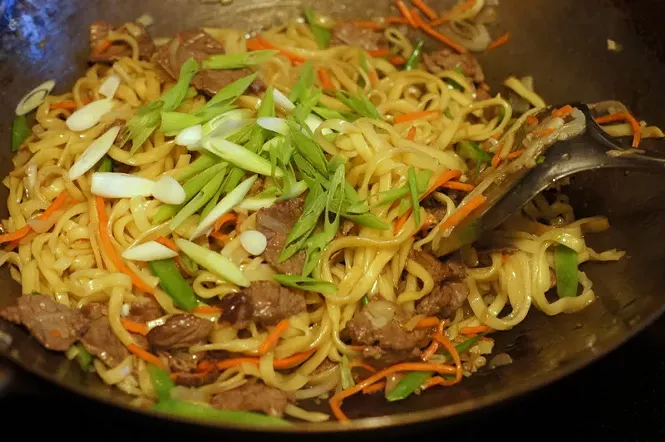 Add the oyster sauce, soy sauce, mirin and white pepper to the wok and toss until the noodles are thoroughly coated.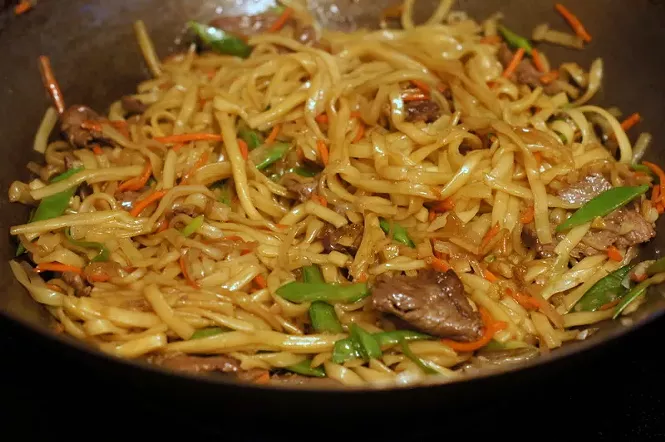 Season with chili oil, if desired, or pass it separately at the table.
Photos by Ted Scheffler