I'm a longtime fan of multi-player arcade games. I can't imagine how much money I dropped into games like
The Simpsons
,
X-Men: Children Of The Atom
and
Teenage Mutant Ninja Turtles
. There's just something about you and three of your friends taking on the world together that immediately fills your mind with excitement. So whenever the opportunity comes about to relive those awesome feelings, I download the latest title and join some gamers found a few rounds of multi-player madness—which is why I was stoked to get my hands on
Retro Dreamer
's latest title,
Monsters and Monocles
(released on Steam's Early Access on Aug. 16).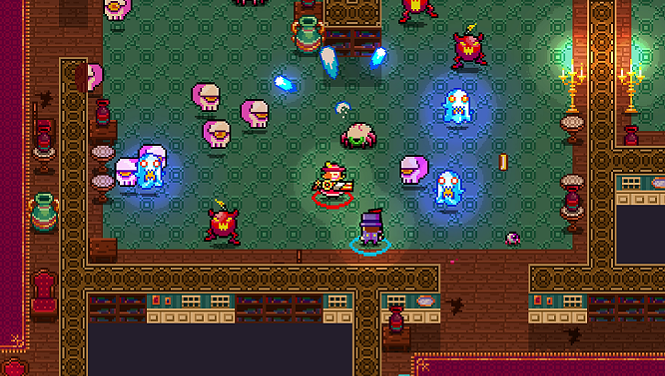 Retro Dreamer
When there's something strange, in a haunted mansion, who you gonna call? These fine chaps!
The premise is splendid: You are one of four members of a monster-hunting group who fly around in their 1800s iron zeppelin, traveling to various locations to thwart everything from ghosts to demons to eyeballs with legs. You have your choice of Rupert Killingsworth (a top hat-wearing gentleman with a mustache), Lady
Cannonhail
(a prim and proper redheaded woman), Baron Von Dogface (a human-dog who looks snazzy in a vest) and
Monobot
(a
uniwheel
robot who wears a top hat and monocle). You'll choose a location, drop down alone or with friends, and fulfill objectives the game gives you as you clear out the area. As you progress, you'll pick up new weapons and artifacts to protect you, as well as cash to buy items, and health bonuses to get you through everything.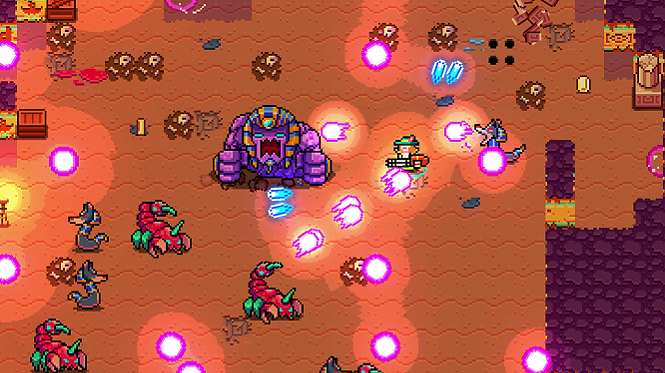 Retro Dreamer
Just what we needed to see on our safari... Purple Sphynx.
The controls in
Monsters and Monocles
are pretty standard for a top-down arcade—you'll move with the left joystick and aim with the right, with the gun immediately firing wherever you aim. The controller makes this game a lot easier to control, as the WASD/mouse combo will get tricky to manage in rooms with massive enemies. It's not hard to master, but it is a challenge when you find yourself in the thick of things. Monitoring your damage is critical, as you're only given three lives and hardly any spots to pick up extras. When you die, you're gone without any chance to continue, and your teammates must press on without you in the most dignified way possible. As you make your way around, enemies will drop new weapons, and you'll have the option of carrying two at a time to swap out. When you play solo, you're left making tough decisions, but as a team, you can mix and match so that levels become easier with the right strategy. At the end of every level is a major boss with fantastic rewards to take back to your ship and navigate to the next haunt.
Retro Dreamer
DId I ever tell you the time Commander McBragg and I thwarted a room of skulls using a grenade launcher and some twine?
The graphics to this game look great for a 32-bit era and design, while still having a modern gaming vibe. My immediate thought was that I felt as if I was playing a cousin to
Shovel Knight
. Everything has a smoothed overtone to it, a fine coat of varnish on the steampunk and fantasy elements, like this was hand-crafted gaming. Every enemy, every object you interact with, every room you enter (including ones you can't enter) is given a treatment that makes you want to explore. Even if you totally die and lose everything and need to go back to the start, there's a feeling of encouragement to go back through all of it again to see what else they've done with the place. The music is also quite defined as a combination of exploration and combat themes, playing into the dungeon-crawling sounds you'd get from a modern Zelda game while holding onto the mythos and ambiance of an old-school horror game.
Retro Dreamer
LASERS! They got 19th Century lasers!
Monsters and Monocles
is
probably one of the best defined multi-player games you're going to see in 2016, and it didn't require a ton of flash or fancy graphics to get there. The game is a challenge, but it's also well-balanced in the idea that you could beat the game on your own if you dictated the pace. However, the real fun is finding three other players—whether it be in person or online—to travel as a group and find every item you possibly can to vanquish the evil resting in creepy mansions and squatter towns. If either of those appeal to you, this is a must-have. For casual gamers, it's totally worth trying at least once to see whether or not this becomes one of your favorite indie games of the year.