Slowly but surely, the heat is finally decreasing, and we're able to move about more around town on foot without melting into a puddle of sweat. Still, this past Salt Lake Gallery Stroll was a warm one, plus an orange pollution sunset to start the weekend, so it was only natural for me to take a break with a drink. This month, I made a visit to our old friends at
Mountain West Hard Cider
, which has SLC artist Tess Cook on display throughout their tasting room until the end of August. Today we chat with Cook about her work as we look at some of the works you can see and purchase.
Tess Cook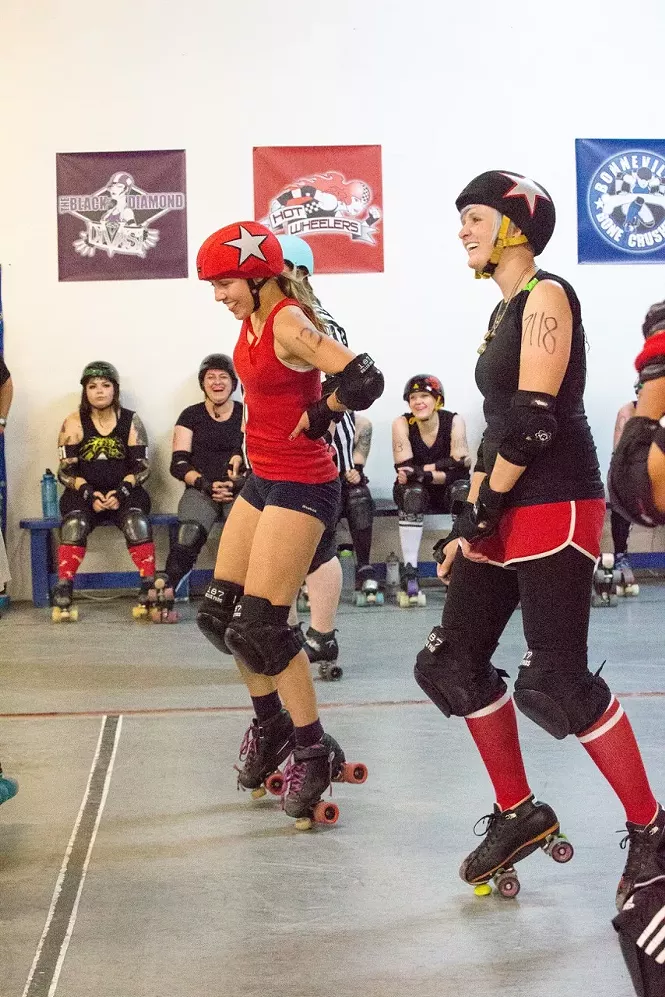 TessCook.com
Gavin: Hey Tess! First thing, tell us a little bit about yourself.

Tess:
I am from Salt Lake City Utah, I've been working as an artist for about three years, and studied art for about eight years.


What first got you interested in art? What influenced you the most growing up?


I have always loved drawing and painting since I was able to hold a marker, but I would say the 1940s Disney movie
Fantasia
is what made me want to make up my own worlds. I also had an aunt who worked as a commercial artist in New York who would send me art books and art supplies growing up. The first paintings that really made an impression on me as a kid was Salvador Dali's
Persistence of Memory
and Van Gogh's
Starry Night;
I would practice trying to draw or paint them.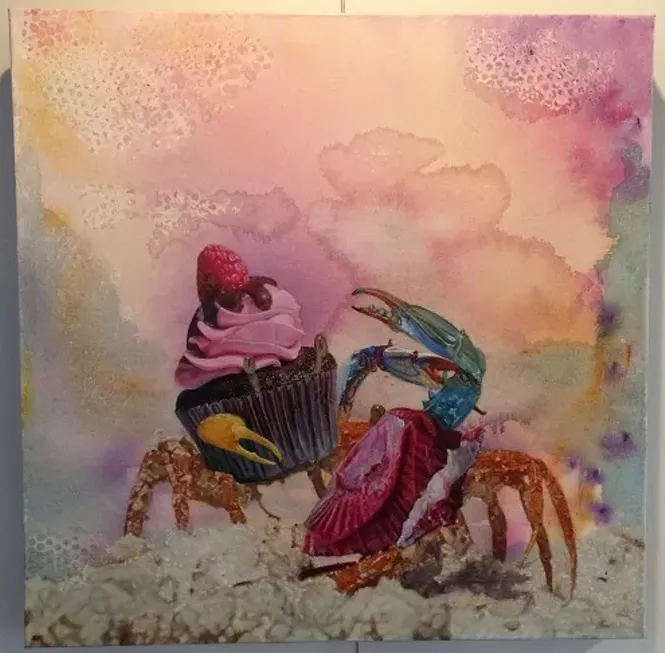 What was it about painting that attracted you the most?


I really enjoy the quiet focus of painting as I build each layer with light glazes of color. I think most people describe it as meditative. And I love symbolism and creating visual connections, and telling stories through them.


You received your BFA from the University Of Utah in 2012. What made you choose the U, and how was your experience in their program?


I received some scholarships, and my mom worked
for
the University of Utah Hospital, so it was the place I would have the most opportunity. It was a great experience. I learned a ton from each of my professors; they were very supportive, opened a lot of doors for me via scholarships and awards.

What was it like for you refining your skills and discovering other genres while you were there?


I would say the number one lesson that opened my mind and expanded what I was able to do was with color mixing, learning about color temperatures and saturations and how that changes depending on your light source and the distance between you and your subject. That's very vague, but I could spend hours just talking about color mixing. As for discovering other genres of art, it really opens up your mind to what is possible, as well as figuring out how you can approach your own ideas.

How did you end up breaking into the local art scene and taking part in shows?


The summer after graduating college, back in 2013, I entered a show at Finch Lane Gallery called
35x35
. It's 35 artists under the age 35, and it's a great way for emerging artists to get their name out there. Ever since then, I've been showing more work in shows and getting more involved with the art community.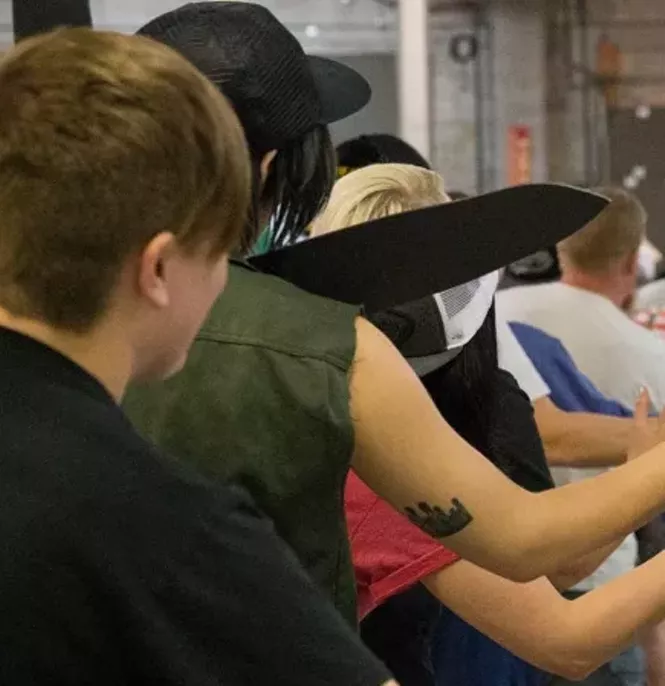 What's the process like for you in creating a new piece, from concept to final design?


I spend a lot of time on Google Images sorting and searching for good references. Afterward, I'll work on compositions on Photoshop or animal hybrids, start drawing my work out on paper, and then transfer it to my canvas and start painting away in thin delicious washes.

Do you play around a lot with what you create, or do you tend to stick to a design you come up with?


I spend time looking at visual relationships between the deserts and the animals such as color, texture, and pattern and how those things might influence the character of the creature I'm designing.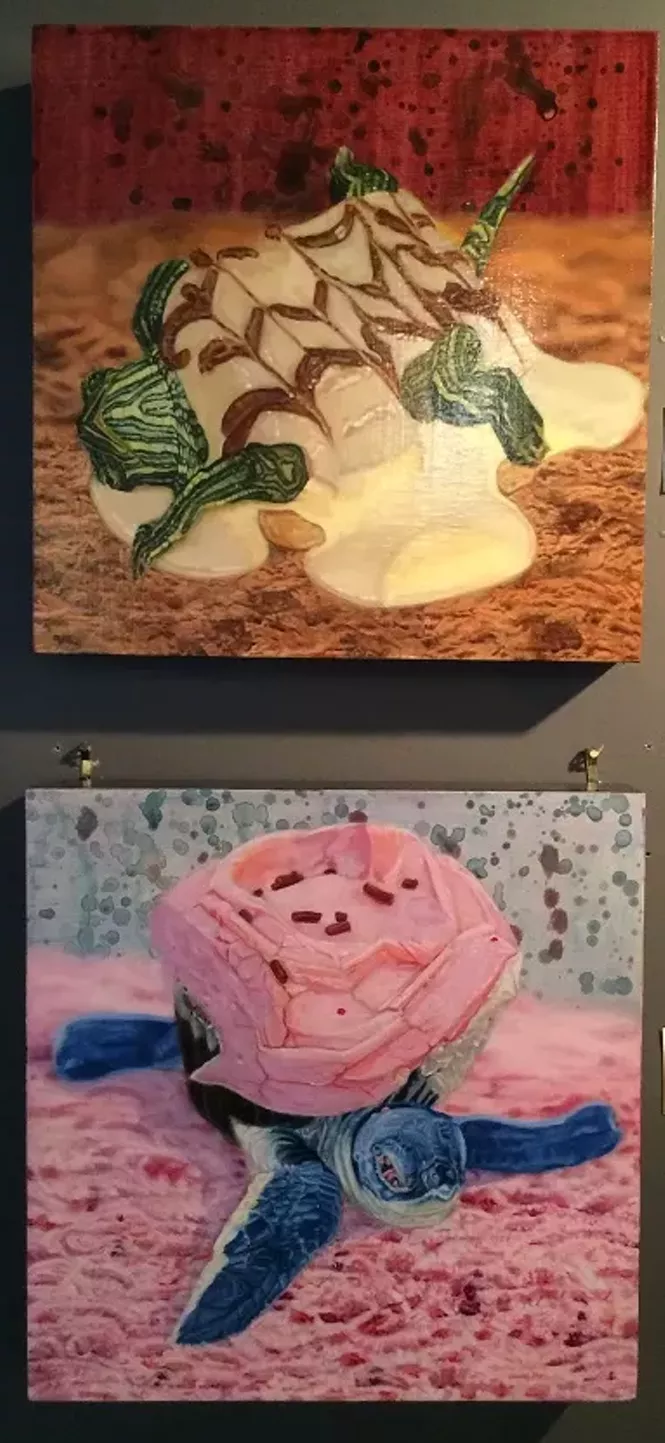 What's the attraction you have to painting works with animals and food?


I basically got the idea from a birthday card I made for a friend and realized there are silly puns to explore like chocolate turtles and crab cakes. From there, I started to explore ideas of food delicacies such as escargot and how to some people that is a real treat and to others not a treat at all. Then I started to examine my own struggles with food, and the positive and negative aspects of that relationship. So I'm combining sweet desserts with seemingly unfriendly animals to depict those feelings.


Tell us about the works you currently have up for this month's Stroll.


The show is called "Food Fight," and is called that because I'm making connections to our individual fight for nourishment physically, mentally and spiritually, as well as the constant fight for resources, be it physically or politically between nations. The food hybrids inhabit abstract landscapes that resemble nature, and food-like structures to signify fragile emotional or physical states.

How has it been working with Mountain West Hard Cider to be displayed in their space?


It was been great to work with them because you get to reach an audience that might not necessarily be interested in going to a gallery or art shows but still can enjoy art.


What's your take on the Utah art scene and the work coming out of it?


I think the Utah art scene is full of friendly, interesting and talented people. And I believe it is a great network for female artists especially.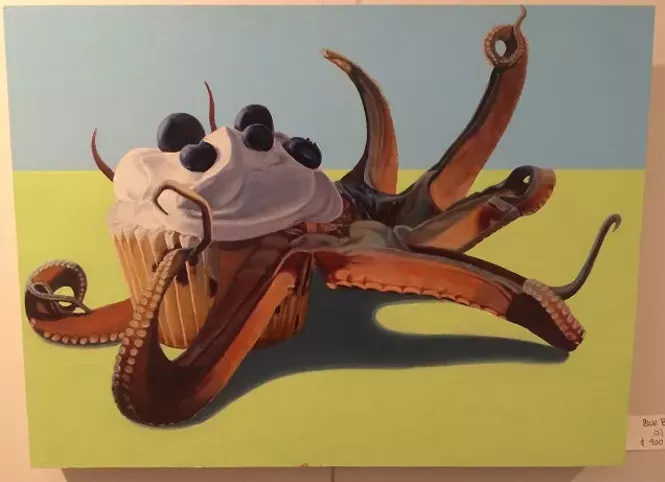 What artists have caught your eye lately and you recommend people check out?


I love the work of Chicago artist Laurie Hogin, she is extremely inspiring. But as far as local artists, I love the work of Sunny Belliston, Stephanie Kelly Clark, Laura Hope Mason, Lucia Heffernan and Holly Cobb.


What can we expect to see from you over the rest of 2016?


I want to start bringing these animals to life in terms of sculpture fixed with abstract paintings and hopefully some really cool collaborations with some local female artists.