I really love a great pork chop, but I rarely order them in restaurants because they're almost always overcooked and dry. In part, that's because pork has such little fat these day. Most pork is very lean.
But the other problem with cooking pork chops is incorrect method. A thick (1 1/2-inch) pork chop will overcook if it's cooked solely on the top of the stove. So I use a two-step method, cooking the chop first in the oven with low heat and then finishing it on the stove in a skillet. Try it: I think you'll get good results with this technique for cooking thick pork chops.
Ingredients:


2-4 bone-in pork chops, 1 1/2 inches thick
Kosher salt
Freshly ground black pepper
1-2 Tbs canola or vegetable oil
Method:


Preheat the oven to 275 degree F. with a rack adjusted to the middle of the oven.
Pat the chops dry with paper towels. Season each pork chop with 1 tsp salt. Set the chops onto a wire rack atop a rimmed baking sheet and allow the chops to stand at room temperature for 1 hour.
Season the pork chops with black pepper, to taste, and place them in the oven.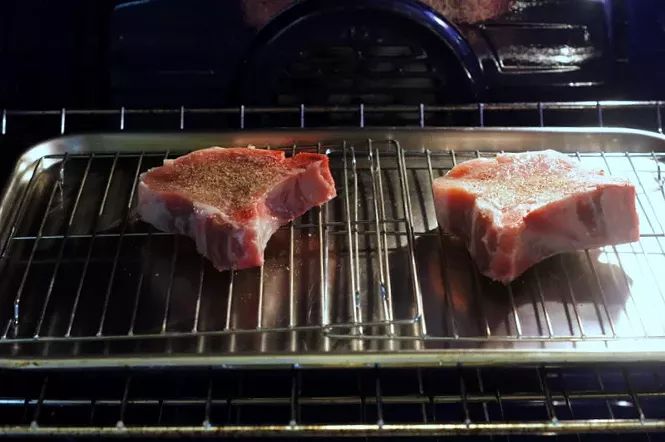 Bake the chops until they register 120 to 125 degrees, about 30 to 40 minutes.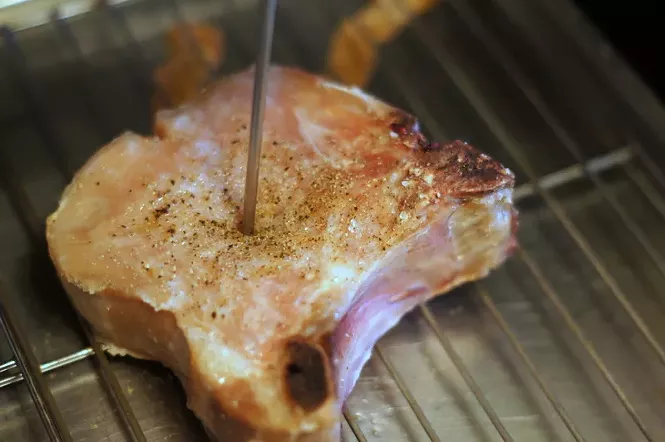 In a skillet, heat 1 Tbs oil over high heat until just smoking. Place 2 pork chops into the skillet and sear until well-browned, about 2 minutes.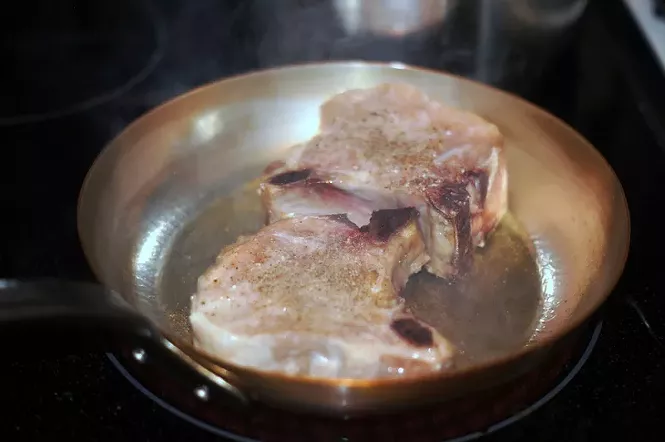 Repeat searing the chops on the other side, 2-3 minutes.
Transfer the cooked chops to a plate and cover with aluminum foil. Repeat searing the other chops, if you're cooking more, adding an additional tablespoon of oil to the pan.
Let the chops rest, covered with foil, for about 10 minutes, until they reach 145 degrees F.
Serve and enjoy.
Photos by Ted Scheffler