The music community in Utah has a ton of support within it, but there isn't a ton of accompanying national attention. Those of us in journalism and media, in general, do what we can to promote what's happening in your own back yard. But ultimately the only way word gets out about music is if there's an independent fan-base around to make it bigger. Geeking On Music is a locally created blog and podcast where the hosts talk about what national acts come through town and what locals you really should be paying attention to, all in an effort to get you out the door and finding new tunes in your playlists. Today we chat with co-hosts Justin Carrell and Clay Hagblom about the site and what they do to promote what's coming out. (
All pictures provided courtesy of GOM.
)
Clay Hagblom & Justin Carrell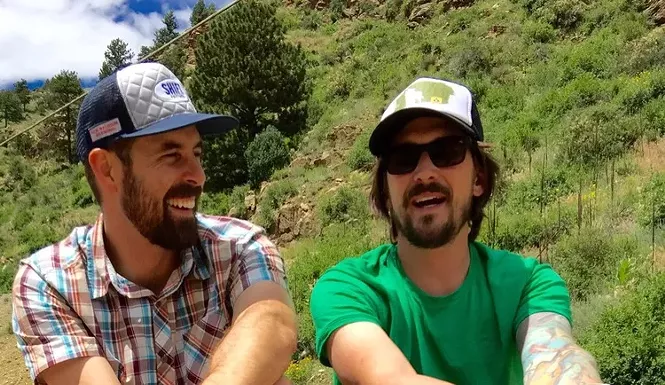 GeekingOnMusic.com
Gavin: Hey guys, first off, tell is a bit about yourselves.

Clay:
I was born and raised in the greater Salt Lake area. I've moved around the valley over my 36 years, but I really love it here and plan on staying for a while. I'm married to an amazing woman and have three great kids. We really enjoy the outdoors and try to spend as much time out there: fly-fishing, hiking, mountain biking, backpacking, etc.
Justin:
I was born and raised in SLC by two of the greatest parents around. I am 38 years old and the oldest of three. I graduated from Murray High School in 1996 and earned my BSN degree from Westminster College in 2009. I currently work serving our veterans at the VA Hospital and have done so for the last six years. I married the love of my life a few years ago; we sold our house in the city last year and moved to a cabin in the woods. Now my life revolves around marriage, raising my daughter, my dogs, music, eating good food, enjoying friendships and experiencing the outdoors on a daily basis. I dabbled with the bass guitar for like two to three months in high school and picked it up again when I was 24. Since then, I've played and recorded with Dirty Copper, Vicious Starfish, Sister Audio/Ex Machina, The Black Arrows, Watches, and currently The Swinging Lights.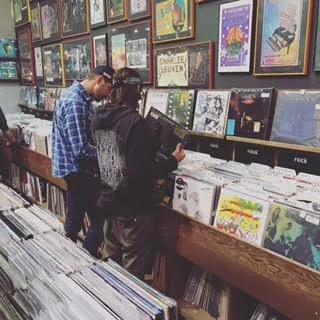 What got each of you interested in music early on?

Clay:
I've always been into music for as long as I can remember. I was always the kid that wanted to control the radio in the car. My parents always had music on, my mom and sister were always listening to '80s and early '90s pop music and my dad was always into '80s country music. I wasn't into that so much, but they did have some Beatles and Beach Boys cassettes, so that's what I gravitated toward. This early love really helped shape an open mind to music. I've been through different phases of what I liked, as most kids do: early rap, '90s grunge, classic rock, punk, etc. I think keeping an open mind to new music is important and has really helped shape my desire to dig for new music, whether it's old or new.
Justin:
Man, I don't think it was any one thing that got me into music early on. Music was always in the background at my house growing up. I was born in the late '70s and my parents had a killer silver-faced stereo system with fancy wood encased speakers. I remember lots of disco and funk being played. My mom loved disco and I know
Soul Train
was on the tube once in a while. I think she just loved shaking her ass. We used to dance around the house to disco, funk, and Michael Jackson. God, even my grandma was a Michael Jackson fanatic! I miss those days. My dad was more into '70s rock. I remember watching Pink Floyd's
The Wall
with my dad around the age of eight. Scared the shit out of me! It still does, but I love Pink Floyd and I have great nostalgia for '70s rock n' roll, probably my favorite era of music. I also had my own personal little record player as a child, and would spend hours listening to records and getting lost in the read-along books that came with 45s: "When you hear the beep, turn the page." When I was in the second grade, Beastie Boys dropped their debut album
Licensed to Ill
, and I was hooked. "You gotta fight, for your right, to party!" Beastie Boys were definitely the first band I remember totally losing my shit over. A couple years later, my Great-Uncle Virg introduced me to the Beatles. That's when I found out that all those songs my grandpa would sing to us while cruising in his old yellow Cadillac were Beatles tunes. "Yellow Submarine" was a favorite tune to sing while cruising in the yellow Cadillac. I guess I was just exposed to it. Music has always been a part of my life.

Who would you say were your biggest influences and favorites to listen to?

Clay:
That's a tough question to answer. My problem is I have 20 bands in my top five. We recently did an extensive podcast on Uncle Tupelo, the alt-country pioneers from the '90s, so I've been listening to them and a lot of the music that influenced them. Artists like Doug Sahm, Joe Ely and a whole lot of really old country music. As I mentioned before, I think listening to the Beatles and Beach Boys early on really helped set the tone for liking a wide variety of music. Growing up, I would go to Media Play with my friends and we'd buy everything from new music (at the time) such as Rage Against the Machine, Primus, and Tool to classics like The Rolling Stones, CSNY, CCR, The Doors and the Sex Pistols. You might say I have a lot of influences. My favorites to listen to now is whatever I have on my turntable.
Justin:
As a musician, I have too many influences to name them all, but the biggest four I would say are Wilco, Radiohead, Dr. Dog, and Sturgill Simpson. These bands just keep pushing creativity with each album and they don't conform to the fake mainstream bullshit. I don't know how they do it and I think it is rare for bands to not get lazy and just put out the same album over and over again. Once you gain a level of success and have a large enough following, it would be so easy to just be lazy. Lots of bands do it. Just tour and play their old songs and not put out new material, or just put out the same material without any risk. But bands like Wilco, Radiohead, Dr. Dog, and Sturgill Simpson... don't give a shit! They are not afraid to lose and gain fans. I have mad respect for bands that can still push the envelope even after 15, 20, or 30 years. Wilco's album
Star Wars
sounds nothing like any album they have done before. Radiohead's album they dropped this year,
Moon Shaped Pool
, is jaw dropping, and they've been at it with the same lineup since 1985. Dr. Dog's latest album,
Psychedelic Swamp
, is a step up from past albums and is on consistent rotation at my house. Sturgill has put out three completely different albums in just the last three to four years. In my opinion, he is saving country music. I also currently enjoy listening to Waylon Jennings, Merle Haggard, Willie Nelson, Johnny Cash, Menomena, Real Estate, Bill Callahan, White Denim, Wye Oak, Animal Collective, Caribou, Jack White, Kurt Vile, Uncle Tupelo, Spoon, Viet Cong ... Too many to list. Most my friends are musicaholics and I owe it to them for turning me on to so many great bands.
Justin, you're a member of The Swinging Lights. How have things been going lately with the band?
Justin:
Things couldn't be better right now for The Swinging Lights. Our drummer for the past four years quit a few months ago. It was kind of a bummer, but that musical relationship had run its course. Chris and I stayed positive and just kept writing and waiting for the right drummer to come into our world. Just a few weeks later, out of the blue, my good friend (and former bandmate from the band Watches) Wayne Burdick called to console me after hearing I had to put down my 14-year-old dog. Come to find out, Watches were taking a hiatus as one of its members decided to travel the world with his wife for a time. Wayne Burdick just got some free time and we needed a drummer. He is such a musical drummer, and brings so much to our sound. It feels like a new band. He's like our very own Glenn Kotche. He can play anything. We plan to make a record with him very soon.

Clay, what got you into being a music aficionado, both collecting and going to shows?

Clay:
I don't see myself as an aficionado. I don't pretend to be that. I'm a music geek. I love to listen to music and break it down in my mind. I love finding new music. Even if it's just new to me. I love learning the
back stories
behind songs, albums, musicians, venues—I want to know what their influences were, what else was going on in that time frame or in that city, how was the culture affecting it? I watch documentaries, I read books, I go see as much live music as I can. I love it. It's what I geek out on. Everyone is passionate about something. And one of my things is music.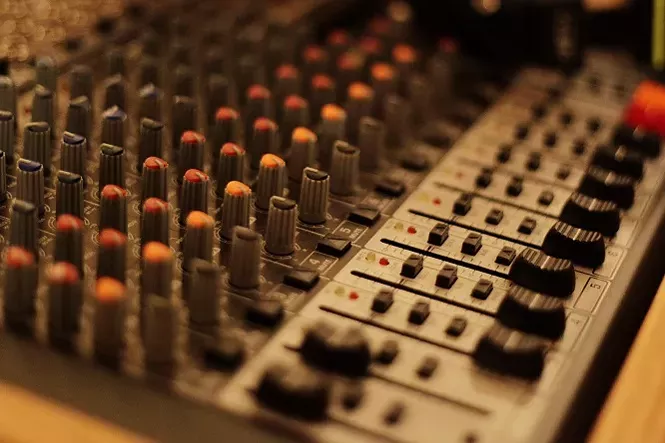 How did the two of you first meet each other and eventually become friends?

Clay:
We met through a mutual friend, but really didn't get to know each other well until we took a road trip down to Phoenix back in 2012 to see Radiohead play. From there we started going to more shows, having record nights at Justin's and doing a lot of backpacking.
When did the idea come about to start up Geeking On Music?

Clay:
I started the Twitter account January of 2015. The idea was basically to start tweeting about music and trying to connect with other people that wanted to talk about music. Just a place to document what I was listening to, what band I was thinking about for whatever reason, an interesting tidbit I learned. A photo I liked. A music journal.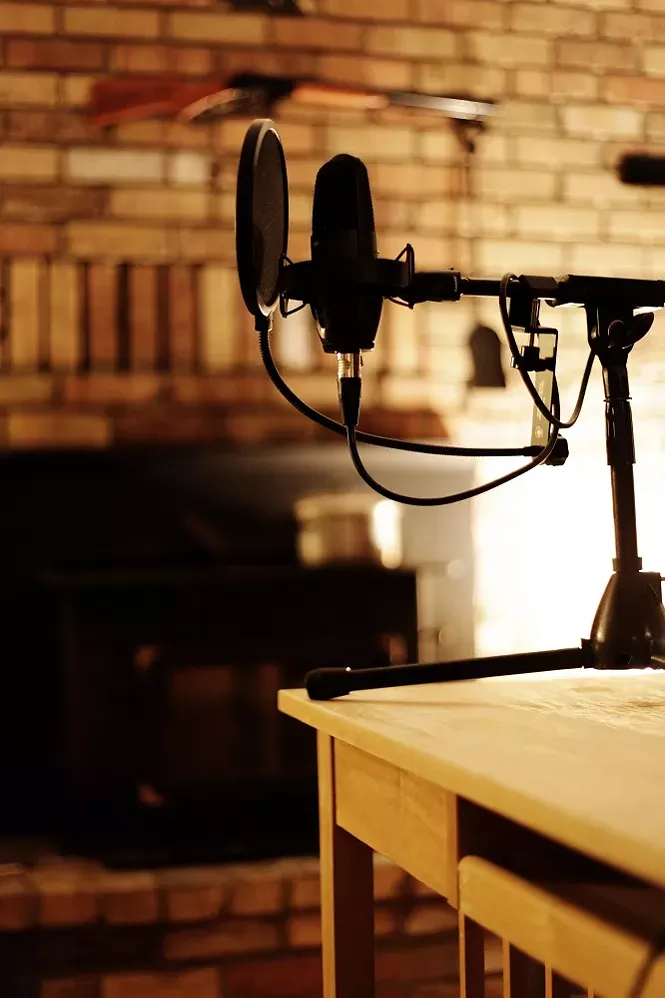 What was it like gathering up all the equipment you needed to start recording episodes?

Justin:
Luckily, I already had the gear. The Swinging Lights had a nice steady paying gig for a while and instead of blowing it all on stupid shit, we bought some really good gear. We just had to figure out the computer side of things and dive on into the podcasting world.
Did you do any test episodes beforehand or just dive right into it?

Clay:
Yeah, we had a couple. We weren't planning on them being "test" episodes, it just took us a few tries to figure out exactly what we wanted to do. We spent a lot of time on one that we ended up scratching because we realized that you can't record music onto the podcast because it's a violation of copyright laws. So we scrapped it and now we have companion Spotify playlists for the episodes where we want to play music.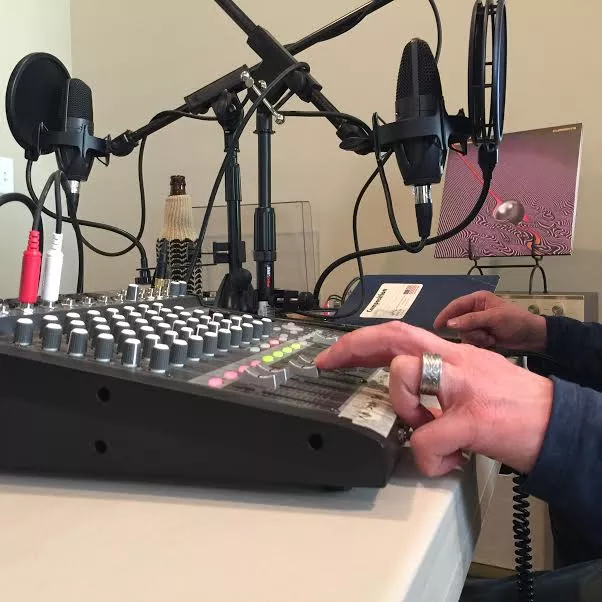 How do you go about deciding the content of each episode?

Clay:
We have a lot of great ideas for future episodes. It's usually as simple as running with whatever sounds like a fun topic. We try to have regular episodes that keep people up to date with the latest and greatest music, but we also love exploring topics that are maybe a little off the beaten path. A great example of that is our massive three-hour episode on the '90s country-punk band Uncle Tupelo.

You release episodes on a bi-weekly basis. What made you choose that format rather than going weekly like most shows?

Justin:
We have day jobs and families. It's a time thing. Every other week allows us to maintain balance in our lives while still pursuing what we love about podcasting.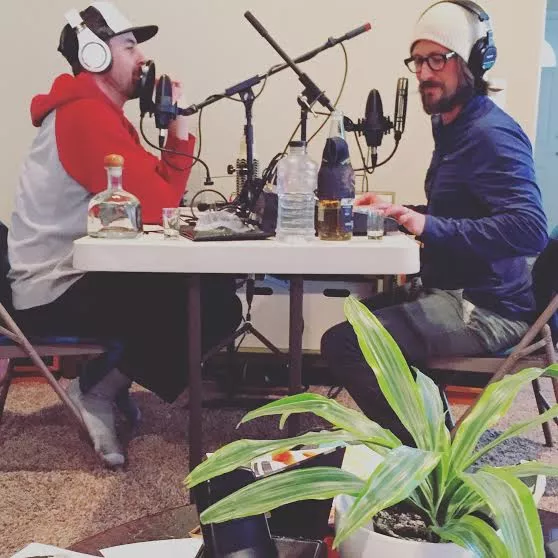 You've received a massive following on social media in a short period of time. To what do you attribute the popularity from?

Clay:
The social media came long before the podcast. My goal with the social media accounts, all found at @geekingonmusic, is to create a community of music lovers and connect people with similar interests. It's been a blast to do, I've really met a lot of cool people. I think people like to see pictures of cool musicians, and it's become more of a chat account. So anyone can pipe in with music questions or whatever. Now it's evolved into a growing conversation between music geeks and anyone that likes to talk about music. I can walk into a record store and send out a tweet asking for recommendations for a particular band that I'm thinking about getting into. Within five minutes I will have some great recommendations and advice on what albums to start with. It's like having a crowd-sourced Siri powered by a network of music aficionados.
Where do you hope to take the show over the next year or so?

Justin:
We hope to keep providing an outlet for people to discover music and to learn as we learn and discuss all sorts of geeky musical shit. We hope to have some of our musical heroes on the show within the next year. It would also be great to use the podcast as a platform to help up and coming artists we are fans of. It will be interesting to see how the podcast evolves.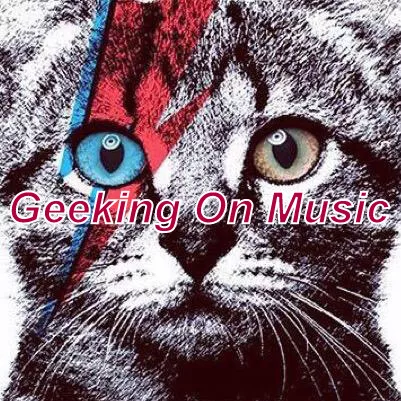 What can we expect from both of you and the show over the rest of 2016?

Clay:
We're going to be doing our favorite albums of 2015 soon, that's going to be a lot of fun. We both pick our top ten and discuss why we picked them and share a favorite track off the album. We are also going to be releasing Part Two and Three of our Jeff Tweedy trilogy. The series started with the Uncle Tupelo episode, which was the band Jeff Tweedy was in before he started Wilco. We'll also be continuing our guides to vinyl gear, so if you're thinking about making the jump into analog, you'll want to listen to that one. We did an overview for the why's and how's on our 3rd episode, but we're planning on breaking each piece of gear down even further. You can expect us to have a hell of a lot of fun.