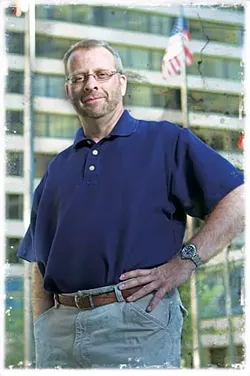 File
Kent Hart outside his federal defender offices.
For a couple of years
Kent Hart
and I were neighbors. Ironically, I would see him more on the downtown streets near our offices—his on Broadway, mine round the corner on Main—than I would in the 9th and 9th neighborhood he called home for many years.
Hart was laid to rest last weekend at the age of 51, after falling into a waterfall in Norway. He'd just remarried and moved into a new home with his second wife.
His death shook many in the legal community, who perhaps had almost come to take for granted the passionate advocacy he brought to running the
Utah Association of Criminal Defense Lawyers
(UACDL), while also working at the Utah Federal Defender's office on appeals and as a capital case specialist.
Over the years he helped me with different stories, pitching suggestions for pieces, offering cogent insight and, always with his delightfully dry-wit and sparkling eyes, a gentle leavening of humor to his observations about some of the leading legal lights in Salt Lake City.
The emergence of UACDL in recent years as a powerful voice and advocate for the rights of criminal defendants, in part on the back of growth of membership to around 500, is to a great extent a reflection of Hart's hard work and dedication.
Hart built bridges, crusaded without the strident tones of some, was a strong yet quiet presence who pushed for reform, for the underground. He was a safe harbor amidst all the angry, self-appointed voices to find both wisdom and level-headed analysis. It's hard to imagine his shoes being filled, an absence all the more keenly felt at a time when the Justice Reform Initiative continues to languish for lack of back-end services funding.
The last time I saw Hart was on Main Street, with one of his sons. Hart brought that same sense of humor to the curiosities of life in Salt Lake as he did to the legal profession and, like others who've expressed their dismay and sadness at his loss, I'm constantly reminded of his absence each time I need someone to share an opinion, offer an insight into criminal cases, the law and legal personalities in this town.
While the word nice seems an anemic description to apply to someone so valued, it always struck me that he was a genuinely nice man, in the sense of his generosity of mind and heart, and his compassion for all he encountered.
When I'm out walking my dog, I often glance at his former home and the words stenciled over the doorway: "Come before winter." I never got to ask him what they meant to him. The phrase can be found in the Bible, 2 Timothy 4.21. It speaks to a request to arrive before the cold season makes journey impossible. Such melancholy thoughts at a time when someone of such merit and genteel nature, has been unexpectedly taken from life.
Davis County Attorney Troy Rawlings was a close friend of Hart's. They worked together on a state bar magazine article on prosecutorial misconduct. Hart submitted a letter to
The Deseret News
shortly before he died, which was not published. So, for the sake of completion, and as an admiring tip of the hat to a man who is sorely missed, here's Hart's last broadside:
"On July 21, 2016, the
Deseret News
Editorial Board published a misguided editorial about the role of prosecutors under our criminal justice system. The article suggests that Davis County Attorney Troy Rawlings' motion to dismiss criminal charges against former Utah Attorney General Mark Shurtleff was ill-advised. But, the article actually demonstrates well that the motion to dismiss is not politically motivated, as many would like to assume. Dismissing such a high profile criminal case that has dragged on for two years, if anything, is a politically unpopular decision. Were Mr. Rawlings politically motivated, the safest course would be for him to let the case run its course so that a judge or jury could be left looking responsible for the demise of the case. He could then let others take the fall for pursuing a constitutionally suspect prosecution that has cost taxpayers enormous sums of money as well as the personal resources of Mr. Shurtleff himself.
Criminal prosecutions are not popularity contests. Nor are prosecutors merely politicians. Rather, both the Utah and United States Supreme Courts recognize:
[A prosecuting attorney] is the representative not of an ordinary party to a controversy, but of a sovereignty whose obligation to govern impartially is as compelling as its obligation to govern at all; and whose interest, therefore, in a criminal prosecution is not that it shall win a case, but that justice shall be done. As such, he is in a peculiar and very definite sense the servant of the law, the twofold aim of which is that guilt shall not escape or innocence suffer. He may prosecute with earnestness and vigor—indeed, he should do so. But, while he may strike hard blows, he is not at liberty to strike foul ones. It is as much his duty to refrain from improper methods calculated to produce a wrongful conviction as it is to use every legitimate means to bring about a just one.
State v. Saunders, 1999 UT 59, ¶ 31, 992 P.2d 951 (quoting Berger v. United States, 295 U.S. 78, 88 (1935)).
The merits of the case must guide prosecutors, not the popularity of decisions. Here, the United States Supreme Court's recent decision in McDonnell gutted the gift charges against Mr. Shurtleff. In addition, the police officers investigating the charges have lost key evidence and later were not truthful about their actions. And, even more troubling, the Department of Justice's persistent refusal to disclose evidence that is unquestionably favorable to both Mr. Shurtleff and former Attorney John Swallow begs explanation. The real question in these prosecutions is why state law enforcement officials lied and why the federal government refuses to comply with its constitutional duty to disclose exculpatory evidence to the defense.
Another pressing question is why charges have not been dismissed against Mr. Swallow as well given the McDonnell decision and the government's withholding of evidence. The concealment of evidence should be the real issue probed by the Editorial Board, not Mr. Rawlings' decision to follow his conscience and do what he apparently believes to be constitutionally required.
We urge the
Deseret News
to assign one or more of its reporters to delve into these questions as well as others raised in the motions to dismiss the Shurtleff and Swallow prosecutions themselves. The primary unanswered questions must be directed to and answered by the state and federal authorities who have lost or withheld the evidence and information essential to a timely and fair and constitutional prosecution. The public deserves answers from its servants. The
Deseret News
is well equipped to seek them out and provide them."