I can't quite explain what it is about brilliant art in a video game that fascinates me. Maybe I'm still a child of wonder who loves to be impressed; maybe I still have great taste in the obscure; maybe I'm just a sucker for people who put in the effort. Whatever it is that makes my mind smile when I see great art in a game, it makes me appreciate the game more. It doesn't happen often with major game titles; it's more of an occurrence with work by indie companies and developers, because to them, it isn't just a product to be packaged and shipped out to meet a deadline. It's their passion. That passion clearly shines through in the 2D platformer from
Swing Swing Submarine
called
Seasons After Fall
, which was released by
Focus Home Interactive
on Sept. 2.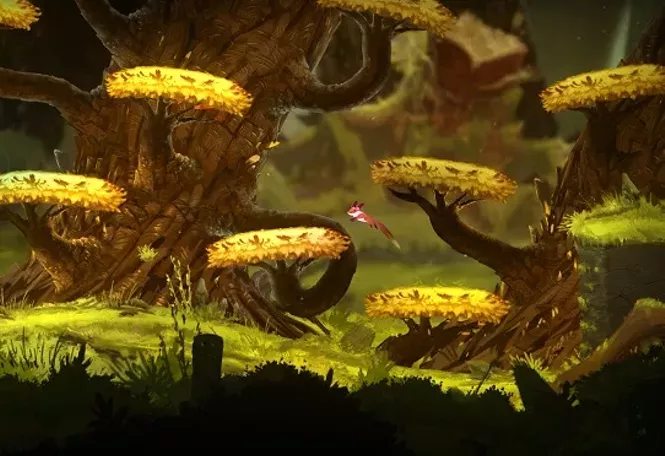 Focus Home Interactive
The leaves are turning, so you know what that means? Pumpkin spice tourist season.
Keeping things spoiler-free, you start the game off as a spiritual entity who is tasked by an unknown voice with finding the spirits of the four seasons. To do so, you end up taking over the body of the first woodland creature the passes by—which in this case happens to be a wild fox. You'll traverse various lands in search of creatures who will hand over the seasons to you, which then become powers that you can use to affect the environment around you and make your way home. Sometimes you'll need to freeze things with the winter; other times you need things to hatch in the spring, or spore out of trees and puddles in the fall. Once you've managed to collect the seasons, your journey takes an unexpected twist that will have you figuring out what your true purpose for being here really is.
Focus Home Interactive
Hey buddy, mind if I cozy up into this cranny here?
For a platformer, it's pretty straight-forward, with the added bonus of not having to deal with a "lives" system. You'll enter each area and figure out what you need to do on a case-by-case basis, with a combination of jumps and utilization of the season controls. If you quit, you'll start right back where the game last left you off, so no having to go through the lengthy process of achieving everything all over again. But the downside is, you don't get to go back if you missed something vital. The only time you truly fail is if you either can't figure out what you need to do, or you decide to bail on the game. That means even a child can play this and have an amazing time, but it also means if you're an adult and can't figure out what to do, you might want to exercise your mind a bit with a good book before coming back.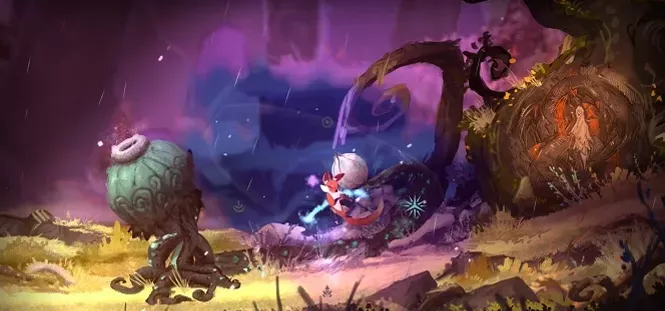 Focus Home Interactive
When I use my seasonal powers, I curl up and look super-cute. That's my real special ability.
Getting back to the art: I feel as if I'm playing in an acrylic painting that's being created as I go. The color scheme for each season is fantastically designed, and works for every area you visit; everything feels like it belongs there, regardless of use. Great time and care were put into the
aesthetics,
so that even the slowly-moving background gives you the perception of being in a massive forest. You could sell still-frames of this game at gaming conventions and make money hand-over-fist. All of this art is complimented with a glorious stringed soundtrack—not a full-on orchestral score, just a simple two or four stringed arrangement that fits every area you touch. Catered to the movements and tone of each situation, it's a shame this score isn't available somewhere for download yet.
Focus Home Interactive
After every jump I just want to say to myself "I got this."
The only downside to it I had after playing it twice (once for review, and once for fun/achievement-hunting) was that the game was shorter than I expected. This is a game that could have delved into so much more, considering where they're headed with the primary character. It nearly feels like a waste at the end, even though the ending is satisfying; there's just a sense of disappointment that it's already over. I highly recommend the game to everyone of every skill level. You'll love the hell out of it if you're a platformer junkie, and you might cry a tad near the end.