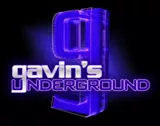 This past Friday was one hell of a brisk walk around downtown SLC, as we had what will probably be the last Salt Lake Gallery Stroll of the year that doesn't require a winter coat. A lot of the exhibitions this time around were individual showcases, which is always an awesome time to see galleries take a risk on a single artist. One of those places was
Nostalgia Café
, where we got to see the works of SLC-based painter Reese Wallace with his latest works. Today we chat with Wallace about his career and what you can see at Nostalgia, along with some pictures I took on Friday evening.
Reese Wallace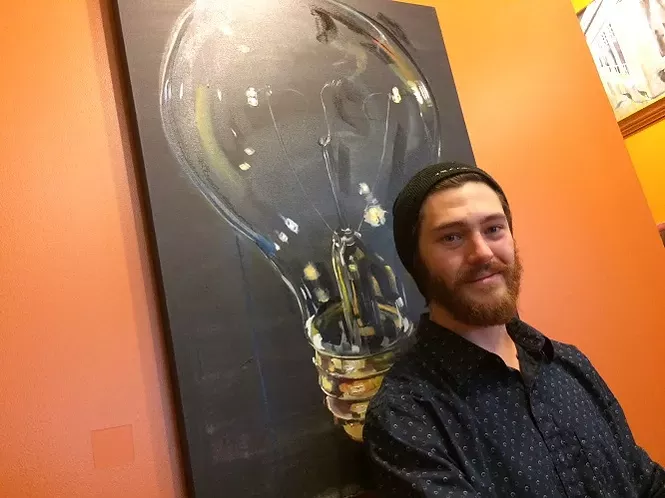 ReeseWallaceArts.com
Gavin: First thing, tell us a little bit about yourself.

Reese:
I am a 26-year-old oil painter, trying to make is a positive impact on Salt Lake City, and its art culture.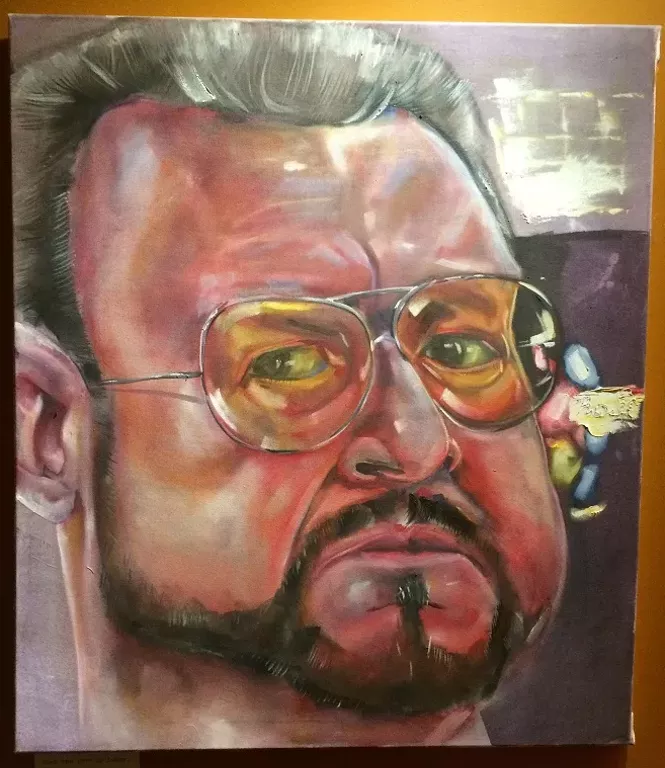 What first got you interested in art, and what were some early influences you had?


Like a lot of
artists
I know, the desire to do something creative started at a young age. Trying to emulate the manic design of
Freakazoid
,
Rocko's Modern Life
and other early '90s cartoons sparked
passion
that eventually led me to
dissecting
and studying the greats like Edvard Munch, Rene
Magritte
and Marcel Duchamp.


What was it that drew you more toward painting as your medium?


I eventually chose oil as my medium because of its unforgiving nature. It's a medium you can't argue with; it fights back and it's probably going to win, unlike other mediums.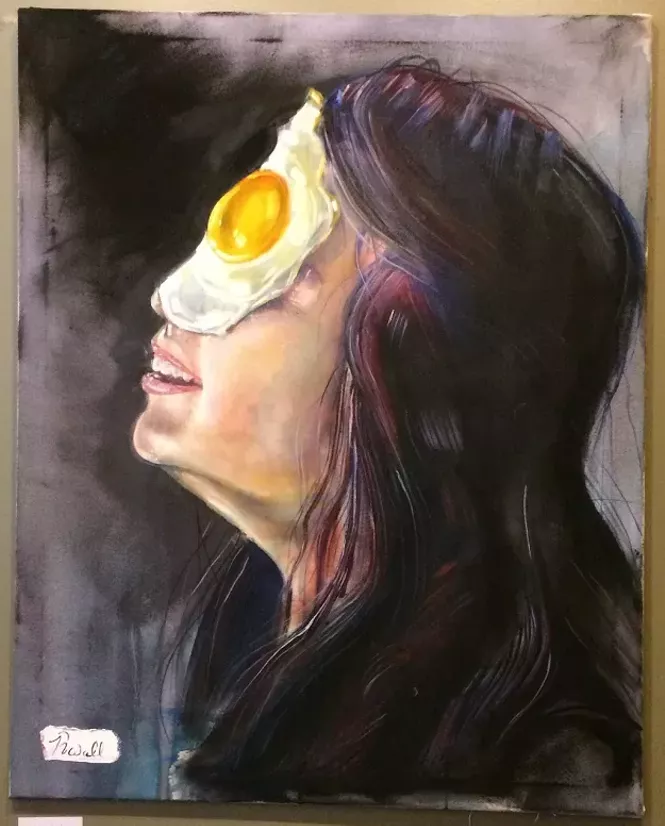 I read that you were mentored by Terry Huff. How did the two of you meet and how did that partnership come about?


Valley High's art teacher Terry Huff pushed me to work with more than Bic pens and mechanical pencils. He encouraged me to go outside of my comfort zone and explore other mediums like charcoal and paint brushes. Up until that point, no one had really pushed me past the point of drawing cartoons and comic-book characters. He understood that for artists to grow and get better, they need more than "I'll hang that on my fridge." He offered honest criticism in a constructive way—he told me when my art stunk. Through honest feedback and sometimes brutal critique, he continues to offer feedback on my
art,
and has been a major influence on how I approach it.


What was it like for you honing your skills and learning what worked for you when creating?


The process has been long and extremely frustrating at times;
however
there is nothing more rewarding than creating something I am proud of, even if it's only momentarily. I have been surrounded by other artists who are willing to lend ideas,
feedback
and critique. They may be unaware of the extent of what I took from them creatively; to those, I owe much of my skill.

You have a tendency to mix genres while working with oil. What creatively pushed you in that direction?


My goal would be to have my art as versatile as possible to make a connection with the audience, to the point where if a gallery called for surreal portraiture with impressionistic undertones, I could deliver.

What's the process like for you when creating a new piece?


Anything I paint usually starts life off as a little sketch in a small book that I keep in my back pocket and use as a wallet. From there, I literally sit on it, mulling over in my head how to tackle the unique challenges each painting presents. Problem-solving is at the heart of creating specific ideas. Mundane tasks usually give me
the space
to really think about the smaller details of a piece before I even get started.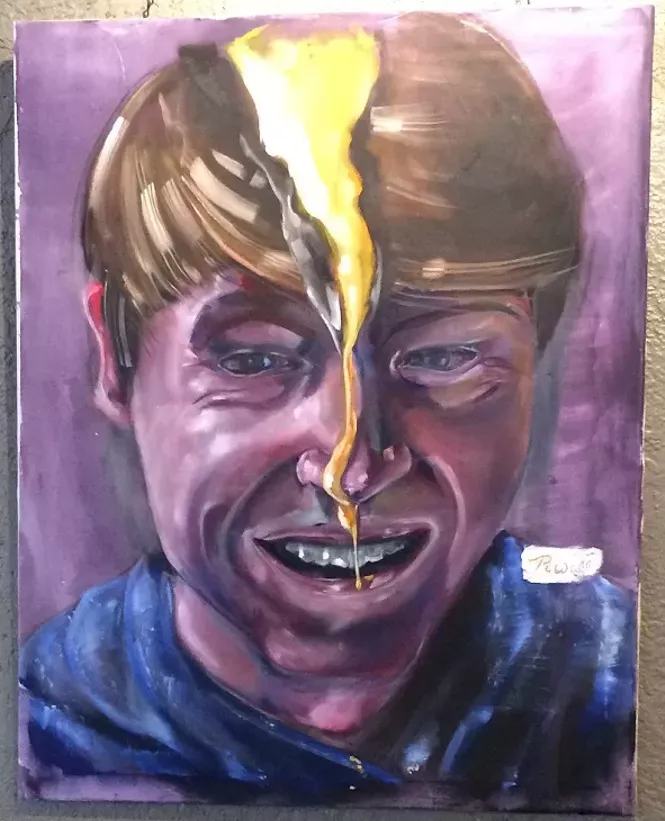 Do you find yourself going back over it or changing it? Or do you stick to what you originally intended?


Not usually. By the time I get close to finishing a piece, I am already looking forward to starting my next one, making it really easy to walk away from the painting, calling it complete. Otherwise, it's too easy to get caught up in the infinite details that wouldn't really add to the piece.


How was it for you breaking onto the local art scene and getting your name out there?


Salt Lake City has a huge talent pool to pull from, with what I think is not enough places to display art. That being said, I think persistence and accepting mountains of rejection is a small price to pay to get noticed in this city.

Tell us about the works you have on display this Stroll.


Thematically the show is a bit all over the place; it's a very diverse
show this time
around. I'm excited to show gallery-goers the range of visuals I am currently capable of producing.


How has it been working with Nostalgia Café as hosts?

I am grateful for Nostalgia Café and the wonderful curator Zara, who has welcomed me back for my second show. Nostalgia trades Cabernet for
espresso,
and upturned noses for artists who are approachable.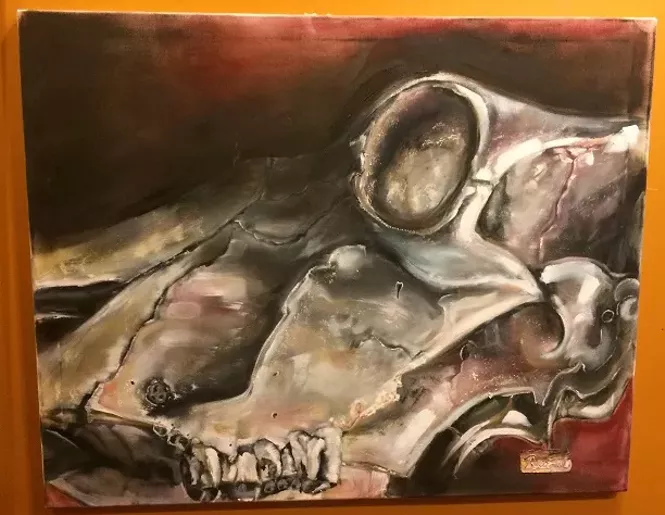 What's your take on the Utah art scene and the work coming out of it?


Salt Lake City has previously been known for the saturation of religious art, and I feel like more expressive, thoughtful art is starting to catch on; I hope to be a part of expanding that. The art that Utah produces is really funny. We have such a diverse group of artists showing. We have art extremes smashed together in the same place, making it a lot of fun to experience first-hand. It's beginning to grow on me now that I am a little bit older.


What artists have caught your eye lately and you recommend people check out?


A short list of local artists I recommend watching out for would be Joel Condit, Sarah Larson, Jazmyn Walton, Chris Bodily and Ashley Love. My well-known favorites would be Foster
Grissim
, Aleksander
Vreko
and David Shevlino, who have been recent influences of my work.

What can we expect to see from you over the rest of the year?


The goal is to produce art that tells a story, exaggerates emotions and captures something relatable to people. It's time to re-focus and begin working on my 2017 show pieces, and maybe add some fun Pop art along the way.