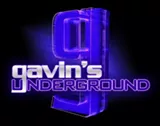 The SlutWalk concept was born in 2011, after a Toronto Police Department officer was quoted as saying "women should avoid dressing like sluts" when talking about sexual assault. That comment sparked a fire with those fighting against slut-shaming and rape culture in North America, leading to the first SlutWalk in April 2011. Since that time, walks have been organized globally on a yearly basis, including in Salt Lake City. On Sept. 24 at Washington Square, our sixth annual walk will begin at 12 p.m. Today, we chat with the local organization's current director (and previous interviewee/standup comedian) Rachel Jensen about taking over the group and the plans for this Saturday. (
All pictures courtesy of SlutWalk SLC.
)
Rachel Jensen
SlutWalk SLC on Facebook
Gavin: Hey Rachel, first off, how have things been since we last chatted?

Rachel:
I've been great, but super busy! It's hard work putting on a walk of this size and of this kind of importance!


How's your standup career being going lately?


Standup is always my first love, but it has taken a back seat to this for a minute. But don't think I didn't get a few comedians involved in this; I just had to. We have to care about something, right?


How did you first get involved with the SLC version of SlutWalk?


I got involved from the get-go back in 2011, then about this time last year, I caught
wind
that they were looking for a new director. With my passion for this kind of social activism, feminism, and my comfort level in front of crowds, I wanted to throw my hat in the ring. It looked like I had a lot to bring to the table, so I was brought right on board.

What was it about their organization that made you want to become more involved?


I, like so many other people, was outraged back in 2011 when a Toronto officer made statements that "women should avoid dressing like sluts in order not to be victimized." That struck a nerve with women and men around the globe, and we wanted to become a voice against that kind of thinking. When the director position opened up, I thought "If not me, then who?" I think that's a stance more people should take when it comes to leadership roles. We can all be leaders if it is something that we have a passion about, and with that, we can actually change the world. It's pretty powerful thinking.


Once you took over, how was it for you growing into that director role?


It was pretty intimidating at first. I was often thinking, "What have I gotten myself into?" As I have seen how much we have grown and expanded, the types of people I have brought in and brought to the table and into the discussion, and how I have engaged people to come get involved—I am starting to believe that the hard work is paying off. It's not that they weren't there before, it's just a different type of engagement in 2016. It wasn't a walk in the park, and it's not "armchair activism," but it has been very rewarding and it has helped me grow so much as an individual. It's actually making me more tolerant when debating and arguing; where I used to get more angry, I'm learning how to tone it down a bit more and get to a calmer place of understanding.


For those who aren't aware, what do you do throughout the year to promote the stances you take?


Throughout the year we still promote the walk and take a stance against rape culture, slut-shaming, and victim-blaming when in comes to sexual assault. We covered a lot of current events with what was going on in the BYU sexual assault honor code cases, the Stanford sexual assault case with Brock Turner, Bill Cosby, and other stories. We really want to educate the public on what kinds of consequences this underlying culture of victim-blaming can have. We also want to teach people what healthy consent looks like, so that maybe the generation that is entering college can have a better chance at changing the landscape of sexual assault on campus altogether and ending it for good. The only way this can happen is by having real discussions on what consent is, and what it is not, not about what not to wear or how to babysit your drink at a party. What was cool this year is that we got local artist and photographer Cat Palmer involved with some really amazing campaign posters that popped with our messages of consent and anti-rape culture, that featured objectified barbie dolls and some shocking statistics and facts.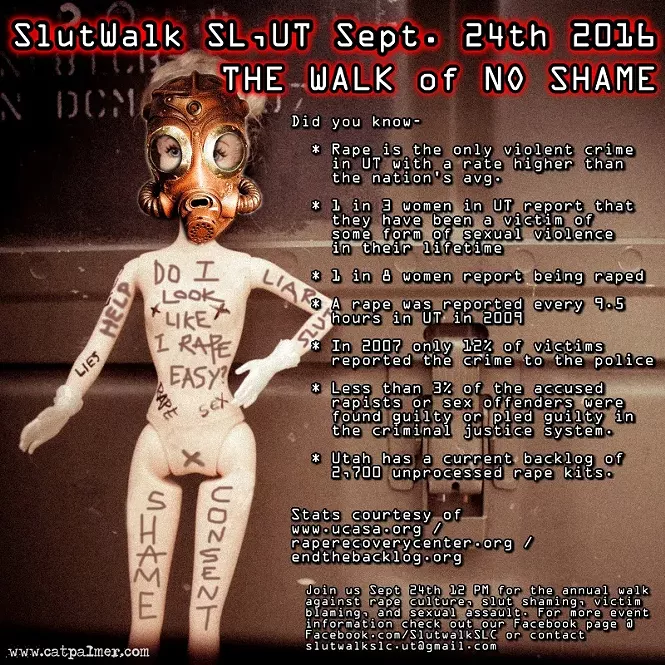 How has it been helping grow the SlutWalk presence here in Utah?


Utah is kind of the odd little chestnut when it comes to the SlutWalk. We are open to it and in much need of a movement like this. However, there has been pushback on the name. Some of the pushback on the name that we've seen has come from the media and from some of the more conservative areas because obviously the term "slut" is more than a little off-putting. The reasoning behind the name had everything to do with the original remarks that started the movement globally, so we have been reluctant to change it due to the solidarity we have with movements in other conservative areas like India, Tehran, Israel, across the U.S., and where it all started, Toronto. So we decided to help SlutWalk grow a little bit in Utah, we would rebrand the event itself this year as "The Walk of No Shame." I think it's helped quite a bit not only bring in more of a conservative BYU-type
crowd,
but also bring in some more survivors who felt kind of alienated thinking we were diminishing their experiences with the name. I think it's win-win all around. We want people to feel comfortable joining us at the event.


Tell us about the event you have coming up on Sept. 24.


We are starting our walk at the City Building (Washington Square) at the North Steps. There, we will have speakers, including comedian Melissa Merlot, who will do some material about body positivity and anti-slut-shaming. Another good friend of mine, Levi Rounds, will be sharing some experiences about rape culture. Then we'll have local slam poet Kari Berry. We'll also have some posters to make signs if people don't have materials they can spring for before the walk. From there we'll be walking to the Capitol Building (it's just over a mile). We have some more awesome speakers there—SLC Mayor Jackie Biskupski, Legislator Angela Romero, Lt. Governor candidate Kim Bowman, and [Democratic candidate for governor] Mike Weinholtz—who will all be talking about ways that we can get involved in the processes to make changes to the laws that keep Utah at the top of the list for one of the highest rates of sexual assaults in the nation. People can dress to impress or come as they are to the event, but no full nudity, and we do have to remind everyone to follow the traffic laws and safety laws. The event info can be found on our
Facebook page
.


How did you go about choosing the speakers and what will they bring to the atmosphere?


Being an election year, we wanted to engage our marchers with more than just stories about what has happened, but what
can
happen. We want people to know that they can make a difference. If you are sick of seeing the stories on the news about rapists going free after three months served in jail, we can actually do something about it. We can push to change the laws, we can vote judges out in some cases, and we can change the whole atmosphere and conversation. It doesn't have to start and stop with a march and carrying signs once a year. If people want to get involved, really involved, we can do anything. I think having different people in different forms of government, local, legislature, and even someone running for governor, which is the top office you can have at a local level, it shows that there are so many things that we can change as a group. These are the people we can influence with our votes and our voices, and these are the people that can tell us how to take steps to change the world by introducing bills and running for office ourselves. I think people that come will hear some pretty powerful stuff.

What do you hope people will take away from this event?


I want people that come to know first and foremost that they are not alone. We are going to have a lot of survivors at this event, and we are going to be marching as an army. Secondly, I want people to know that they are empowered over their own body. They can dress and identify however they want, and it doesn't give anyone the right to it, ever. Just because you wear a short skirt does not mean you are then a walking target for sexual assault. And finally, I would want people that come to the event to see that we are all a part of something much bigger. We are part of a movement to change a dangerous culture. You cannot stop racism overnight, but the civil rights movement put a huge dent in it because they worked together. Just the same, you cannot stop sexism overnight. But if women, men, straight, LGBT, and everything in between worked together we can start to see a drastic reduction in people getting hurt as a result of sexual assaults and sexual violence. When we can start having honest and open discussions about the issues that sexism and rape culture does to our society, then we can start reversing the damages that it has done.


For those who want to be more involved with the organization, what do they need to do?


Show up, speak out. We have posters that you can print up and hang up, and the added bonus is that it is free Cat Palmer art! Bring friends to the event, and be active in your community in other events like this. We aren't really a non-profit, we don't have any board of directors, we are just a grass roots movement, so the best thing people can do to get involved is to get the word out and keep the movement growing, really. Get the conversation started among your friends, in your after school group, in your college organization. Find a way to start a conversation about consent with your core group of friends so that you know everyone you are close to understands what it means. This is how movements grow. Like our Facebook page, share it, pass it along, and keep in touch with us throughout the year for our other events we host outside of the annual walk.


What can we expect from you at SlutWalk SLC over the rest of 2016?


After our walk, we hope to keep engaging our base on social media and hope to host more events throughout the year with the focus on survivors and other organizations that work with sexual assault within our state. We are very interested in doing more activist work in helping people feel empowered to get out there and make a difference in getting laws changed and passed as well at local levels, so you might see us working on that front where we can. It won't stop with the walk, but the walk is definitely our biggest focus. We will be around, so keep an eye out, or feel free to shoot us a quick "hello" anytime on our page.