One of the coolest and most terrifying things I ever saw as a kid was HAL 9000 from
2001: A Space Odyssey
. Having your life endangered by an AI unit that could interpret your motives
any way
it sees fit, and might decide to kill you if necessary, made the future look promising and horrifying at the same time. I vividly remember one of my grandparents being untrustworthy of the "Popcorn" setting on a microwave, and preferred the automatic popper: "How does it know when the popcorn is done?" But I'm getting off on a tangent—the reason I bring up AI computers is that, ever since that film, the horrors of having an intelligent computer help run our lives have become the basis for many sci-fi terror stories, each one trying to outdo the previous one. The most recent I remember is the computer in the film
Moon
, voiced by Kevin Spacey, where he was trying to hide the truth from Sam Rockwell. Fun times!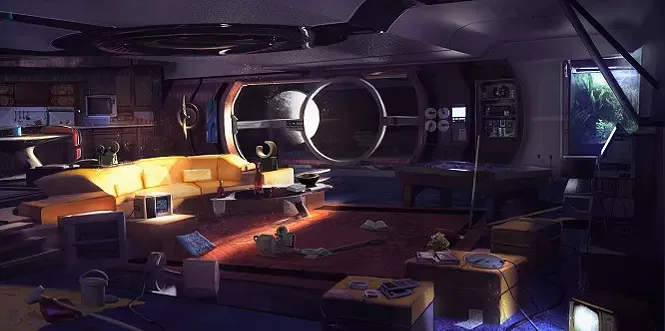 Ocelot Society
I don't know why, but this feels more like home than my actual home.
Taking a page from
Moon
to a degree, Paris-based developers
Ocelot Society
have released their first official video game called
Event[0]
, a narrative sci-fi adventure that was released on Steam on Sept. 14. The game sets you in space as the sole survivor of some sort of catastrophe that happened on Europa-11.
Short
version of the story: This is a parallel Earth/Milky Way galaxy where, after we landed on the moon, we decided to fund NASA a lot more than we once did, and somehow the world became united under this new banner of exploration and inhabiting the stars. You know, the path we probably should be on now if we ever want to be The Jetsons.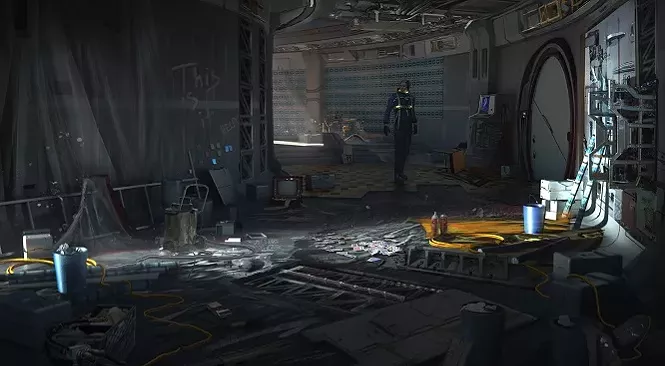 Ocelot Society
Hey! Anyone here? This was built in the '80s and I'm trying to find the Orange Julius.
The start of the game has you choosing your own backstory before arriving at Europa-11, the latest space station/mission out among the stars. After some kind of hazard warning, the station is evacuated and you're the only person in your pod, drifting in space to no communication, until ... you find an old-school '80s space station hanging out unoccupied and singing music to itself. With no real alternative, you board the station and make your way through the hallways trying to figure out what happened to your old station, and what the hell is happening on this retro one. Your interactions with Kaizen, the station's AI who seems to have a few subroutines missing, get very funky over the course of the game, but remain one of the most entertaining aspects I've had in a game in a while.
Ocelot Society
For the last time, no! I don't know the chords to "Safety Dance!"
From the opening choices, you're immediately dictating your own future, as the game starts by letting you choose if you're referred to as He/She/They. How you grew up, and the choices you made from that past, help guide your purpose aboard the station and set up the game's most dynamic feature: You choose your interactive adventure. The minute you get to the station, you interact with the AI on board by typing your requests and responses, almost a throwback to the 1980s PC games where you typed what you thought might move the game along. Wanna get in a door? Type "Open door" and the game will open it. You're quickly thrown into a scenario where your responses to the computer's queries will determine whether or not you continue to live, which was an absolutely awesome experience when you think about how badly you could possibly screw everything up. The game does hold your hand a little from time to time, but nothing so jarring as to make you believe you have no choices.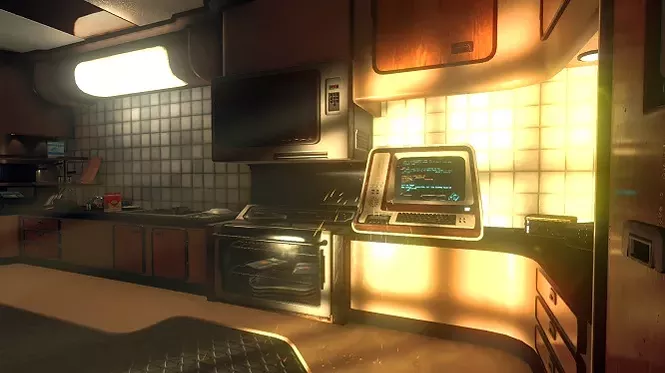 Ocelot Society
In space, no one can hear you make Hamburer Helper.
The gameplay isn't the only remarkable thing about
Event[0]
; the design of what you're looking at is cool and astonishing. The lay of the station has a feeling of what the '80s thought the future might be like, much like how people designed cars in the '60s to look like spacecraft. Of course there's a large computer terminal in every room; of course my bed goes into the ceiling and a light shines underneath it; of course every room has an automated setup so I don't have to think about how warm my bath is.
Ocelot Society
Having a fight with a broken AI is like asking two siblings who took the last cookie from the jar.
Going from room to room feels like a trip back into a past we never experienced—a past we maybe
should
have experienced. In all the excitement (and possibly doom) ahead of your character, the environment puts you into a retrospective feeling that maybe if we made better choices over the last three decades, our world would be in a much better place than where it is today. Sure, there's roaming AI trying to kill us, but that's in space. It's a weird glimmer of hope decorated to feel faux-nostalgic, and I simply want more.
Ocelot Society
In this room we throw Apple II game tournaments every Friday night.
There's hardly a bad moment in the game, in the story or in the design. The only awkwardness to the gameplay is the mouse controls, where you hold down the left and right buttons to maneuver and perform certain tasks—no WASD controls for you. But that also adds a new depth of feeling to the game, as you're not just going through the motions like you would any other first-person adventure game. Being able to pilot your suit in space with rockets like this gives you an entirely new perspective you're not prepared for, and becomes just as fulfilling a challenge as any of the puzzles in the game. Even the timing of music along with the visual and audio cues fit right in as if you're watching a movie unfold before your eyes. The few flaws in the game take time to find, and only the most cynical of cynics would use them as an excuse to hate this. The only true flaw I foresee about it is that some people may not enjoy the exploring required to figure out what to do next.
Ocelot Society
It's no Satellite Of Love, but I have a feeling the robots will be just as wacky.
Overall, I highly recommend picking this up, especially since the game is only going for $20 right now on Steam. This should be a major title on PS4 and Xbox One right now, but instead, it is an indie darling, and that's probably the best thing going for it. This is a game that should be a mind-blowing movie, and we're super fortunate to have it as a playable sci-fi story.
Event[0]
is, hands down, one of the Top Ten games of 2016 that barely anyone is talking about. Get in on it and experience it before the larger gaming community gets clued in and the hype truly begins.