One of the coolest discoveries out of the most recent Salt Lake Comic Con was the number of independent comic book writers and artists currently working on new material. Even if they're simply working on a one-shot release, we're seeing a fresh influx of material from creators who know the best way to get noticed is through self-publishing. The one book getting the most amount of attention in recent months is
Jetters
, a sci-fi title from the duo of Susana
Carasa
and Marlene Schmidt, who recently won a Best of Utah Arts award from
City Weekly
last month. Today we chat with the artist and writer about their comic and where they intend to take it. (
All pictures courtesy of Schmidt and Carasa.
)
Marlene Schmidt & Susana Carasa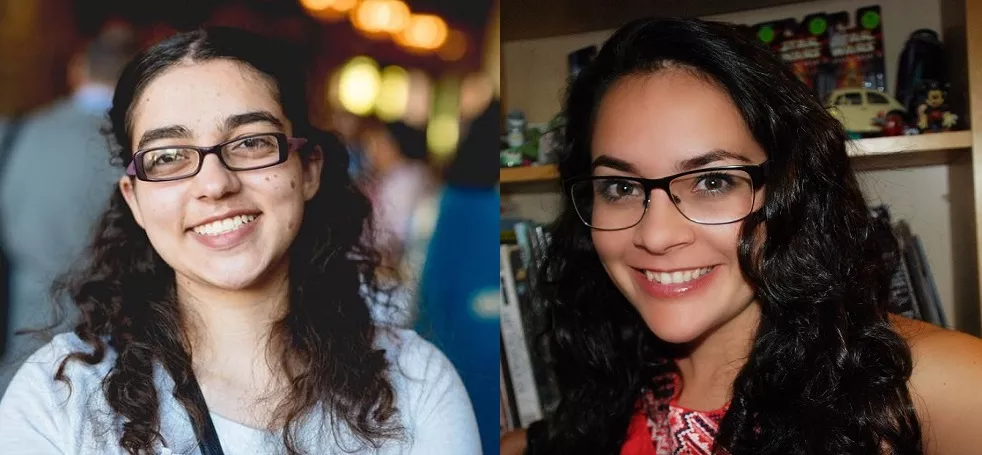 Jetters on Facebook

Gavin: Hello ladies! First thing, tell us a bit about yourselves.

Marlene:
I was born and raised in Utah. My favorite animals are cats and platypuses—they're so cute! I enjoy reading, both novels and comics. Also, fan fiction—there's some excellent work out there done by fans. When I'm not reading, writing or enjoying cartoons, I'm usually role-playing with friends.
Susana:
I was born and raised in Zacatecas, Mexico, where I got my Bachelor's degree in Graphic Design which has helped me a lot on the
Jetters
project. I moved to California a few years ago. I love to travel, enjoy nature, watch animation and
super-hero
movies and also dedicate myself to be a better artist.
When did each of you first get into comic books and graphic novels?

Marlene:
As a kid, I read old superhero comics, the ones from the '30s and '40s. It was so much fun seeing the heroes having adventures and conquering villains. So that instilled a love of comics in me pretty early on. I even made my own comic book in elementary school—Cutes the Cat, a cat hero whose superpower was adorableness. In high school, my friends introduced me to
manga
, which has a greater variety of genres than the comics I knew growing up. That exposed me to new art styles, and it showed me that comics don't have to have superheroes to be interesting.
Susana:
My parents got me into it. They gave me and my
sisters
books to read, and we got comics as part of that repertoire. Because of my love for art, I just felt amazed with the illustrations and all the work that was put into it.

What were some of your favorite titles growing up?

Marlene:
Oh, where do I start?
Lord of the Rings
,
Harry Potter
, anything written by Roald Dahl. Also some more obscure titles like
Ella Enchanted
and
Dealing with Dragons
. The
kids
section at the library is still my favorite place for finding new books. My favorite comic books were the classic Batman and Justice Society stories. Nowadays, I read a lot of Doug Tennapel's work. He has a knack for weaving meaningful themes into exciting fantasy plots.
Susana:
My first comics were the
Care Bears
and Donald Duck and his nephews. Eventually, I got into Batman and Spider-Man issues. Two of my favorites were
Justice
from DC and
WITCH
.
Marlene, what got you started on your path toward writing?

Marlene:
I've always loved making up stories. I used to daydream all the time, creating epics about me and my favorite fictional characters. But I didn't write much—I hated the kind of writing we did in school, so I avoided it. The turning point was in eighth grade when I had to write a story for this contest—the Future Problem Solving Competition. I decided to actually try and do a good job, instead of putting in a minimum effort like usual. And—surprise! My story ended up winning first place for the whole state. I realized then that I actually liked writing stories, and apparently I was pretty good at it. Besides that, I've always had a love for books. Good stories helped me through a lot of rough times when I was younger. I wanted to bring other people joy like those authors brought me joy. That's why I started actually sharing my writing instead of keeping it to myself.
Susana, what was it that got you into artwork and illustration?
Susana:
I've loved to draw since as far back as I can remember. I took some painting and sculpting classes as well. I've always been surrounded by talented and artistic people, so that kept me on that path. With my Bachelor's in Graphic Design, I got introduced to Illustration, which I fell in love with. I saw all the possibilities it brings you to translate words and emotions into images.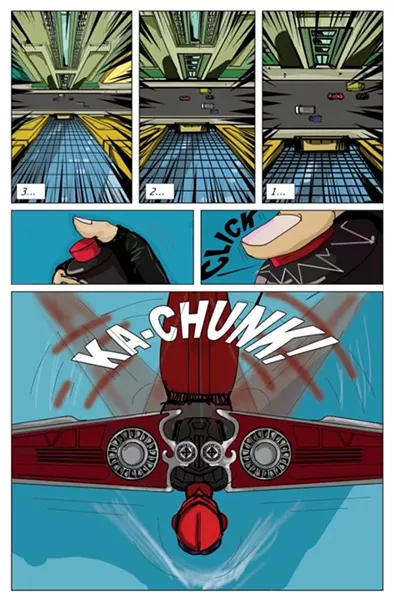 When did the two of you first meet and become friends?

Marlene:
We met at Salt Lake Comic Con last year. There was this panel about writing comic books. I'd already decided at that point that I wanted to make comics my career, but I needed to find an artist. So I asked the panelists for tips about getting one. After the panel ended, two people came up to me—both artists who were looking for a writer to work with. I sent them both some sample work—the teaser for the
Jetters
script, in fact—and Susie said she was interested. The rest, as they say, is history.
Susana:
I saw her at a few panels, all of them related to comics. In one of them, she asked for artists to collaborate with her on her comic book projects. She needed an artist and I need it a writer; I guess it was meant to be. It was a whole new experience for me, but I'm grateful that my start in this area is with someone so talented.

What made you both decide to do a comic book?

Marlene:
As mentioned before, I like the visual medium of comics. It's like watching a movie, but you get to bask in the individual scenes instead of having them rush by. That's why I decided to write comic books instead of novels. I also like the fact that comics are serialized. It suits my writing style better to have a series of short, connected stories that are published individually, rather than one novel-length story.

Susana:
I've always loved to draw, and I try to get better at it every day. I love comics with great stories, but sometimes I grab a comic based on the artwork, I like to admire and study the anatomy of the characters and the color palettes used
on
the environments. I knew If I put my mind into it I could do that—I could be part of that world that made me
happy,
and give that happiness to other people through my drawings.
How did the story for Jetters first come about?

Marlene:
On a swing set, of all places. I was swinging and enjoying the adrenaline feeling—you know, when you're just starting to fall and your stomach is doing somersaults? And suddenly I got this image of a girl falling past a skyscraper, relishing that very same feeling. And my mind just kept building on that image until I had to write it down. The scene I came up with on the swing set became the first half of
Jetters
.
Susana:
The amazing story all came from Marlene. She's a great writer.
What was the process like for the two of you working on the first issue?

Marlene:
I had the first half of the script done already, so Susie worked on storyboards for that while I finished the rest of the script. I rewrote it a few times, we went over character designs and page layouts, and then she did the final art. I didn't have much to do during that phase, so I mostly sat around and worried. We were wanting to debut at FanX 2016 at the beginning of this year, and we ended up having to rush the printing to make that deadline. It was a nerve-wracking few weeks.
Susana:
It was crazy, fun and very productive. As soon as I read the script, I got excited and said: I got this! How difficult can it be? I have a few friends that do this for living. I start looking for references for our character and environment designs; I watched videos and learned as much as I could to help speed up the process. I drew a lot of sketches. I'm more of a traditional artist than digital, so this was new for me in a certain way. Once I had everything on paper, I scanned it and I started refining it digitally. It took me a while to get the hang of it, but we finally did it! It's a matter of keeping a positive mind and dedication.
What made you decide to self-publish rather than finding a publisher?

Marlene:
Frankly, it was easier. I had no idea how to get a comic published, and I didn't want to deal with the gauntlet of professional publishing anyway. Printing and selling it ourselves was faster and gave us a better chance of actually succeeding. Of course, I couldn't have published anything if I hadn't found an artist who would work with me. Susie, you da real MVP.
Susana:
The time, and avoiding any other unexpected situations on the way. We'll probably consider a publisher later on, once we're more settled down with
Jetters
and people know us.
What was the initial reaction like from people who found you?

Marlene:
To be honest, there wasn't much reaction at all. We've gotten a lot of support locally, but we're still working on getting noticed by the general public. The reactions we have gotten have been really positive—that's been a good motivator to keep going.
Susana:
It was great! Well, most of the reactions were either family or close friends at first, but that's how everyone starts, I guess. I just know our families and friends are as proud of our achievement as we are. Also, something positive was that we got introduced really quick to some comic books shops as The Nerd Store and Dr.
Volt's
in Salt Lake City and HD Comic Cult in California.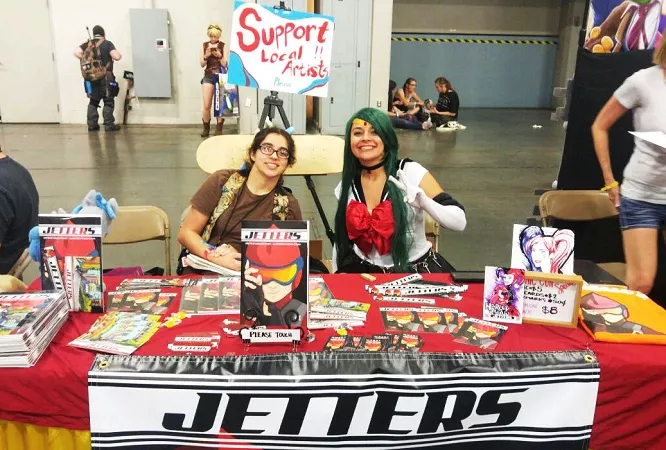 I understand you had some success at the last Salt Lake Comic Con. What was that experience like?

Marlene:
It was amazing. I loved getting so much positive feedback on our work. There was this professional artist next to us—Mitch Heslop—and he gave us a lot of publicity on his Instagram page. It was great seeing so many people reading the comic and liking it. That was the best part—even if they didn't buy it, I loved seeing people enjoying our work.
Susana:
It was inspiring. Things like that make you keep going forward, and reassure you that you're on the right track. It's one thing going to an event as an attendee; it's something else to be on the other side of a booth, to be able to show the world what you love doing and see the positive effect on other people.
Right now you have the first issue. What are your plans moving forward for more?

Marlene:
We're working on the next issue now, and the rest of the story is already planned. It's a miniseries, not an ongoing comic like
Batman
. Once it's done—if Susie's still willing to work with me—we'll start on other projects.
Susana:
We're already working on the second issue. We will get everything
done
by the end of this year—Illustration,
design
and printing—to be ready for the next convention! Eventually, we'll introduce some other items like pins,
stickers
and more bookmarks, so stay tuned.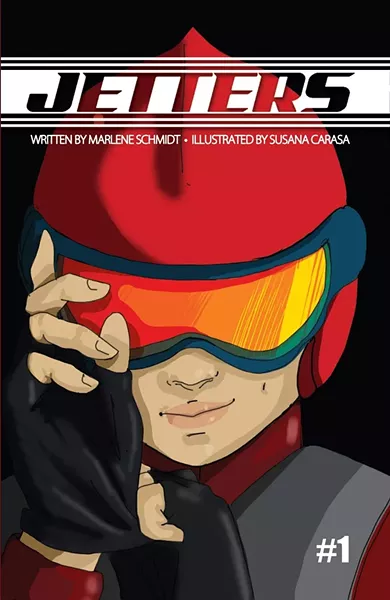 What can we expect to see from both of you and the series going into next year?

Marlene:
Issue #2 should be out by the end of the year. In the meantime, we'll keep selling at events and local comic shops, like the Nerd Store and Dr.
Volt's
.
Susana:
The series is only a few issues. Once we're done with
Jetters
, Marlene and I will keep doing other comics together. I'm also working on some illustrations to share my personal artwork. I want to put my name out there through my drawings, giving a little bit of me that will be available to everyone through prints and other cool items.