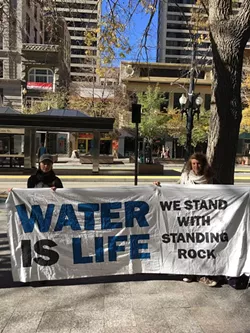 DW Harris
Dozens of protesters gathered outside the Wells Fargo Center on Monday.
Following prayers and chants, a coalition of protesters, some with bike locks fastened around their necks, occupied the Wells Fargo Center lobby Monday morning to decry the Dakota Access Pipeline.
The 1,200-mile long project has been met with opposition, mainly in North Dakota where the pipeline begins. But Natascha Deininger, organizer with Wasatch Rising Tide, says large banks, such as those in downtown Salt Lake City, are culpable backers of the pipeline's construction.
"We came this morning together to lay down prayers and stand in solidarity with North Dakota and a massive piece of the North Dakota Access Pipeline has been who's funding it," she says. "The pipeline would not be possible if big financial institutions would provide the means to do it."
Police kicked out the demonstrators, but a few sat down, linked together and refused to leave. They sat in the lobby as supporters sang rounds from a protest song and banged on the outside glass.
"We're hoping to send a clear message to the financial institutions that are funding this thing that it is absolutely unacceptable," Deininger said. "And we also want to send the message that people are being brutalized up in North Dakota, and the world really needs to be watching. There needs to be repercussions for evicting Native Americans off their own lands and using rubber bullets against women and elders and children."
Once unchained, the demonstrators were led out one-by-one in cuffs. Police sat them outside the building's east wall where caution tape cordoned off the crowd until a 50-foot bus from the sheriff's office hauled them away. Eight people were booked into jail.
Salt Lake City Mayor Jackie Biskupski, one of several mayors who signed a letter to President Barack Obama denouncing the pipeline, scheduled a proclamation ceremony Tuesday declaring November as "Native American Heritage Month in Salt Lake City."
"We must recognize the connection all tribes share with one another, and respect the significance all Native Americans place on ancestral territory, even when they are thousands of miles away," she said in a statement. "Members of Native American tribes in Salt Lake City are rightfully concerned about the Dakota Pipeline's impact on sacred cultural sites, as well as climate-change issues caused by a new project devoted to more burning of fossil fuels."
The rally began earlier in the day on Main Street with chants, speeches and prayers. Those in opposition say those backing the pipeline are disregarding a sacred burial site. They also say faults in the pipe could contaminate water in the Missouri River.