One of the best multiplayer arcade games to come out int he past couple years was
Duck Game
, a completely nonsensical shooter where you fought as ducks in different scenarios to make it to 10 points. The game was, and still is, very popular because of the nature of the game and the humor behind it. (It also didn't hurt that it was produced by Adult Swim Games.) Since that time, I've been waiting for the next multiplayer battle game to come along and outdo them; a very close competitor last year was
Move Or Die
, but it was more obstacle course-driven than direct competition. So I was kinda thrilled when, out of the blue last month, we got
Sombrero: Spaghetti Western Mayhem
from
Alliance Digital Media
.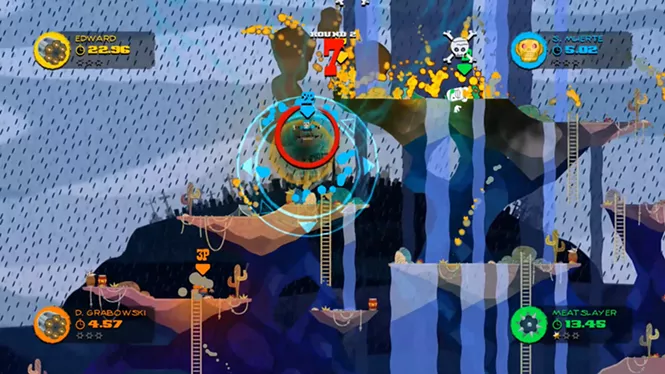 The game itself requires
little
explanation: You're given 18 different characters to choose from, all with witty western and sci-fi names like Unlucky Gambler, Jim From Cleveland, Cheese Wedge, Sheriff Padre, The Drifter, La Santa Muerte and more. You'll compete against up to three of your friends in c
ouch-play
mode at home, or go online and face off against competitors from whatever region of the world you happen to be in. You can choose one of four modes to play
in:
Loot! (capturing money for points), Deathmatch (be the last to die), Capture The Flag (you know the deal), and Banditos (holding a golden idol for as long as you can).
The gameplay is spot-on for arcade style. A quick load and a spattering of weapons
throws
you into the thick of battle with little hesitation. Run, jump, dive and avoid every kind of projectile you can while trying to overtake your buddies. There's rarely a moment to breathe and take stock of what you need to do in the next five seconds; a lot of the gameplay is instinct and luck of the draw, as you'll be given items at random to help you out. Some are complete duds that won't affect much; others require a sharp aim; and some rely heavily on blowing a lot of shit up. The biggest inconvenience is that you'll often put yourself in harm's way. Instinctively, this game keeps you moving around quite a bit, so occasionally you'll see yourself diving into your own explosion.
One of the benefits to
Sombrero
's gameplay is that the leader will be highlighted, giving extra incentive to players for targeting and not allowing someone to get way into the lead simply by having the others not pay attention to the score. The downside is that once you find yourself in the lead, you won't have a chance to hold onto it for long. This gets to be incredibly frustrating, as victories can be snatched away in a matter of seconds, right as the timer runs out, often thanks to a miscalculation or a random shot hurled your way. It's great when you're with friends who shrug their shoulders and know they'll get you next time, but online play can get super
mean-spirited
.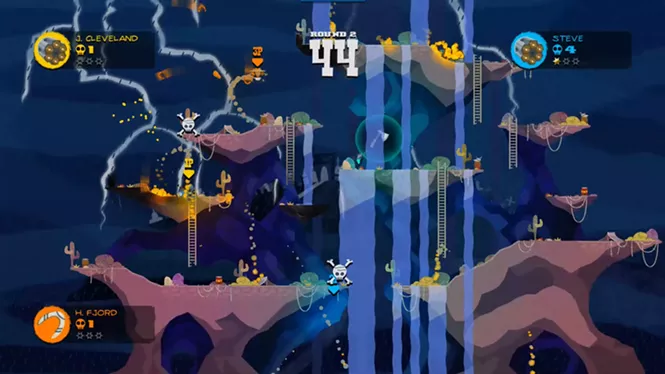 Sombrero
delivers exactly what it says it
is,
and doesn't try to market itself as anything grander. This is one of those games you throw onto your Xbox at a party, or one night hanging out with a bunch of people, and just get your death-match skills on. Sadly, the online element doesn't really exist, though that's not the fault of the developer. Like many indie titles that don't have a ton of promotion behind them, there's just no one online to play. Unless the company finds a way to boost online play sometime soon, senseless fun with friends at home will be about as far as you can take it.