We've had a couple of shakeups in the tattooing community over the past year, with some artists changing shops and new locations opening up. Sometimes those creative minds who etch ink into our skin need a change of pace, or something new to influence them. One of the newest locations is Prohibition Ink Custom Tattoo, taking up residence at 1991 S. 1100 East and adding a new shop to Sugar House's already awesome collection. Today we chat with the founders and co-owners behind the new shop. (
All pictures provided courtesy of Prohibition Ink.
)

Darlene Fuhst & JJ Ohlinger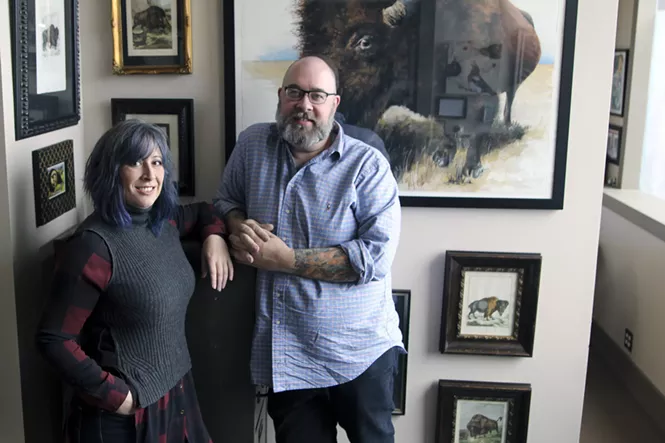 Prohibition Ink on Facebook
Gavin: Hey Darlene and JJ! First thing, tell us a little bit about yourselves.
Darlene:
We are new arrivals to SLC; we moved here this summer from South Carolina. We had been thinking about opening our own tattoo shop for some time but hadn't been planning on doing it this year. This past spring, our house caught on fire. Losing most of your stuff makes it surprisingly easy to move cross-country, and was the push we needed to go for it. We have family here and have been visiting every year for the last several years, so we felt like we knew the city well enough to know we would like it here. Also, JJ tattooed at the SLC convention a couple times and kept in touch with those clients, so we knew between those contacts and people we've met while visiting we wouldn't be starting completely from scratch. We are equal partners in the shop, with JJ handling tattoo duties while I run the operational and business side of things. JJ grew up in Omaha, Neb. and I am from South Lyon, Mich. (near Ann Arbor). JJ lived in San Francisco for a few years after college. We both ended up in South Carolina by picking it at random, which is where we met. We live and work in Sugar House, and love how walkable the neighborhood is, and how friendly and welcoming our neighbors have been. When we first moved here, our time was spent getting the shop up and running, so now that we're open, we have more time to explore.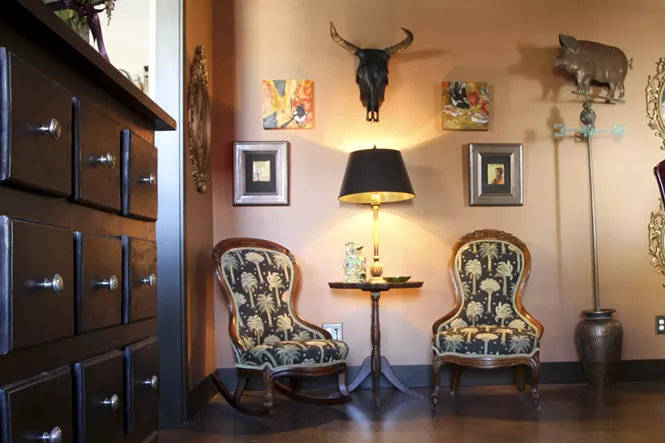 JJ, how did you take an interest in tattoos and tattooing as an art?
JJ:
I got my first tattoo years ago when I lived in San Francisco, and I've always liked them. With fine art, I've always enjoyed exploring different mediums and techniques, so initially, I was curious about the process and wanted to try it out. To me, it was just another way of making art and it looked fun. As you go along you begin to find your own style. I like to bring illustration and fine art techniques to tattooing, and it's fun to try and blur the boundaries between the two.
What's some of the ink you both have that means a lot to you?
JJ:
I have a lot of bison tattoos by a lot of different artists, because I have always been fascinated by buffalo and they are my favorite animal. My favorite one of those was done last year in Amsterdam by Paulina
Szoloch
. It's three bisons drawn in one continuous line. We were sitting in a bar and the guy next to us had a great tattoo on his arm. We started talking and he told me about Paulina and I ended up being able to get a last-minute appointment with her before we left. My other favorite is the Picasso Les Demoiselles d'Avignon piece on my forearm. It reminds me that if you paint, you can change the way people see the world, but with that painting Picasso changed the way people paint. It helps motivate me to keep pushing with my art and see how far it can go. And finally, everyone says it's a bad idea to get someone's name, but I have a heart tattoo with Darlene's name in it that means the world to me.
Darlene:
Most of my pieces are by JJ, and unfortunately for him, I'm the most difficult client in the world because I'm so picky. I tend to think about designs for a long time and go back and forth changing my mind before I commit, so the ones that mean the most are the rare ones I got on a whim. My newest one is an impulse tattoo—it's a little green apple I got to celebrate when the Cubs won the World Series, based on the Harry Caray quote.

How did you break into the business and learned the ropes to the art?

JJ:
I was getting a tattoo and mentioned to the artist that it looked like fun, and he said he would teach me if I wanted. It's a weird process, because there's not a universal formal training that every artist goes through. It's an apprentice process, and it's up to the artist you learn from what and how you learn. I already had a lot of the drawing skills down, but you still do drafts and learn how to look at a drawing and break down what makes a good or bad tattoo design. Not every drawing will translate to a good tattoo. You need to pay attention to line lengths and learn what is realistic to pull on
skin
using a machine versus a line on paper. Then you practice drawing with a pen in a machine to get used to the weight and balance of it in your hand. It's a big deal when you finally get to use a needle, but you still don't get to touch skin for a while. I practiced for a long time by tattooing oranges, bananas and pig's feet. Eventually, you move on to doing a tattoo on yourself—I did a couple on my leg. Then you find some friends who are either brave or stupid enough to let you practice on them and go.
What kind of styles did you gravitate to as you were honing your craft?
JJ:
I wouldn't say I've gravitated to any one style as much as I've gravitated to how much can I push the idea of expression through the medium of tattooing. I've learned there are very solid rules that lead to a strong tattoo design on things like the importance of contrast, line saturation, how it sits on the body—and I'm interested in figuring out how far I can push a design while still respecting those rules.
Prior to the shop, where had each of you worked in your careers?
JJ:
I have a degree in Scientific Illustration, and was thinking about going to med school, but received an offer I couldn't refuse that took me on a completely different path. My first job out of college was as an illustrator for the Grateful Dead, which is a ridiculously awesome job for a 23-year- old kid. Unfortunately, Jerry [Garcia] died about six months after I started, so my time with them was short. I stayed in San Francisco for a few years and worked in web design, which was a brand-new thing at that time. I got to work on some cool projects for Apple, and I also had the opportunity to do computer design work for Dr. Paul Boyer, who won the Nobel Prize in chemistry in 1997. When I moved to South Carolina, I opened a small ad and web design agency, and began painting and drawing again. That transitioned to selling more of my original art, and I also began teaching painting classes, eventually phasing out the web and ad design. I got into tattooing on a whim because I thought it would be fun, but once I started I knew that I had found the perfect career.
Darlene:
I have one of the most convoluted career paths of anyone I know. When I was a kid I wanted to be a writer, but my degree is in Interior Design because who knows why. I've never done it professionally. I started in furniture sales, moved to a custom millwork sales, and then I got a job selling ads in a local home design magazine. They were always short-staffed, so I would volunteer to write articles and take photos because it was fun for me. Eventually, they promoted me to Creative Director of the magazine. That led to a job as managing editor for a national publisher of home plan magazines. Unfortunately, the recession in 2008 hit that industry hard, so I took a job as a writer for the business school at Clemson University. Somehow I got promoted to be the marketing director for the Clemson MBA Program. I'm convinced I got that job by making the Dean laugh in a meeting and not from any great aptitude for marketing, but it was a fun job and I learned a lot there. And now I've come full circle, because I finally got to put my Interior Design degree to use designing the shop, and all those "useless" retail jobs prepared me for running it. Throughout all of this, I've been painting and selling my artwork here and there. I like being able to make the art that I want to make rather than having to worry about it being the main source of paying the bills, so it's always been a side gig for me.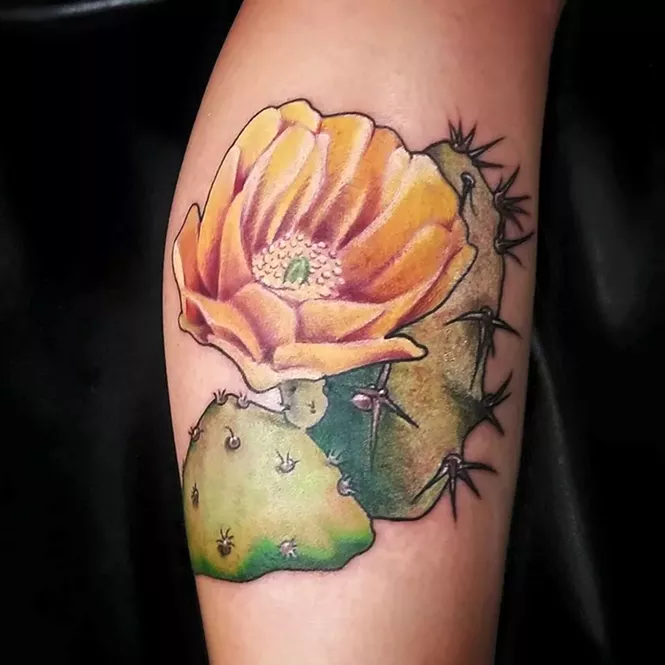 When did the two of you first meet?

Darlene:
I love telling this story, because based on our first encounter, it's surprising we became friends at all. We both lived in Charleston at the time. I was selling ads for the magazine, and his ex-wife called and asked me to come do a presentation at their agency, because they had several clients who might want to buy ad space. I met with her and did the whole spiel. When we were done, JJ came in the room and proceeded to tell me everything that was wrong with our magazine, how much he hated the layout, and that he would never let his clients buy ads in such a shoddy publication. I calmly explained why we did things the way we did, but was fully expecting to leave and never see either of them again. Then, to make things extra awkward, his ex-wife made a big deal about how we should all hang out
sometime
and basically invited herself along on my Fourth of July plans. I distinctly remember going home that day and telling my ex-husband, "I do not want to hang out with these people, but they own an ad agency and I work on commission so I feel like I had to let them come along." They ended up bringing along some other couple, and JJ and I wound up sitting next to each other and started talking about art. He was on better behavior that night and we hit it off. Talking about art got him interested in painting again, and their agency had extra wall space so the two of us began hosting art shows of our work and the work of other artists in the area. Eventually, we both split from our exes, and after that, our friendship developed into a romantic relationship. When I got the job in Greenville he moved with me, and I haven't been able to get rid of him.

When did the idea come about to start up your own shop? What made you choose Prohibition Ink as the name?

JJ:
It didn't take long for me to realize I had stumbled on a great career. I think serious thought toward opening our own shop began a couple of years ago. I feel like I have a different attitude toward tattooing than most tattoo artists that I've worked with and I wanted the freedom to run the shop in a way that is more in line with the experience I want to give my clients. I'm also a person who likes a challenge and having owned my own business in the past I knew we could have a good shot at being successful with it. The name is a nod to my relatives who were bootleggers during prohibition. Darlene and I were throwing around ideas and we thought it had a nice ring to it.
Darlene:
As soon as he started tattooing I knew he was going to want his own shop someday. I always thought I would need to keep a "real" job for stability but the more we went along the more comfortable I became throwing all our eggs in one basket. We started saving money and planning about two years ago but weren't sure when or where we would open, until the fire happened. I think I suggested the name when we decided we wanted the shop to have a speakeasy feel to the décor. I love it, but at the same time, we didn't think about how difficult it is to spell "Prohibition"—which makes it fun every time I tell someone our web or email address. But I've been dealing with that with my last name for years so it's not a big deal.

How did you come across the Sugar House location? How was it turning the place into a tattoo parlor?

Darlene:
I'm not a big believer in destiny, but as soon as we made the decision to move here I swear everything fell into place almost effortlessly. We were visiting last March and decided yes, we're going to do this and we're going to move this summer. A friend we met through our in-laws owns a rental house and told us it would be available June 1, so we snagged that. She gave us a tour of the neighborhood, and while we were eating lunch at the Soup Kitchen, JJ and I both said it would be great if we could find a spot for the shop nearby, that the neighborhood felt "right." We went back to South Carolina, and three days later I was looking online for commercial listings and the shop location popped up—right across the street from the Soup Kitchen. I figured it might not work out because the property managers would want to rent it immediately but I called anyway. Turns out it wasn't available until July (perfect timing) and that the other businesses and the landlord were excited about having a tattoo shop, which is great because not every owner wants to rent to a tattoo parlor. I got on a plane two weeks later to see the space in person and signed the lease. I came out in June to start the renovations and JJ stayed in South Carolina to finish up appointments through August. We also found a great contractor to help us because he was doing work at our in-law's house and was finishing up right when I needed to start the shop. The place was a completely blank slate, so we could design it exactly how we wanted. I foolishly thought I would have the shop ready to open when JJ arrived in August, but of course, the renovations took longer than planned and getting the health inspections and business license took a few weeks, so we officially opened Oct. 13. I'm proud of how the shop turned out, and client feedback has been great so far. I think that we have created a place that makes people feel welcome and comfortable.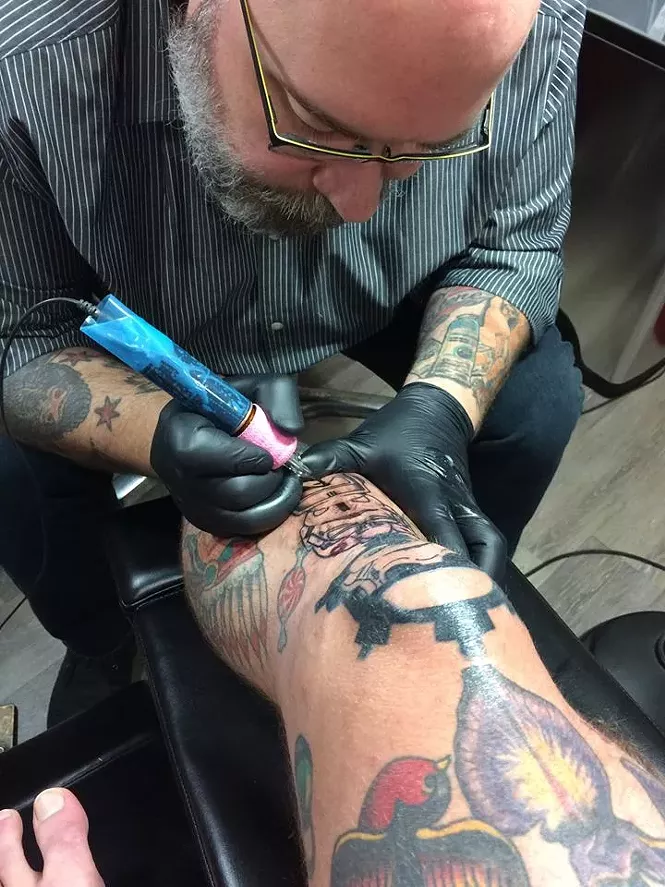 What's the process for you when chatting to a new customer about getting some work done?
Darlene:
I am at the front desk and answering phones and email, so I usually have the first contact with clients. I get initial information like size, subject, style, where they want it located, and try to guide people through the portfolio to help point them in the right direction if they're not sure what they want. I will give my opinion if they ask, but I think important to get them talking directly to JJ as early in the process as possible, especially for custom work. He is the one who has to translate their ideas into a design and I think it leads to a stronger tattoo when he has a chance to get to know the client personally and can create something just for them.
JJ:
I tend to play devil's advocate a lot when I talk with clients. I don't necessarily need to know the deep meaning behind why someone wants a tattoo, but I do throw questions that will get them to think about things in a way they maybe hadn't before. One of the biggest examples is when people want memorial tattoos or cancer ribbon tattoos. I always ask the person if they want a tattoo that illustrates how someone died, or if they'd rather design something that reminds them of how they lived. Most people immediately start throwing out things the person loved and we design a custom piece based on that. Sometimes I give the spiel and the person still wants the cancer ribbon, and I'll do it, but I think I have a responsibility to make them think about it first. I also ask a lot of open-ended questions about subject and placement that help me figure out why someone likes the style or subjects they like, which helps a great deal during the design process.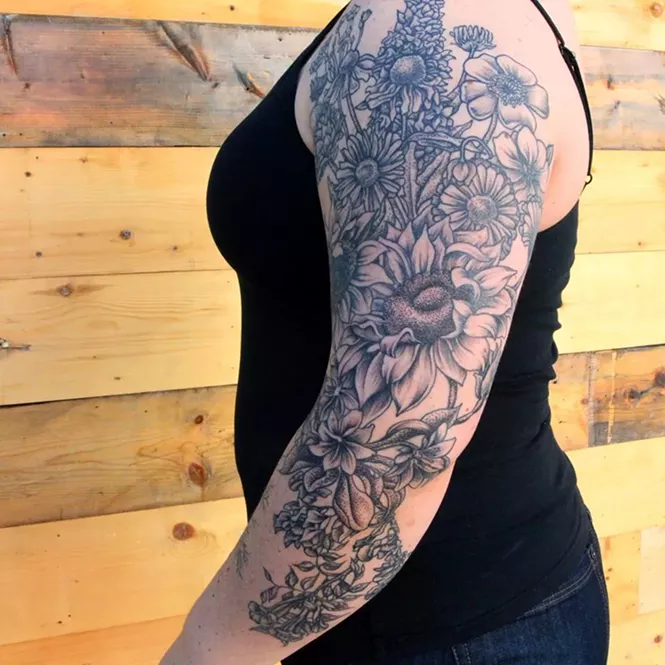 What kind of inks and process do you use in the shop that set you apart from others?

JJ:
With painting and fine art, I have always been a believer of using the best tools you can buy. Up until our fire, I was still using the same set of watercolor brushes I got over 30 years ago. When I started tattooing, the guy who was teaching me recommended the cheapest ink out there, and I went and bought every color. The first few tattoos I did with it faded within weeks, and I ended up having to do them over for free. I ended up throwing out all that ink and starting over. I use a few different brands, and except for a few colors all of them are vegan and contain organic pigments. If I have a client who is a strict vegan, I will only use inks that are approved for them. I also use tattoo film for the aftercare because it makes it easier on the client but also helps the tattoo heal better.
Darlene:
I think JJ's personality sets us apart and is our biggest asset, which is especially helpful because I'm frequently a socially awkward disaster. He is good at putting people at ease and making them feel confident about the process and what to expect. I think he's a great artist and that's important, but I also think he could be half as talented and people would still want to get tattoos from him, because he makes sure it's a fun experience for them. The atmosphere of the shop was also intentionally designed to be relaxed and welcoming. I haven't had the chance to see many other shops in the area yet, but a lot of our clients have said that there isn't any
other
shop in
town
like it, so I guess that sets us apart as well.
What do people need to know before they come in for a custom job? How can they set up an appointment?
JJ:
People can call ahead to schedule a 15-minute consultation, or just stop by the shop to chat. I prefer an initial consultation on custom pieces so I can talk about the design and placement, and work out some ideas while you're here. If you like the ideas and want to proceed, we will schedule an appointment at least a few days out so I have time to complete the drawing. I try to show clients the drawing a day or two before the appointment so if there's anything that needs to be adjusted, I can do it ahead of time so we don't have to do it last-minute on the day of your tattoo.
Darlene:
We encourage appointments and can schedule by phone, email, Facebook messenger, or in person. We can do walk-ins for less complicated pieces if the schedule is open, but since we only have JJ tattooing right now, we don't always have an open time slot. Clients can call ahead to see if we have availability, and we try our best to accommodate everyone. When we have more artists, we'll have a greater capacity for walk-ins, and I'm working on coming up with a system to make it easy for clients to know when we have availability.
What do you hope to do with the shop over the next year or so? Any plans to expand with more artists?

JJ:
It's going to be a slow process but we have plans to expand. I'm going to be very deliberate about who we hire. I want artists who have had some formal training, who have a good design aesthetic and strong portfolio, but even more important is that they are friendly and provide good customer service for our clients. We work long hours, and neither one of us wants to spend all day every day with people who don't have a good attitude. Plus, as shop owners, it's our reputation on the line. I'm confident we'll be able to find the right people when the time is right. I have an apprentice I've been working with who will be moving here next May. He's a genius with lettering and also developing a pretty unique twist on the American Traditional style which will be a great addition to the shop.
Darlene:
We built the shop with space for four additional artists. JJ has tattooed at conventions across the country and met artists around the world, so one thing we want to offer is the opportunity for some of those artists to come here and do guest spots for a few days or a few weeks at a time. We think it's an opportunity for us to bring something different to the Salt Lake community. We're already off to a good start business-wise, but we want to make sure we don't hire people before we have enough clients to make sure they can stay booked and busy. There's nothing worse than having to be at work doing nothing. If we can find artists who already have a strong client base we may be able to ramp up faster. We want to make sure we do it in a sustainable way that will allow them and the shop to be successful.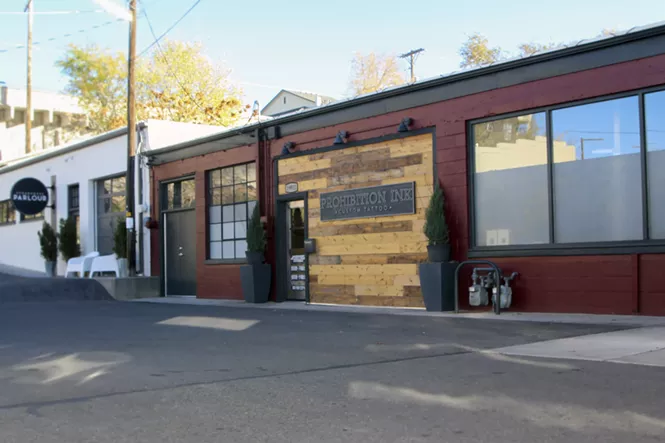 What can we expect from both of you and Prohibition Ink going into next year?

JJ:
I look forward to having other artists creating in here as well and developing a creative space for us and for our clients, a place where people want to hang out or stop in because they know something cool will be happening. I've always liked the way tattooing allows me to meet fascinating people, and that many of those people who initially came in as strangers turn into our friends.
Darlene:
Since we are both visual artists, we are excited to explore and get more involved in the local art scene. I haven't painted since the fire, but I've got my studio set up in the shop, and I'm ready to get working on some new pieces. I'm also interested in finding ways for the shop to partner with local charities to help raise awareness and/or money for causes that are important to us.