Being older but still young at heart, I have a special place there for all things Nickelodeon. Well, maybe not
all
things; even I admit they turned out some bad programming. I have grand memories of shows like
Finders Keepers
,
Double Dare
,
Legends Of The Hidden Temple
,
Doug
,
Are You Afraid Of The Dark?
and
many
more. But the flipside of that coin includes questions like "Who was
CatDog
supposed to entertain?" or "Why did
All That
keep going after four years?" and "Who thought Stick Stickly was a good idea?"
At some point in time, the world's First Kids' Network went from being a force of nature that influenced a generation to some kind of Disney/Cartoon Network hybrid, showing a lot of cartoons that either went on to be great or died after a single season. So in my adult years, a lot of the programming I watched always came with two provisions: I had to watch it with one of my friend's kids to see if it was actually entertaining to them, and I had to watch it sober to make sure drugs and alcohol weren't just making it good. One of the few shows that managed to pass that test was
The Legend Of Korra
, which will finally see a complete series release on Blu-ray on Dec. 13.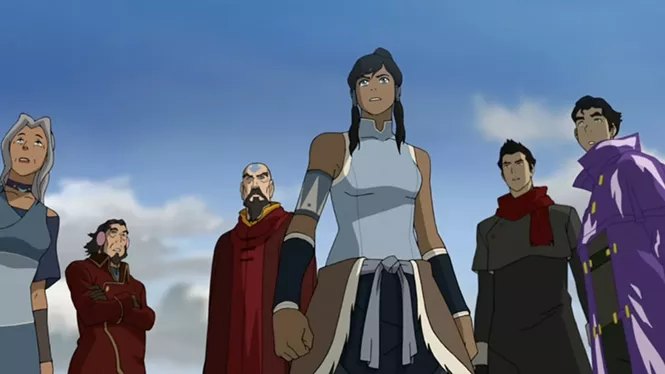 For those of you not in the know,
The Legend Of Korra
is a spinoff of another Nickelodeon animated series,
Avatar: The Last Airbender
. The events of this series take place 70 years after the end of
Avatar
, with four different countries tied to elements separating the lands. The focus is on Korra, the successor to the lead character Aang from the first series, as she masters her bending ability with the elements and sets forth on many adventures through Republic City and most of the kingdoms. All four seasons are divided into books, as if you're experiencing a novel told at certain time periods in the lives of these characters. It provides a sense of completion once you make it to the end of each season. Each episode comes with an amazing voice cast, including Janet Varney, Seychelle Gabriel, David Faustino, P. J. Byrne, J. K. Simmons, Mindy Sterling and Dee Bradley Baker, who help give life to this unique collection of characters in a world of magic.
The coolest aspect of the show was that it felt like a mashup of western and samurai storytelling, giving purpose to even the most random of characters so that their brief appearances had
meaning
. That quality actually makes a character like Amon stand out better than before. Not that he needed it, with the voice of Steve Blum behind him, but the actions of his character and other villains in the series feel much more defined, like a greater stroke of black lines around the edges. That approach also gives the heroes and their supporting friends a much broader palate of color as they go into battle, and define themselves by their beliefs and actions. In terms of story definition, this is probably one of the best-articulated shows of the past decade.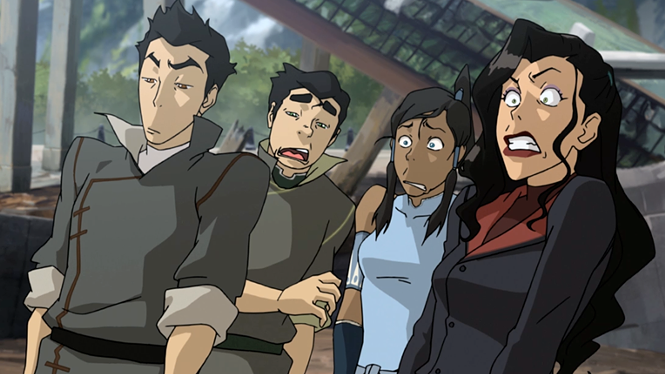 Of course, I can't glaze over the eventual ending to the series that fans had thought was happening for years (spoilers ahead if you wish to skip): that Korra and Asami had a relationship. Hearing the news without being a regular viewer blew me away, especially that the creators would take such a bold and progressive step on a Nickelodeon animated program. But I must say, knowing this ahead of time and watching the series from start to finish made it seem like everything had a much deeper impact than before. You see a real emotional bond that goes beyond friendship, even beyond that of just natural love. There's an unspoken bond between the characters that clearly gives people a better understanding of what it means to truly care for another.
The B
lu
-rays themselves are every collector's dream. Each episode comes with audio commentary from writers, producers, voice actors and more, as they give their insights and thoughts on individual episodes. The special features themselves could fill an entire DVD set, including a two-part documentary of how the show came to be, favorite animatics from the creators, a New York Comic Con videos, and extra tidbits that really sink in for a collector. The B
lu
-ray set also comes with an awesome booklet called
The Art Of The Animated Series
, which highlights how the characters, creatures and landscapes were designed and created, with comments from creators Michael Dante DiMartino and Bryan Konietzko, as well as director Joaquim Dos Santos. The perspective of how the series evolved reminded me of similar books that were released with
Ghost In The Shell
's TV
series,
and shows the kind of dedication that went into the smallest of details.
Ultimately,
The Legend Of Korra
is a must-have for teens and adults. This is one of those shows where kids can watch it for the adventure, and adults can watch it for the subtle themes and storytelling. There are many silly moments and references to the previous show, but neither diminishes the overall quality of this show. This B
lu
-ray is the total package, and will be the defining must-own version of the series until the day comes we find a new way to package it. I highly recommend picking it up and watching an episode or two a night with your kids. With 52 episodes, you'll finish it up in two months, or one week if you binge-watch, and you'll share moments in a series you can both enjoy.