Now that we're in a new year, we're going to start seeing the second half of the performing arts season for many local companies. The first creative shots to be fired will come from RDT, presenting
Emerge
Jan. 6-7 at the Rose Wagner Center. What sets this show apart from others in the season is that it is entirely created and choreographed by the dancers themselves, with practically the entire show made up of world-premiere pieces. One of the excellent performers taking part in this show is Justin Bass, who will be performing his original work"You Can Sit With Us" as the opener. Today we chat with Bass about his dance career and his time at RDT, as well as his thoughts on the show before opening night tomorrow. (
All pictures provided courtesy of RDT.
)
Justin Bass
RDTUtah.org
Gavin: Hey Justin, first thing, tell us a bit about yourself.
Justin:
[I was] born and raised in Cleveland, Ohio, and this is my fourth season with Repertory Dance Theatre. I graduated with my BFA in Dance from SUNY Brockport. Repertory Dance Theatre brought me to Salt Lake City, and I have been enjoying my time here ever since.
How did you first get involved with dancing as you were growing up?
It all started with watching a lot of television and the show
So You Think You Can Dance
. I remember seeing that show when it first aired and telling myself "oh I can do that," and being in my living room trying to re-create choreography and teach myself pirouettes in every room in my house.
What was it about modern dance that caught your interest?
During my senior year in high school, I was finally able to get a part-time job and afford studio classes and that studio offered modern. Once I was taking that class, my teacher was educating me on the technique and the history.
You received your BFA in Dance from SUNY Brockport. What made you choose their program and how was your time there?
I started at Kent State University in Ohio before getting to Brockport. I was a fashion design major for a semester, and after still having such a passion for dance, I decided to switch to becoming a dance major full-time. Kent State University provided a lot of history into modern dance and educated me on a lot of the pioneers. After two years, I decided that I wanted to reach further out of Ohio, so I attended a summer intensive for Garth Fagan Dance in Rochester, New York. After the intensive, I was offered a full-time performing intern position with Garth Fagan Dance, and I enrolled into SUNY Brockport as a result to finish my studies. My time in Brockport taught me the fundamentals of my craft, and the professors I was able to be taught under nurtured my growth, which put me where I am today.
What was your time like post-college performing around the country?
Since I had the experience of traveling and performing on tour before joining Repertory Dance Theater, I felt right at home, but this time I felt I was ready. I was mostly blown away by the scenery and how RDT impacted so many different communities through performance and education.
What eventually brought you to Utah and performing with RDT?
In my senior year at SUNY Brockport, I was auditioning everywhere from New York to L.A. to get a job in dance. It was when I approached my professor William Bill Evans, who is an alum of RDT, and he told me about Repertory Dance Theatre and how a male position became open. I auditioned and came in contact with Linda Smith, and I knew from that first conversation with her that I wanted to be with this company.
What was your first year with the company like, as well as getting used to our state?
My first year with RDT was a whirlwind experience. In my first week, I was teaching hip hop at the RDT Community School on Broadway, and then getting ready to start the season with the company and learn repertory. I remember learning so much material just so I could catch up, but my fellow company members were supportive which helped tremendously. It didn't take me to long to get used to Utah, but what was a surprise was how long each block was street to street, and how I became very fortunate to have a bike my first year here. I was being taken on hikes and I felt right at home. I remember how stressful it was hoping to land a career in dance after college, and that when I came to Utah, I felt like I made it to the calm after the storm because of how beautiful it is here.

During that time, what performances did you enjoy the most?
I will never forget my first performance at the Utah Arts Festival. It was my introduction to Salt Lake City. I remember how we all enjoyed that performance and how we were all smiling towards each other all the way to the end of the show. There were so many nerves that day, but my fellow dancers rallied me. I won't ever forget how we danced together with so much joy.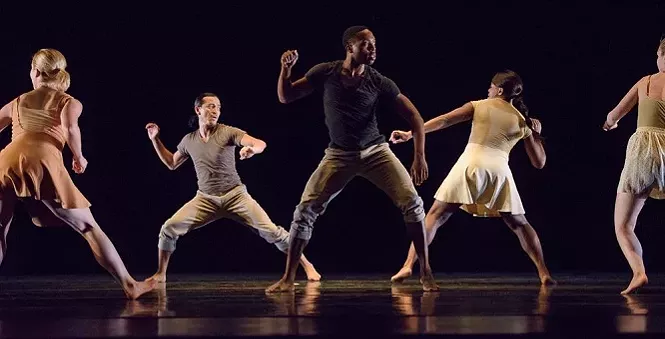 What were your first thoughts when you saw the plan for Emerge this season?
That I have been waiting for something like this to happen. This past May, I put on a show titled "W. A. L. N. U. T." in our studio and it was a success, and I was so excited to show my own work for the first time. After that experience, once I heard about
Emerge,
I just felt ready and excited to produce more choreography.
What's your experience been like having your own piece in the show with "You Can Sit With Us"?
The experience has been exciting in many ways, from finding music to working my dancers. I reached out to dancers that I have been choreographing with a few times, which has made the experience even more satisfying. We are all growing together, and I see them taking on my material in fresh ways that are pushing me to make my work more interesting.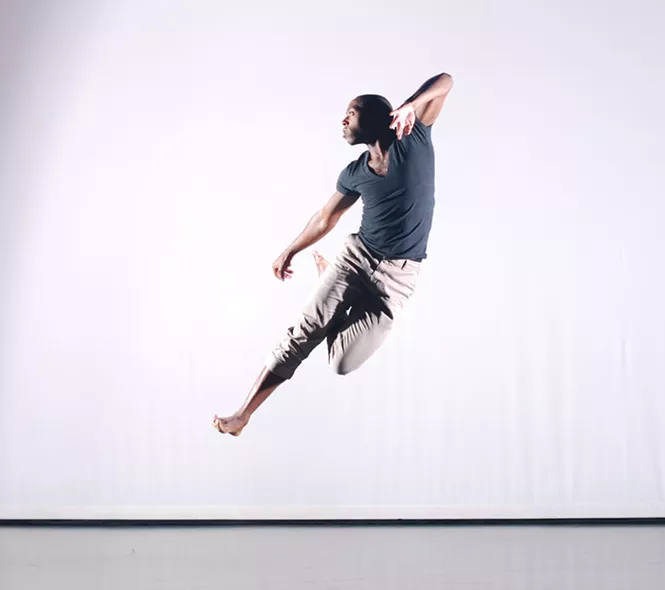 How has it been for you working with your fellow dancers to bring the show to life?
Well, we actually haven't seen each other while we have been creating our separate pieces, because we have been on a holiday break. Recently I was able to see a few of my co-workers' finished pieces, and I have been blown away. I can't wait for all of our dances to be in the same show.
Aside from your own work, what's been your favorite performance from another dancer to work on?
My favorite performance would have to be a piece by Marina Harris titled "Green Jello." It has humor, wit and when that music comes on, I can't help but enjoy myself and the character that comes with it. You can perform it on a stage or in a gymnasium and it will still have the crowd enjoying every second of it.
What are your thoughts going into opening night?
Going into
opening
night I am thinking of how my work will come across to a new audience. I'm looking forward to seeing how the lights and space will illuminate what I have created. I am anxious to see how the dancers make the piece their own and take it to a place that will surprise myself and the audience.
What can we expect from you over the rest of the year?
Another a full year of performing with Repertory Dance Theatre, this will be a year of choreography in a way. This is an exciting year for me, because after
Emerge
, I will be producing a lot of work to be seen by the Salt Lake City community. Feb. 11, I will be showing a duet with some students from the University of Utah for a choreography showcase called Creators Grid, which will be at Metro Music Hall at 9 p.m. From there, I will be working on putting on another evening-length titled "A Bag of Nuts" to follow up "W. A. L. N. U. T.," which is slated for May 19-20 at 7:30 p.m. at the Rose Wagner Performing Arts Center. I'm hoping to continue choreographing more throughout the year and seeing where that takes me.