One hundred-plus spectators including Shoshone tribal members, history buffs, politicians and non-native locals gathered in a small circle of trees tucked between two farms a few miles north of Preston, Idaho on Sunday. They were there to join the Northwestern Band of Shoshone Indians in commemorating the 154th anniversary of one of the largest mass killings of Native Americans in history: the Bear River Massacre.
On Jan. 29, 1863, Colonel P.E. Connors, commander at Fort Douglas, arrived on a snowy ridge with 220 cavalry troops ready to respond to complaints from nearby Mormon settlements of Shoshones stealing horses and participating in general harassment.
Hundreds Shoshone people were camped for a Warm Dance gathering, an event meant to hasten the warm weather of spring. Connors and his troops were spotted by members of the camp at dawn, who began to prepare for an oncoming battle. Though Connors insisted his intent was to negotiate, when he and his cavalry saw the tribe beginning to evacuate and arm themselves, he opened fire and the massacre began with men, women and children being killed without hesitation. Most of the victims were killed outright by Connors' men, though many were swept away by the icy river nearby as they tried to flee, with some women sacrificing their babies to the water in order to prevent them from crying and revealing their hiding places.
Though the official casualty count according to Connors' report was between 200-300 Shoshones, local accounts from residents in neighboring towns have revealed that there were potentially many more deaths—one resident specifically counted 493 frozen corpses littering the field the next day.
Today the massacre site is still and silent, only disturbed by the occasional tractor or passing car on the highway. Visitors are welcome to come and explore the area, which holds historic plaques depicting the evolution in attitude of the "battle," later deemed a massacre. Visitors are also encouraged to leave a small offering tied to on of the trees at the back of the space. Once a year, every year, on January 29, the Northwestern Band holds a public memorial ceremony to remember the events that transpired on this spot, and has been doing so for 20-25 years, according to Northwestern Band tribal member Patty Timbimboo.
Traditional Shoshone territory spans portions of six states—California, Oregon, Nevada, Utah, Idaho and Wyoming—with several Shoshone bands occupying this vast amount of land. And while many Shoshone tribes have designated reservations, the Northwestern Band, headquartered in Brigham City, is one of the few tribes in the country without a reservation to call their own. The band has been slowly acquiring land around the massacre site to preserve, and a national historic site was declared there in 1990.
"The biggest message to take away from this ... is one of forgiveness," said Northwestern Band Tribal Vice Chairman Darren Parry. "We have every reason to turn our back on America, but we won't do that because this is our land."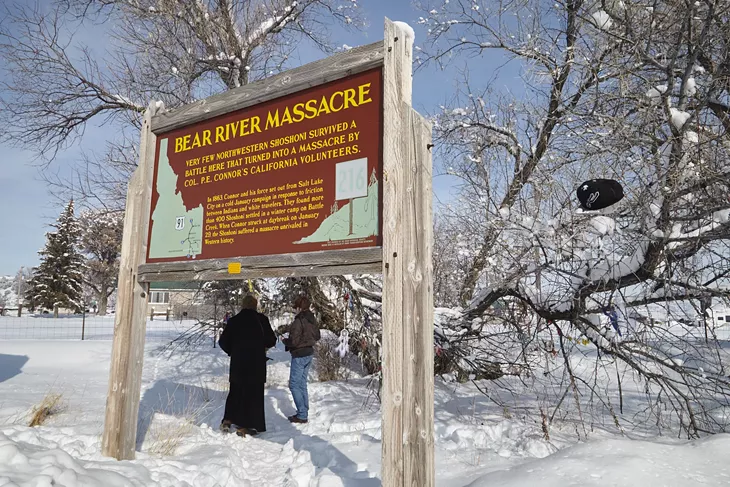 8 slides