Continuing with the '16-'17 performance season, we return to the dance community with the latest from Ririe-Woodbury's
Winter Season
. This year's performances include the 1977 piece "Physalia," the 2013 duet "Super WE," the return of the popular 2014 performance of "You and
the Space
Between," and finally the world premiere of Daniel Charon's "Snowmelt." Today we chat with one of the company's principal dancers, Yebel Gallegos, about his career and time at Ririe-Woodbury, as well as the show before it kicks off on Feb. 3 at the Rose Wagner. (
All pictures provided courtesy fo Ririe-Woodbury.
)
Yebel Gallegos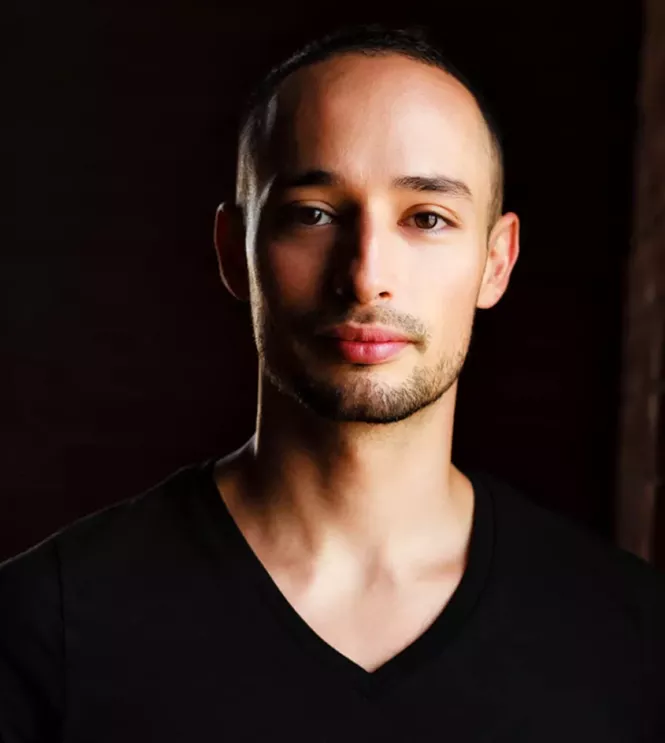 RirieWoodbury.com

Gavin: Hey Yebel, first thing, tell us a bit about yourself.

Yebel:
Hi, I'm from El Paso, Texas. I've been living in Salt Lake City for almost four years. I am University of Texas alum, where I earned my Bachelor of Fine Arts in dance. I am fortunate enough to say that I have been dancing professionally for over nine years.


What first got you interested in dance at an early age?


It's a fun story for me tell, actually, because it brings back great memories. I grew up in a predominantly Latin culture where dancing is a huge part of social gatherings. I recall dancing salsa, cumbia and other great Latin styles with my mother and my aunts. I must have been around eight years old and instead of playing with my cousins, you could always find me on the dance floor with the grown-ups.
Stuart Ruckman
"Fragments" choreographed by Jonah Bokaer

How was it for you performing prior to college?


Performing has always been an incredible experience. Prior to college, I used to perform in high school pep-rallies with the modern dance ensemble, and also as drum major for our high school marching band. It helped me in getting used to being in front of large audiences.


You received your BFA from the University of Texas at Austin. What made you choose their program and what was your time like there?


Honestly, in-state tuition. I applied and got accepted to the nursing program at UT Austin; my plan was to then audition for the dance program and double major. Well, long story short, I was not allowed to double major, because prior to college I hadn't had any formal dance training. I was told that if I really wanted to become a professional dancer, I had to basically eat, sleep and breathe dance, which I did. I left nursing and became a dance major, to find out that the dance program in Austin was made up of an incredible group of professors. I learned a ton, and they helped pave the way for me.
Stuart Ruckman
"Elegy" choreographed by Daniel Charon

I read that you helped found the Cressida Danza Contemporánea in Mexico. How did that opportunity come about, and what made you choose Yucatán for the location?


While in college, I participated in a study-abroad program. A fellow dancer and I spent six months in the nationally renowned Mexican dance school, the Escuela Profesional de Danza en Mazatlán. The experience was life-changing, so much so that after finishing the program and returning to Austin to graduate, it was very obvious for me to return to Mexico and finish my training there as well. Upon graduating, I met Lourdes Luna, a very influential Mexican choreographer. At that time, she was starting a new project which included Cressida Danza Contemporánea and the Yucatan Conservatory of Dance. Lourdes invited me to become part of this project along with another group of independent artists. My role in this project grew from being a dancer to becoming company teacher, rehearsal assistant and academic coordinator for the conservatory. I was in Merida, Yucatan for about five years.


What was your career like performing around the country before coming to Utah?


It has been great, I love traveling. It's a privilege to travel while doing what you love. With the university dance company, we participated in a pre-professional tour called Young!Tanzsommer, a tour of five cities in Austria. While in Cressida we toured Mexico mostly, and one international tour of three weeks to South America. Cressida continues to do amazing work and has toured to Europe twice over the last three years.
Stuart Ruckman
"My Friend the Earth" choreographed by Tandy Beal

How did you end up coming to work for Ririe-Woodbury?


I had just moved back to U.S. after being in Mexico for about five years. I was living in California, and there I danced for Nickerson-Rossi Dance Company as a freelance artist. I received news that Ririe-Woodbury was holding auditions in search for one male dancer, and immediately decided I would fly to Utah and audition. This was exactly the job I was looking for: a full-time position with health benefits working for a repertory company that tours nationally and internationally, and has an important mission serving its community. So, I auditioned and got the job!


What was it like for you first starting with the company and getting into the groove of things?


I feel like my transition into the company was pretty easy. I connected with my colleagues right away, and it helped that it was Daniel Charon's first year as Artistic Director of the company as well. Many things felt new and different that year; it felt like there was a new surge of positive energy for the company, and an optimism for the future was palpable.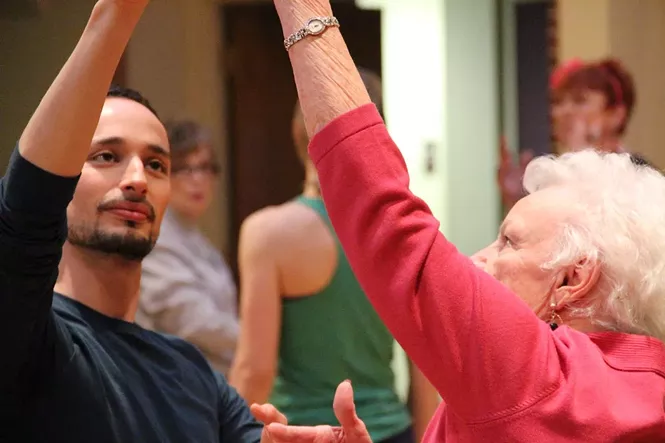 Ririe-Wodbury Dance Company
Community Dance Education

What have been some of your favorite performances with the company so far?


You know, every performance is so different and special in its own way, but if I had to choose, I would have to go with our season at the Joyce Theater this last February. We had about nine performances in five days. It was an extraordinary experience to perform in such an important venue. We were performing a selection of Alwin Nikolais' works, and that in itself is a treat.


What were your first impressions of this year's Winter Season showcase?

I've been excited for this year's
Winter Season
for a while. It's always a great challenge for me to perform in a show where there are four very distinct pieces. To be able to embody new contemporary work like in "Snowmelt," a world premiere by Daniel Charon, and to maintain the original essence of a piece choreographed in 1977, "Physalia," by Alison Chase and Moses Pendleton, co-founders of the internationally acclaimed Pilobolus Dance Theater, is very gratifying as a performer.
Ririe-Woodbury Dance Company
"You and the Space Between" by Miguel Azcue

What are your thoughts going into opening night?

I am trying to savor the work we are doing in the
theater
this week as far as tech and our school matinee performances. Opening night is always charged with adrenaline and a couple of butterflies in my stomach, but it all ends so quickly! Really,
Winter Season
for us isn't really about a week of performing, but about the work that has been created, the rehearsals, the physical challenges we overcame and the work it took the crew, the staff and the dancers and everyone in between to bring the audience this show. That's what I try and take home after it has all been said and done.