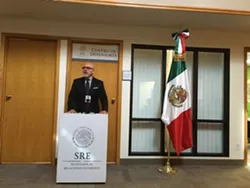 DW Harris.
Luis Franco, Vice Consul of Mexico in Salt Lake City.
As President Donald Trump's administration cracks down on illegal immigration, Mexicans living in Utah are wondering what the implications will be for them or their families.
To help answer questions, ease fears, inform immigrants and assist with legal troubles, Mexican consulates across the U.S. are opening defense centers.
The Mexican Consulate in Salt Lake City announced on Friday its participation in the program. Renato Olmedo-González, community affairs officer at the Mexican Consulate explained after the formal announcement that Trump's stance on immigration incites alarm.
"It's in direct response to what's going on in the United States right now and the recent actions the new administration has taken," he said. "There is fear. There is uncertainty. There is an increased need for people to get in touch with immigration lawyers, get in touch with a consulate so they can know their rights, what to do if they are detained by ICE."
The consulate has also organized "Know Your Rights" workshops. The first of which begins at 6 p.m. on March 7 at their community center at 155 S. 600 West. Three more workshops are scheduled throughout this month and the next in Salt Lake City, Logan and Ogden, as well as Centerfield, St. George, Cedar City and Jackson, Wyo.
"We'll have immigration lawyers present, they will be able to answer questions about what's going on right now, what to do if there is a raid," Olmedo-González said. "Also we'll have the Utah State Courts' Self-Help Center, which will be able to answer questions regarding local state law."