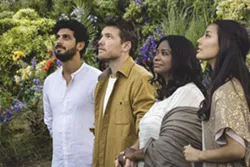 A full slate of new multiplex releases includes religious melodrama, wedding farce and teen dramatic fantasy, in addition to one big mutant headliner.
The Shack
(pictured) adapts a Christian best-seller on The Problem of Suffering into soft-serve spirituality for the faith-based audience. The soggy farce of
Table 19
muddles its many stories into something resembling a movie version of
The Love Boat
. Locally-made comedy
Tim Timmerman, Hope of America
rides its charismatic central performance to some enjoyably frisky energy.
Eric D. Snider finds only Zoey Deutch's lead performance salvaging the mundane "Nicholas Sparks does
Groundhog Day
" young-adult adaptation
Before I Fall
.
MaryAnn Johanson praises the smack in the face to bigotry that is the sweeping historical romance of
A United Kingdom
.
In this week's feature review,
Logan
digs (often violently) into man behind the Wolverine.