The latest production from Plan-B Theatre Co.,
Not One Drop,
marks the third production created in partnership with the David Ross Fetzer Foundation for Emerging Artists. This world premiere of Morag Shepherd's play closes out Plan-B's season with a weird and surrealistic dark comedy featuring Colleen Baum and Latoya Cameron. Before the play kicks off for its March 23-April 2 run, we chat with the playwright and both actresses about the show. (
All pictures provided courtesy of Plan-B.
)
Colleen Baum, Latoya Cameron (pictured), & Morag Shepherd
PlanBTheatre.org
Gavin: First off, tell us a bit about yourselves.
Colleen:
Just an actor living in SLC. Why? Who knows.
Latoya:
I live downtown. I love spring time, being outside and writing when I get the chance.
Morag:
I got my Masters from BYU in film and
theatre
criticism. Most importantly, I'm the mother of Ainslie (7) and Finlay (4).
What have each of you been up to lately in the local theater community?
Colleen:
Earlier this season I did a production of
Oliver!
at Pioneer Theatre Company and an awesome production of
The King's Men
at Sting & Honey.
Latoya:
I just got done doing the Playwright's Lab at Salt Lake Acting Company. Before that I did
A Christmas Carol
at the Denver Center and the 2016 season at Utah Shakespeare Festival.
Morag:
I'm the resident playwright at
Sackerson
, which recently produced my plays
Burn
and
Poppy's In The Sand
. I am one of the 12 playwrights in The Lab at Plan-B, and I work at Salt Lake Acting Company.
Morag, how did the concept for Not One Drop come about?
Morag:
The concept came as I was writing it. I didn't have anything specific beforehand that I wanted to achieve, except letting the writing lead and guide me.
What was the writing process for you on a play with this kind of dark humor?
Morag:
I sat down and started writing. I let the writing guide me, and it all came out within a week. The first draft was extremely rough—I read through to look and see what it was, and then spent a year honing and refining it.
What was the process like getting involved with Plan-B Theatre through The David Ross Fetzer Foundation for Emerging Artists?
Morag:
As soon as I won the grant, I started participating in The Lab at Plan-B. We read my play there and the other 11 playwrights helped me. So the process has been wonderful. The Davey Foundation grant is a fantastic opportunity.
How has it been working with Plan-B on this production?
Morag:
Working with Plan-B is amazing. They have helped me to become a better writer and continually offer the most exceptional opportunities. Plan-B is so inclusive, and they truly are community building, both within the
theatre
community and the greater community of Salt Lake City.
Colleen and Latoya, what were your first impressions of Not One Drop?

Colleen:
My first impression was total confusion. But I still loved it because of the poetry and imagery of Morag's words.
Latoya:
I was intrigued by the structure of the play. When Morag told us that she formed it in the shape of a raindrop, it instantly drew me in. I've never heard of a play being structured like that before.
How has it been for you forming your characters and bringing them to life?
Colleen:
It's been wonderful because I understand it in my own way and see why it is so beautiful. My character blends with Latoya's, and at times we are separate, and sometimes we become one.
Latoya:
Since the structure of the play is different, we had to approach the characters in a different way, too. A lot of the character, for me, was formed in the moment, during rehearsals. Little clues of the character would surface, and I would notice and go with it. If it felt true then I would keep developing it, and if it didn't, I would let it go. Also, by picking up physical responses through actions, both Colleen and I would form from scene to scene, and Jerry directing us to fine-tune them.
How has it been working with the spider scene of the play and incorporating that into the mix?
Colleen:
The imagery that Morag has created has been enhanced by our beautiful and unique set. So being a spider for a part of the play is actually quite fun. I get to spin webs!
Latoya:
It was fun. We just dived right into it and allowed ourselves to play around. It's a beautiful yet haunting scene.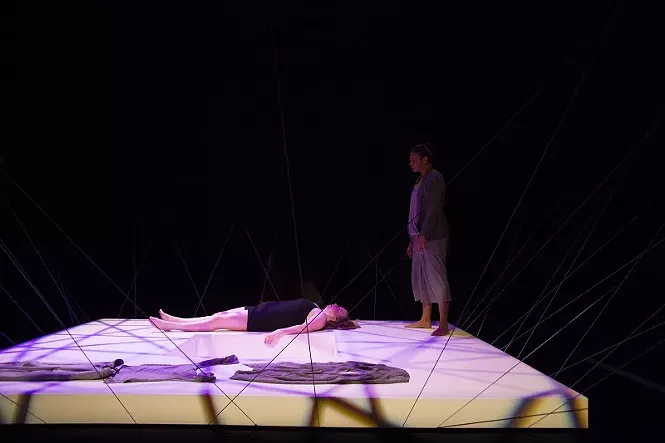 Being a two-person play, what's it been like working with each other and helping define each other's roles?
Colleen:
If it weren't for Latoya, I would never know what scene was coming up next. It's been fantastic to work with her and how she gives, not takes, as an actor.
Latoya:
Colleen is a wonderful partner to act opposite of. I've admired her work for years, so I'm thrilled that I get the opportunity to work with her. This play really requires a lot of
trust
, and instantly with developing this
play
there was one with her. It's great to have an acting partner that is willing to just jump in, day one, and play! That's what it's like working with Colleen. The safety with her is there, so we just get to play and trust.
What are all of your thoughts going into opening night?

Colleen:
Please let us get through it. I want the audience to really listen and take what they want for themselves.
Latoya:
Let's do this! This show is not like other Plan-B productions so I'm interested in the experience the audience is going to have.
Morag:
I'm not worried at all. I completely trust this team and know that the show will be amazing.
What can we expect from all of you over the rest of the year?

Colleen:
Perseverance and constant auditioning.
Latoya:
Some Shakespeare this summer, and then who knows where the wind will take me.
Morag:
I have two short pieces that are part of an overall conversation in reaction to the political climate—it's called
(In)divisible)
and will be at Plan-B in June. I will also be directing a piece for Plan-B towards the end of the summer, as part of Rose Exposed, and a few other pieces with Sackerson.