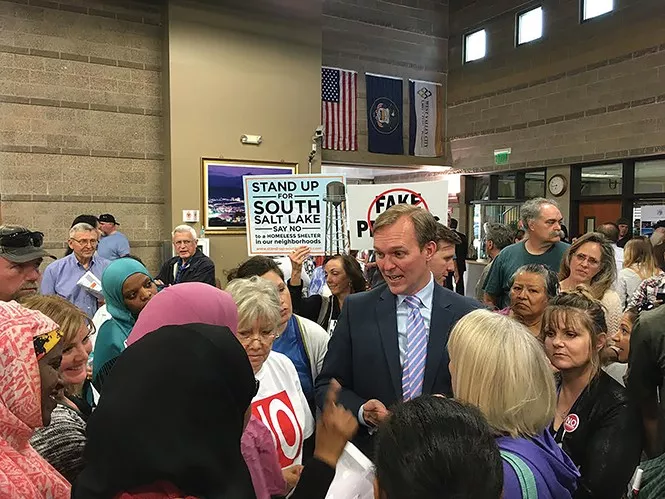 Salt Lake County Mayor Ben McAdams is recommending a new homeless shelter be built in South Salt Lake at 3380 S. 1000 West.
By Thursday's deadline, McAdams sent a letter to Lt. Gov. Spencer Cox, who is heading the State Homeless Coordinating Committee, prioritizing a South Salt Lake site that is currently an open field between the Central Valley Golf Course and the Jordan River.
The next homeless coordinating committee meeting is on April 10.
In McAdams' communique, which highlights extensive public engagement in the selection process, he stipulates the need for mitigating measures to offset potentially negative impacts, including legislation that would send a pool of statewide tax dollars to the city that houses a homeless shelter. Rep. Steve Eliason, R-Sandy, introduced a bill for that purpose this session but it didn't pass.
"I recommend that groundbreaking and construction of a new homeless resource center at this location not proceed unless and until similar legislation is adopted in the 2018 session," McAdams stated.
At a deliberation meeting Thursday morning, McAdams read off a list of concerns his team had assembled at open house meetings, through written submissions and anonymous notes from selection committee board members.
Residents worried about crime and its proximity to a tavern, he said. There are six houses on the same street, which McAdams acknowledged "would be highly impacted by this facility."
But it has serviceable access to public transit, and because the property is a field, there is no need for costly demolition. South Salt Lake Mayor Cherie Wood has pointed out that a homeless shelter will add one more non-taxable property to her city.
This proposed site, however, is currently owned by a nonprofit and already non-taxable.
Over the past several years, stakeholders have attempted to rework the way Utah addresses homelessness, in large part, to address a severe population that congregates in the Rio Grande District, which has become a hotbed of drug activity and nuisance complaints.
Leaders anticipate three new shelters will house distinct populations and offer robust programs and services. Along with the South Salt Lake site, two are to be constructed in Salt Lake City at 275 W. High Ave. and 131 E. 700 South.
"[O]nce fully implemented," McAdams wrote, the new scattered model with targeted services and pathways into housing "will prevent and minimize homelessness, keep communities welcoming and safe, and assist vulnerable individuals and families in getting onto a path of stability and self-reliance."
The county mayor is not disillusioned that the shelter will be immediately embraced by the South Salt Lake neighbors.
"This decision is not a popularity contest. If it was they all lose," he said at Thursday's meeting "I understand that nobody is going to be eager to host this facility. They image what they see right now, the most visible aspects of it, and I understand that. I will continue to reassure them this is a different model."
Throughout the process, residents have offered a list of reasons why they don't want a homeless shelter in their towns. City leaders have done the same. The mayors of West Valley City and South Salt Lake each argued that the shelter shouldn't be in their borders, which made Draper Mayor Troy Walker's suggestion strikingly different.
On Tuesday, he stood before a lectern to say that helping the homeless was a burden all cities had to carry—his own included—and therefore, he was nominating two pieces of land to be considered.
But the next day, after an informal open house at a Draper middle school devolved into rancorous shouting and booing—including jeers at a homeless man named Lawrence Horman, according to The Salt Lake Tribune—Walker renounced his offer.