Tonight at the Urban Lounge, we're going to get a particularly cool combination of local entertainment, as the band
Conquer
Monster brings the music of their album
Metastransit
to a two-night performance with Municipal Ballet Co., performing original pieces set to their music. It's like crunchy peanut butter and dark chocolate coming together to form a tasty hybrid of a classic. Both shows kick off at 7 p.m. tonight and tomorrow (Saturday 4/8) for only $10. Before the show premieres, we chat with both members of Conquer Monster (Daniel and Joshua) as well as Sarah from MBC about the show and what people can expect to see. (
All pictures provided courtesy of MBC.
)
Daniel Romero, Sarah Longoria & Joshua Faulkner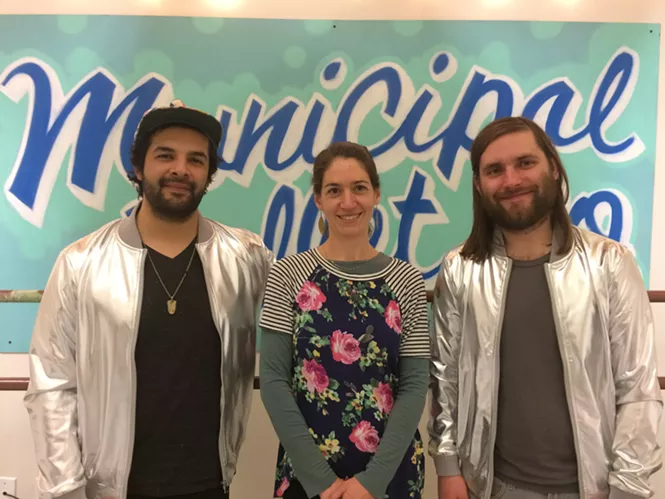 MunicipalBallet.com
First off, how have you all been since we last chatted?
Sarah:
Hi Gavin! Yes, it's been a couple of years, and things have been really good.
Joshua:
Hey Gavin, things have been great!
Daniel:
Wonderful! Finally graduating this semester!
Joshua and Daniel, how have things been going for the band lately?
Joshua:
Great! We just played Treefort Fest in Boise, Idaho to a great crowd and received a lot of unexpected press from some of the media outlets up there.
Daniel:
We're methodically piecing together our next album concept, writing new songs, looking forward to the future. It's been good! Treefort was rad!
Sarah, how has this season been treating the company?
Sarah:
It's been a really fun season. During the holidays, we held our own version of
The Nutcracker
at the McCune Mansion, in collaboration with Pixie and the
Partygrass
Boys, called
River of Rosewater
, which was a lot of fun. This upcoming show with Conquer Monster will be our first performance of 2017.
How did the three of you meet up and get to know each other?

Sarah:
I first saw Conquer Monster about a year ago when they opened for Color Animal's album release party at The Garage. I was pretty fascinated by their sound, and thought, "It might be cool to set some ballet to this." After that, I came across Joshua and Daniel at Craft Lake City, where I found out about how they create their instruments. I mentioned that Municipal Ballet Co. was performing with Color Animal at the festival and they said, "We'd be up for doing something like that." So, a few months later I called them up, and now we're making it happen.

When did the idea come about to specifically do Metatransit as a ballet show?
Sarah:
Well, the seed of the idea came when I saw them play at The Garage. It was when I started listening to their album and doing a little research, that I realized their album
Metatransit
was a sort of
sound track
for a comic book story called
Purge Worlds
. That was really intriguing to me because, historically, ballets tell a story through dance. I think having a story to inspire movement can make ballet more interesting and meaningful for the audience. So I was sold when I found that out.
Joshua:
After hearing of the Municipal/Color Animal collaboration, I thought that it would fun to add another element to the
Metatransit
universe.
Daniel:
Sarah and I had talked about it at Craft Lake City, and I just thought that since our album had a storyline, it would be a great candidate for a ballet performance.
What was the process like crafting a performance around these very specific songs?
Sarah:
Joshua wrote up a little
Metatransit
/
Purge Worlds
link for us, showing how the album corresponded with the comic book story. I sent that, along with the songs from the album, to all of the choreographers, and then they chose which piece they'd like to choreograph for the show.
Were there any changes made to the music specifically for this show?
Sarah:
We use the recorded music to create and rehearse, so we worked around what already exists.
Joshua:
For the most part the songs are fully intact, but we've modified the drums a little to help us stay on beat and we've crafted some transitional pieces to accommodate setup times for us and the dancers.

What can people expect to see and what do you hope they take away from the show?
Sarah:
I think it's going to be a pretty exciting, pretty fast-paced show. We're having Tanner Hawkins projecting his live-manipulated video art in-between and sometimes during the dancing, and the dance mirrors the music in the way that a lot of it is quick and intricate. As always, I just hope that the audience has a good time and that they feel like they're glad they're human.
Joshua:
I've been excited about the possibility of this collaboration for a long time, and to see it taking shape has been amazing. The core of the story is about being true to yourself, so I just want people to feel happy and possibly be inspired to collaborate and create more art.
Daniel:
I'm excited for people to experience all our creativity as an entire performance. We're three entities working together to make one thing just for the audience!
After the show, what do you all have coming up over the rest of the year?
Sarah:
After
Metatransit
, we're going to start working on a project with local musician and composer Eric Rich, who many people know for his piano bike that he rides around Salt Lake City to play for people on the streets. We're planning to do a show in a few different locations on Utah's public lands, outside, this summer. And then, we're hoping to make a tradition of our holiday performance,
River of Rosewater
, and bring that back again this year. Along with all of that, we'll be offering community classes for experienced and non-experienced dancers at our new studio in the Art Factory (193 W. 2100 South). It's turning out to be a fun, full year!
Joshua:
We are currently working on a few music videos for songs off of
Metatransit
, one of which Tanner Hawkins will be producing. We are also reimagining
Metatransit
as a fully 8-bit album using only a Nintendo Gameboy.
Daniel:
We have started writing a script for a new video concept album that we'll be working on next. It'll be a short film with four to five songs intertwined in a story line. There will be plenty of our electro sci-fi aesthetic! Also, there are a few new songs that I love playing, and well I play them pretty much every day. I'll be happy to finally debut them to the world!