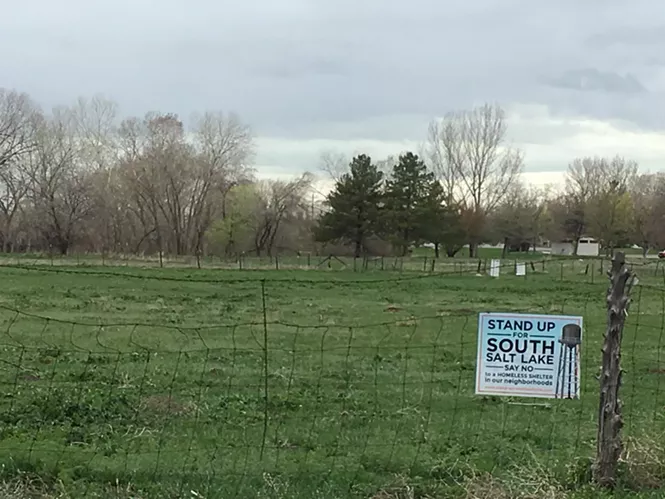 DW Harris
This open field at 3380 S. 1000 West in South Salt Lake has been approved as the site of a new homeless shelter.
The state homeless coordinating committee on Monday accepted Salt Lake County Mayor Ben McAdams' recommendation to build a homeless resource center in South Salt Lake.

Homeless resource centers are planned to be built in Salt Lake City at 275 W. High Ave. and 131 E. 700 South, as well as 3380 S. 1000 West in South Salt Lake. The Road Home Shelter on Rio Grande Street is slated for closure June 30, 2019.


The board, chaired by Lt. Gov. Spencer Cox, also voted to support recommendations that groundbreaking on the site be delayed until the legislature creates a pool of money that can offset the costs of housing public services in a town. McAdams and Cox say they've spoken to House Speaker Greg Hughes on the topic and he is receptive to it.


McAdams also asked that the state try to obtain at market value additional private and county property adjacent to the proposed site. And that the board come up with a mitigation plan to protect the nearby Jordan River Parkway.


"We must ensure that the parkway is not only not negatively affected but that the presence of this new facility results in major improvements to the quality and safety along the Jordan River trail," he said. "I'm confident we can achieve that."


McAdams said he plans to back a proposal to build a new county library in South Salt Lake.


A few community members, as well as South Salt Lake Mayor Cherie Wood, made a last minute plea with the board to not accept the recommendation and continue searching for a more suitable place to put a homeless shelter.


"As one of the smallest cities in the county, we are already overburdened with regional and county services that our residents are forced to subsidize," Wood said.


When the votes were cast, Midvale Mayor JoAnn Seghini was the lone member of the board to dissent.


At the meeting, Cox commended the residents of South Salt Lake who "opposed it the right way." Though he didn't specify who opposed homeless shelters the wrong way, Draper has been criticized at a prior public meeting for a blistering reaction that included booing a homeless man.