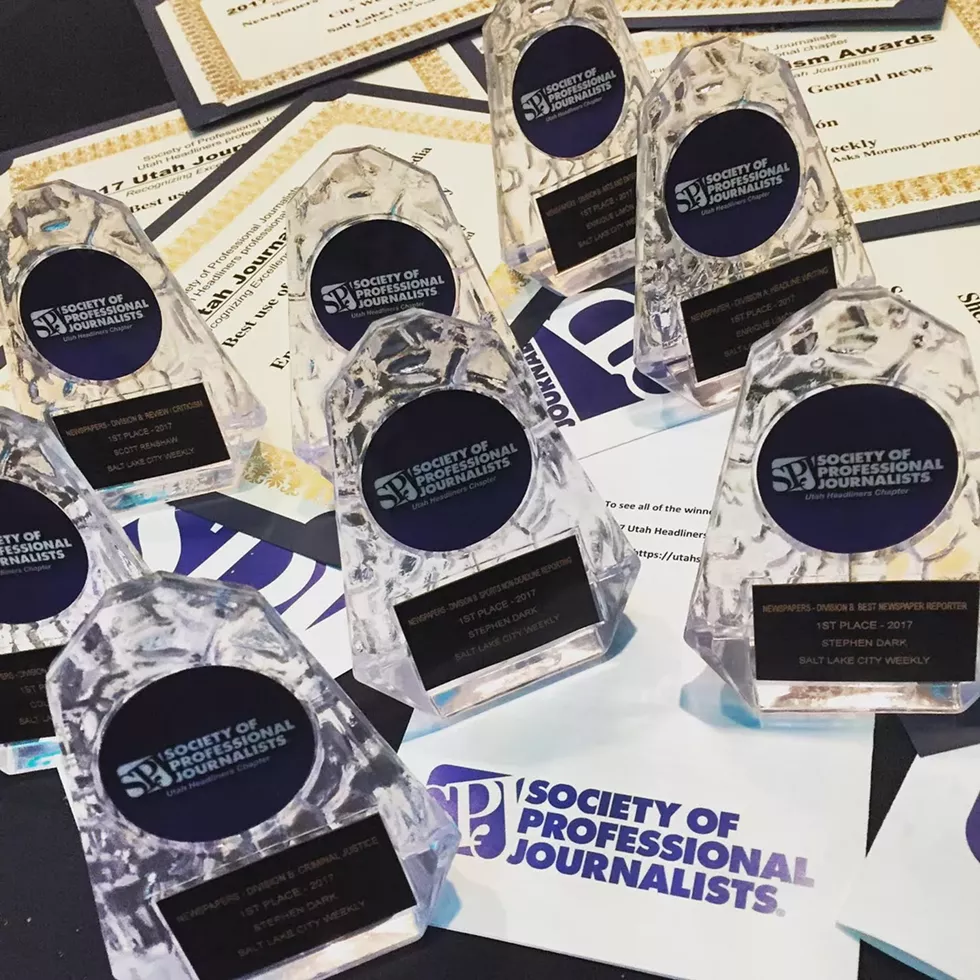 Among cheers, hollering and a clear shortage of alcohol, City Weekly editorial staff picked up a combined 13 awards last night from the Society of Professional Journalists' Utah Headliners Chapter.

Recognizing the best in the region's newsprint, magazines, radio, television, photography and multimedia markets, the event recognized the top picks from more than 800 entries this year. Special prizes included the Josephine Zimmerman Pioneer in Journalism Award to Deseret News' Gerry Avant and the Don Baker Investigative Reporting Award to The Salt Lake Tribune's staff for their continued coverage of sexual assaults on Utah college campuses.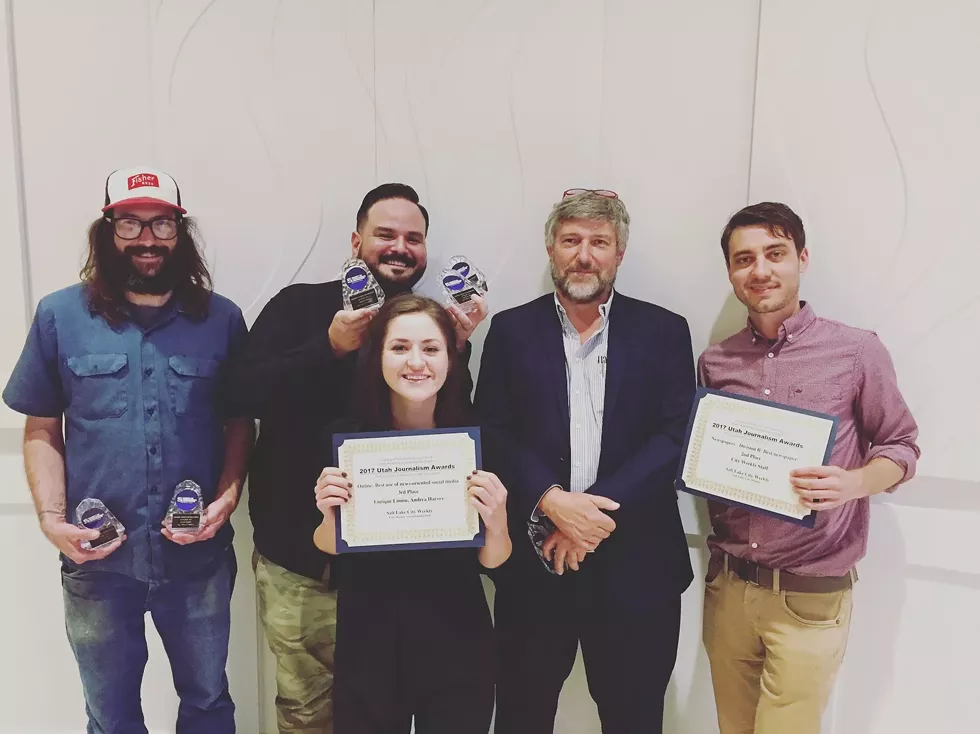 Patricia Dark
CW editorial staff Colby Frazier, Enrique Limón, Andrea Harvey, Stephen Dark and Dylan Woolf Harris.
City Weekly
's bounty in the non-daily category included tips-of-the-hat for the following:
Best newspaper reporter: Stephen Dark [1] [2] [3]

Continuing coverage: Colby Frazier, UFA series (1st place) [1] [2] [3] [4] [5]

Criminal justice reporting: Stephen Dark, "Shot Down: My Life After the Bullets" (1st place)

Daily and non-daily headline writing: Enrique Limón (1st place)

Personality profile: Colby Frazier, "The Weather Inside" (1st place)

Sports non-deadline reporting: Stephen Dark, "The Grits to Be Here" (1st place)

Arts and entertainment writing: Enrique Limón (1st place) [1] [2]

Review/criticism: Scott Renshaw, "New Eyes" (1st place)

Best newspaper: Staff (2nd place)

General news: Enrique Limón, "Pride & Prejudice" (2nd place)

Best use of news-oriented social media: Andrea Harvey and Enrique Limón (3rd place) [1] [2]

Best Overall blog: Enrique Limón, staff, The Buzz Blog (2nd place)

Best cover design: Shelby Gubba, Best of Utah 2016 (3rd place)
"Pedro for president now more than ever. What a remarkably creative cover," one judge commented on the latter. "Although
Napoleon
is 13 years old now, this cover would strain my neck were I walking by a newsstand. The unicorn's after-burn fuels this cover even higher."
City Weekly
sister publication
Devour
was also honored in the outstanding magazine category. You can read the
full list of winners here
.