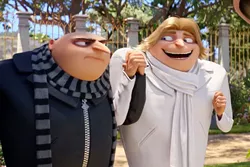 Another round of Minions joins the multiplex summer sequel parade, plus sultry Southern suspense, Sam Elliott and romantic dramedy in the specialty marketplace.
The third round of Gru, Minions and company in
Despicable Me 3
is less a feature movie than it is five(-ish)
Despicable Me
shorts pasted together to fill a release date. Sofia Coppola's adaptation of the Civil War-era suspense drama
The Beguiled
uses strong performances and mastery of mood to overcome a flattened whitewashing of its story. Writer/director/star Demetri Martin's romantic comedy-drama
Dean
channels
Annie Hall
through a story of a grieving guy that ignores the better story (and actors) relegated to a subplot. Sam Elliott more or less plays himself in
The Hero
, but does it well enough to get past a disappointingly formulaic structure.
In this week's feature review, Edgar Wright's love of genre feels second-hand filtered through Tarantino in the '70s heist thriller homage
Baby Driver
.
Also opening this week, but not screened for press: suburban couple Will Ferrell and Amy Poehler turn their home into a casino to finance their daughter's college education in
The House
.