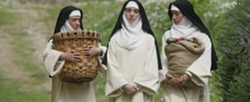 Apes are set to rule the multiplex, challenged only by a dopey teen thriller, while SLC art house offerings include horny nuns and a variety of feisty Jewish women.
The lazy horror of
Wish Upon
wastes 90 minutes of everyone's time by not being scary, coherent or thematically interesting. Jeff Baena adapts a story from Bocaccio's
Decameron
for the gratuitously outrageous would-be comedy of
The Little Hours
(pictured). Errol Morris finds a different kind of documentary subject in photographer Elsa Dorfman for
The B-Side
's study in art as fight against mortality.
MaryAnn Johanson applauds the affable revolt of Israeli women against their synagogue's conservative new rabbi in the charming
The Women's Balcony
.
In this week's feature review,
War for the Planet of the Apes
turns a blockbuster franchise into a study in fighting not just an external enemy, but our own impulse to violence.