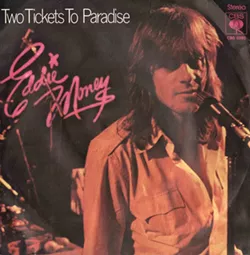 The Idea of Eddie Money
I was somewhere between 6 and 8 years old when I first heard the word "paradise." My very Mormon great-grandmother loved me enough to permit the viewing of certain music-themed TV shows, like
Solid Gold
. One evening, just before my mom picked me up, I saw Eddie Money perform his signature hit "Two Tickets to Paradise" on one of these programs. On the way home, I asked Mom, "Where's Paradise?" She explained it's not an actual place, but that he probably meant an island of some type.
I believe I pictured an island when I heard the song, because it just sounds like paradise. I'm sure I'd already heard the word, but never really took it in. I mean, I was obsessed with
Fantasy Island
, which I watched obsessively, always parroting Tattoo's catch phrase, "De plane, de plane!" But although the lyrics never describe paradise, the music does: In the breezy intro, guitarist Jimmy Lyon's chilled-out intro licks soar over percolating congas, giving way to blissful, relaxed verses that bloom into a fist-pumping chorus, then an extended reprise of the intro where Lyon plays a freewheeling solo. I'd be shocked if anyone pictured something besides sunny beaches, palm trees and cocoa butter.
Naturally, I learned later that paradise is an idea. Winter is paradise to some of us. To others, it's a couch and an Xbox. Or a book and a comfortable place to read. I think I connect "paradise"—the idea, the feeling—to all of Money's music.
He just has that vibe, this relaxed gives-no-fucks confidence. You can see it in the video for "Shakin'." So what if he resembles an epileptic Rodney Dangerfield? As far as he's concerned, he's cool and that's that. But there's an overriding optimism and underlying sensitivity to him—at least in his songs. Just as "Paradise" is so accurate in its portrayal of the titular locale/concept, "Think I'm in Love" nails the exhilaration of new romance. (So does "Take Me Home Tonight," come to think of it—but maybe pointed more toward the initial animal attraction.) "Baby Hold On" does likewise with the next chapter of a relationship.
This is true for almost all of his stuff. I dig that about him. And I'd hoped to discuss it in detail in our phone interview. But when Money called, he launched into a rote and rushed version of answers he anticipated, because so many interviews are the same. He recited a litany of his hits, along with sales figures. He talked about playing with his children as his backing band. But mostly he told jokes. He actually sounds like Dangerfield, Jr. I asked one question, and he started to answer it—then told another joke.
It was entertaining, but also upsetting. He spent too much time expressing his admiration for his headlining tour hosts, Jeff Foxworthy and Larry the Cable Guy. He repeatedly plugged his "Pets for Vets" t-shirt charity. He put one of his buddies on the phone, saying he'd done some work on the Scorpions "Winds of Change." I didn't ask either of them to elaborate. It didn't matter to me. He clearly had something he wanted to get back to doing. By then end of the call, it was clear Money was out golfing with his buddies.
As an avid disc golfer, I can relate to that. It's my idea of paradise. So I left Eddie to his own. He said to call any time, since I had his number, and that he'd arrange backstage passes for me and my family. Although it's kind of him to offer, I'm considering taking a pass on the passes. I worry another dismissive, fleeting encounter with affect my enjoyment of his music. It's better, I think, to leave intact the idea of Eddie Money.
That sounds like paradise to me.
City Weekly vs. Thunderfist Beer Pong Match Postponed
No one is more crestfallen than me about this, but due to scheduling conflicts, we had to reschedule the band vs. journo beer pong match that was gonna go in the upcoming Utah Beer Festival issue. Ultimately, it's a good thing, 'cause the album won't be out for several weeks. But when it's ready, rest assured: Balls will fly.