A message from the Beehive State to the racists who descended on Charlottesville, Va., some 2,000 miles away: Your hatred will not stand.
Following an ugly and tumultuous white nationalist demonstration this weekend that was punctuated with violent clashes—a woman, Heather Heyer, was killed by a white nationalist who rammed his car into a crowd—mainstream America is condemning the overt racism that many people of color say they perennially confront.
In Utah, politicians and activists organized two response rallies on Monday to eschew the violence and hate. At the State Capitol Building, elected leaders spoke before a few hundred spectators. This gathering served as a warm-up act for the main event downtown where around 1,500 people amassed in front of the Salt Lake City and County Building for a demonstration organized by the Utah League of Native American Voters and Multicultural Engagement for Utah.
At the first rally, Rep. Mia Love, R-Utah, an African-American, shared a story about a young boy—a student in her swim class years ago—who told her that even though his racist parents didn't like her, he did. That day, she says, she realized that hatred is taught, that it can be reversed and that people of color cannot "go around being victims."
Love also emphasized that the fight against hatred is nonpartisan. "No one here is having a party affiliation," she said. "We're all Utahns; we're all Americans."
The crowd, however, was not without its antagonizers. A man standing on the steps behind the podium periodically jeered at speakers, calling them enemies of free speech. To counter his demonstration, Terra Cooper, who drove down from Syracuse, sidled up beside him on the stairs holding high her "Black Lives Matter" poster.
"I was shaking the whole time," she said later. "I'm not a confrontational person, and it's definitely out of my element to go and do that, but it's important to make sure that not only his voice was going to be heard."
Paraphrasing Martin Luther King Jr., Lt. Governor Spencer Cox argued that the battle against "those full of hate, like the hateful gentleman behind me," he said, won't be won with more hate. He implored those listening to conquer anger with love.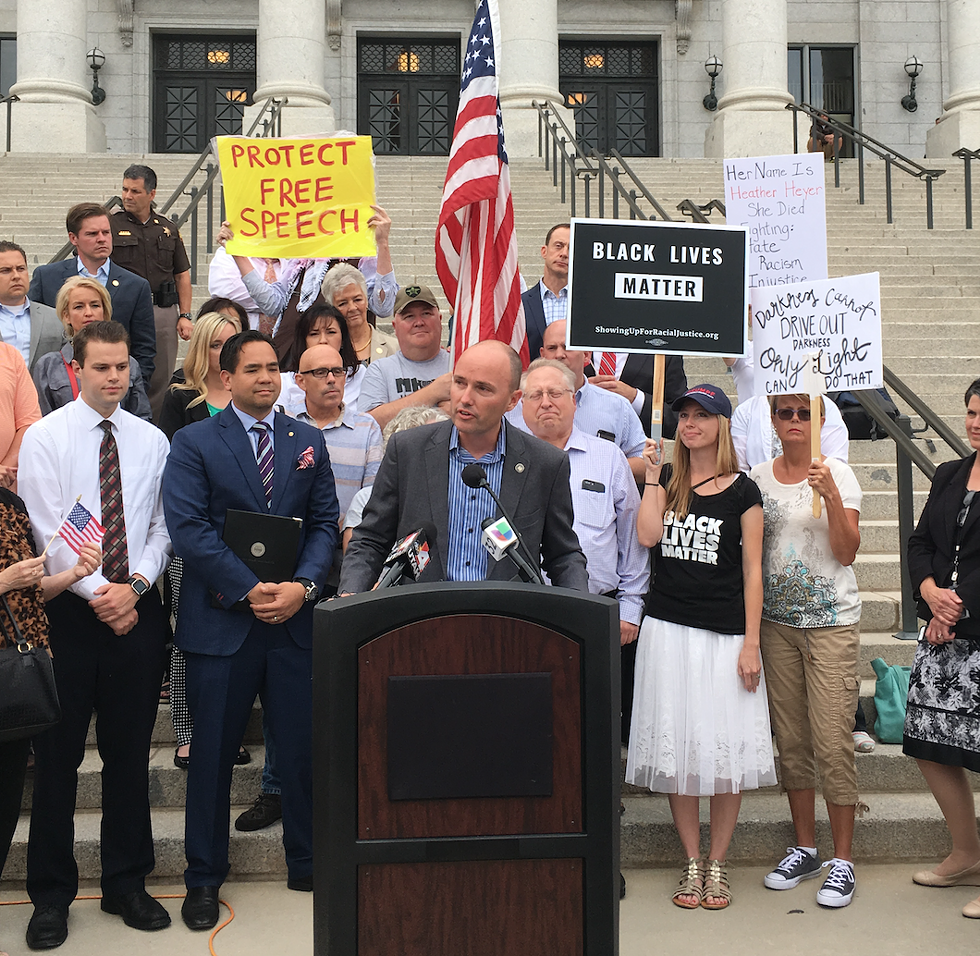 DW Harris
Lt. Governor Spencer J. Cox
"We know that love will win," he said. "We will defend your right to peaceably assemble so that the whole world can see the vile ideas you formed in the corners of the internet and in contempt-filled comment sections because in the marketplace of ideas, yours have been tried and they failed. And they will fail again."
But a small exchange after Cox left the podium demonstrated how difficult a task that can be. When he tried to embrace a man holding a "United the Right" poster, Cox was met with a middle finger.
Afterwards, organizers of the event encouraged the audience to head downtown, where a large portable stage was being erected.
"We will no longer be silent. Your voice is here, your presence here, you have shown up. Brothers, sisters, family, friends, allies, all of you: It's time we change. It's time that we center the voices of people of color that have been ignored for far too long," organizer Moroni Benally said from the lectern. "We are tired. We are still angry, but yet we persist."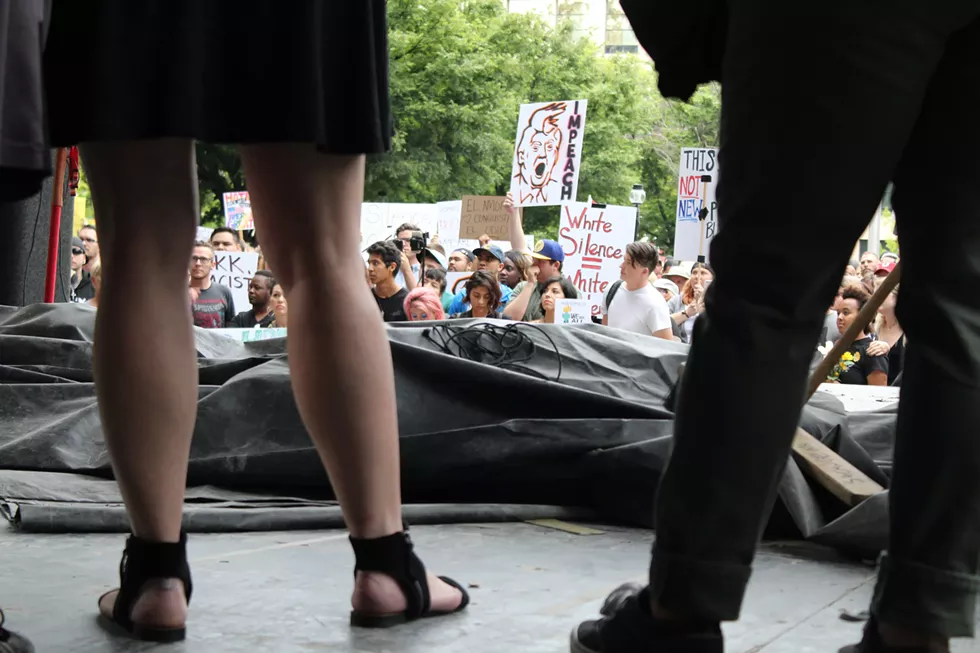 The anger, at times, was palpable. When Troy Williams, a longtime advocate in the LGBTQ community, took to the mic, a small chorus of voices called out from a grassy patch of lawn, "fuck you!" and to "sit down!" This drew the attention of cameras and phones, which in turn, seemed to enrage the disrupters, who wore bandannas to cover their faces. Pushing ensued, while most onlookers tried to decipher who was upset at whom.
Attorney General Sean Reyes, who spoke at both events, powered through his speech at the second as growing chants, critical of his support of President Donald Trump, began to drown him out.
Pundits have theorized that Trump's rise to the White House emboldened the so-called "alt-right" movement, which openly supported him during the campaign. Indeed, Trump was criticized for tepidly condemning "many sides" on Saturday for the chaos in Virginia. On Monday, after social media called for a stronger response, Trump said "racism is evil."
The most emotional speech came from Rabbi Ilana Schwartzman, who told the mass of people she recently welcomed a baby daughter. "My family and friends told me to come up here tonight and be angry," she said. "But, my friends, I'm not angry. I'm so sad. I'm sad that my little girl—that I was scared to bring tonight—I'm scared that she has to grow up around people who hate her who don't know her.
"I know that you all are angry, and you should be. And you're scared, and you should be," she continued, "but we all have a voice, and I'll be damned if we're going to let this happen again."